While India has a long way to go compared to the experimentation in architecture in other countries (oh hello Twisting Towers Dubai), it's interesting to note that builders are finally looking beyond the shoebox glass and concrete structure for office buildings. Architecture in India is getting bolder, quirkier, and office real estate has not been spared.
For one we'd love to say "Oh that fish shaped building" on being asked "So where is your office?"
Here's a look at 10 of the crazy, unusual or avant-garde office buildings in India.
1. Cybertecture Egg, Mumbai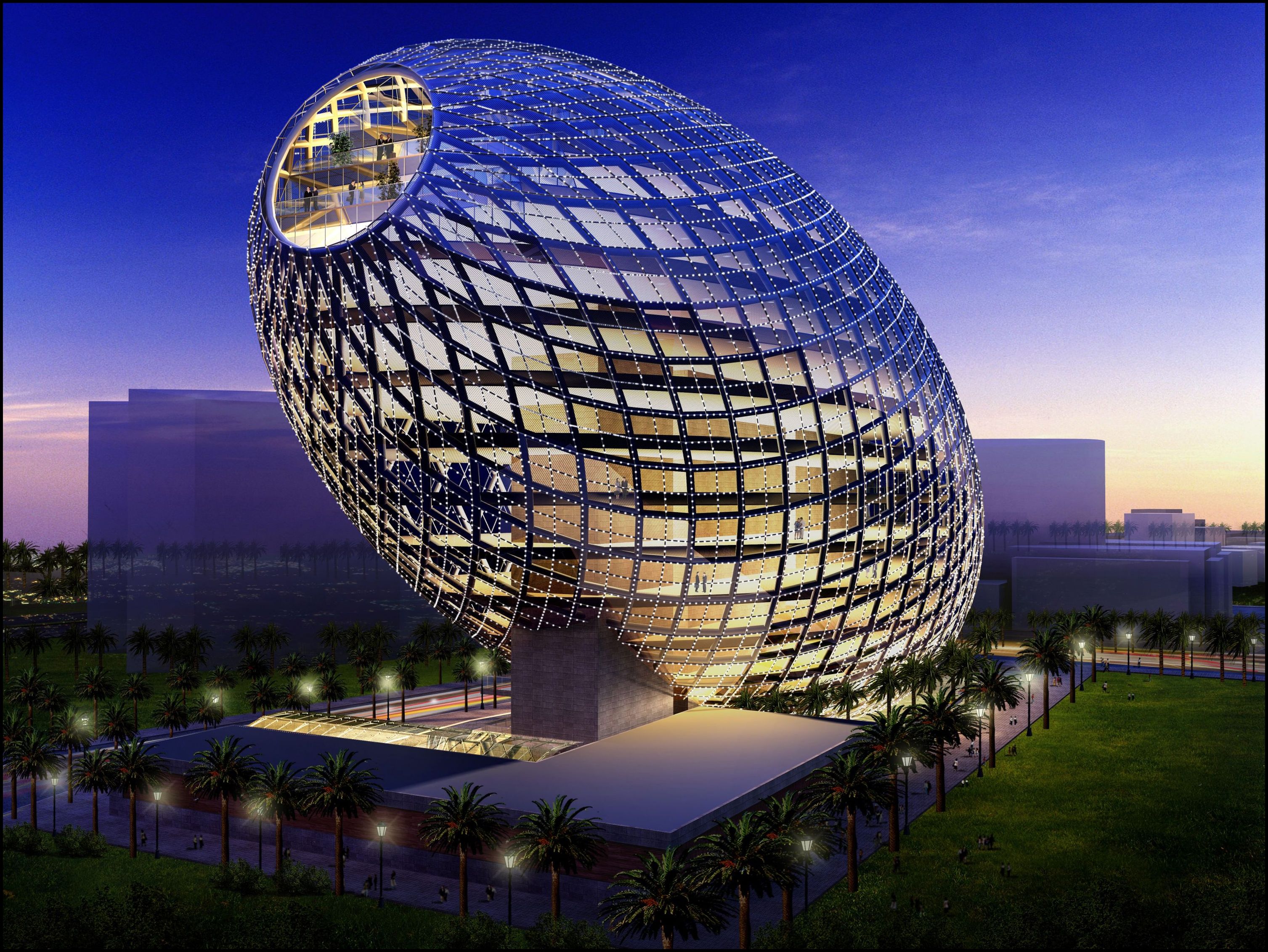 Call it quirky, strange or most unique, this building is a tough egg to crack.
Commissioned by Vijay Associates (Wadhwa Developers) and designed by James Law Cybertecture, "Cybertecture egg combines virtual architecture, environmental design, ingenious control systems and evolutionary engineering to create the boldest building for the city of Mumbai and for India in the 21st century" The 33.000 square metres of the space are used as offices and three levels underground which provide 400 parking spaces. The building will have both office and living space and is located in Bandra, Mumbai.
2. Cyber Towers, Hyderabad
Located in the IT hub of Hyderabad, the Cyber Towers building is a highlight of the cityscape and an important landmark. 10 stories high, it offers 100 thousand square feet of executive space. The Cyber Towers is home to many IT and ITES companies that currently service globally, including Oracle Corporation, GE Capital, Four Soft Limited, and Keane Incorporated. Patni Computer Systems Limited and Prithvi Information Solutions also take up residence in this tower. The Towers is a part of the first phase of the HITEC project and was inaugurated in November 1998.
3.  The South Asian Human Rights Documentation Centre, New Delhi
This building is an example of extreme brick work.
The South Asian Human Rights Documentation Centre (SAHRDC) is a non-governmental organisation which seeks to investigate, document and disseminate information about human rights.  It required an office to be made on a 50 sqm plot emphasising spatial efficiency and cost effective construction. The orientation of the site is such that the longer 10m side is exposed to direct sun throughout the day. A six brick module is laid in staggered courses that create twirling vertical stacks and an undulating surface.
4. IFlex Building, Bangalore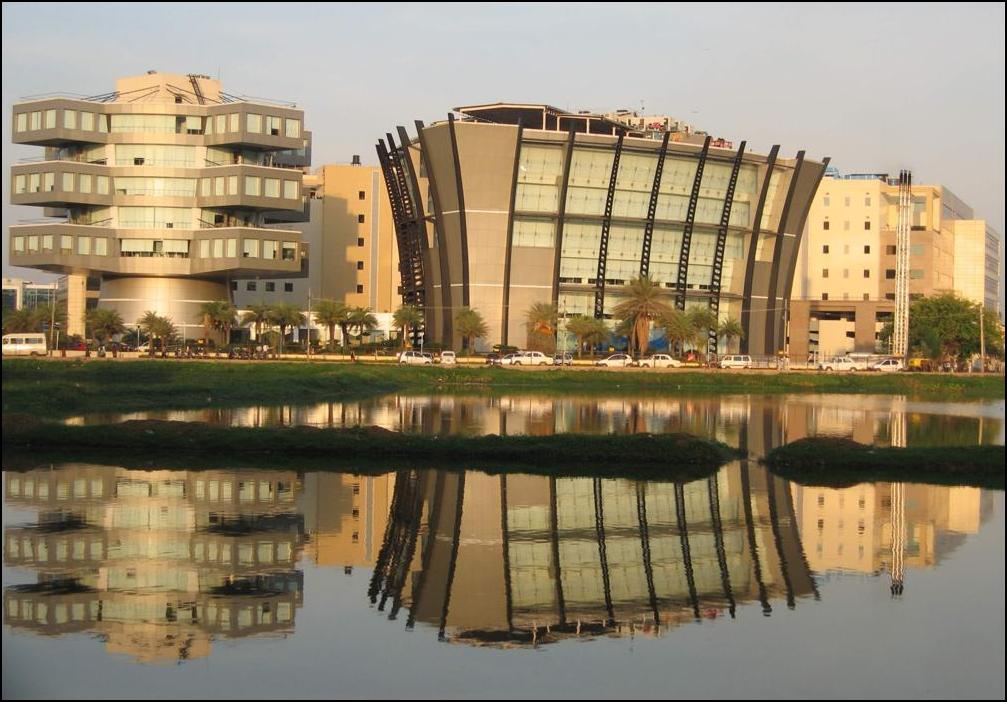 This building stands out in the Bagmane IT park for its unique shape and the blocks that seem to jut out like petals. The complex has a floor space of over 144,000 square feet and has a dedicated block for customer care and development activities. The building is part of the Bagmane Tech Park and it accommodates more than 1,500 employees. Not only is it an architectural marvel, it has also adopted efforts in energy-saving such as special provisions for natural light and more.
5. Adobe Headquarters
It is not surprising that a company responsible for transforming everything into a thing of beauty has an office that justifies the product- Adobe Photoshop. The architects have let it go with the colours, making it one of India's most colourful buildings.
The design of the building is in keeping with Adobe's international brand colours and contemporary approach. Bright colour schemes, innovative designs and abstract structural facades are characteristic of the fun and vibrant work atmosphere within. The state of art system for Engineering services effortlessly combines no-frills, convenient and comfortably designed spaces with the latest in technology.
6. Infosys Multiplex, Mysore
The Infosys campus in Mysore is definitely one of the coolest office campuses in India. While the entire complex boasts of many design and architecture achievements, the training room or the multiplex looks like a giant golf ball.
It spans 1.44 million sq.ft and is known to be the highlight of the Mysore campus. This auditorium complex has a capacity of training 14,000 employees at any given time. it has 485 faculty rooms, 147 training rooms, 42 conference rooms, an induction hall, five assessment halls, two state-of-the-art libraries, a cyber cafe and 3 multiplex theatres with a capacity of 150 seats each. It is the world's largest training centre.
7. Fisheries Department Building, Hyderabad
These people take their fish seriously! This 4-story fish building was constructed in 2012 to function as an office for the National Fisheries Development in Rajendranager, Hyderabad. In the belly of this colossal flounder, work is being done to expand technology for India's fisheries and aquaculture. Entrance to the building is beneath a silver fin.
The fisheries department HQ stands out in the Hyderabad cityscape with its unique design. Not everyone is a fan though. Some people have called the building creepy.
8. Software development Block, Infosys, Mysore
Another inclusion from the Mysore headquarters of this Tech giant, the Software Development Block Number 4. The complex is an architectural wonder inspired by Origami, the Japanese paper art.
9. Infinity Towers, Kolkata
While not as crazy or avant garde as its counterparts in this article, this IT park in Kolkata stands out because it's one of the few IT buildings in the city, otherwise known for its dustry streets, colonial buildings and slumscape.
Not only is it one of the highest buildings in Kolkata, but also enormous in size.
"Infinity Think Tank, Kolkata's first intelligent IT empowered workspace, has become a landmark for business infrastructure in Kolkata. The infrastructure combines environmental values with a futuristic design and robust engineering, configured to meet the needs of IT and ITeS clients.  The twin towers of Infinity Think Tank at Salt Lake, Sector V, is a combination of new technology and architecture" say the builders of this business centre.
10. Shree Cement, Jaipur
Usually known for its pink buildings and royal forts, Jaipur's architecture just added another modern-day spin with this LED studded,  high tech building.
Designed by the renowned Sanjay Puri architects, who are known to have created some of the most stunning buildings in the recent past, this curious building is home to Shree Cements. Called the "72 Screens Building", it incorporates the traditional art of "Jali" or mesh as its facade. Come night, the building facades turn into a Kaleidoscope of changing LED Displays.
This video was recorded by an enthusiastic fan on the historic night of Indian's win in cricket world cup 2011, when the building had special displays especially for the event.