Bill Gates is not usually given to hyperbole, but when he calls something an "amazing undertaking", you'd better sit up and listen.
If his latest blog post is any indication, Gates appears to be a huge fan of Narendra Modi's Swachh Bharat Abhiyan. That might seem like an odd thing for the world's richest man to be interested in, but since retiring from Microsoft, Gates has devoted himself to philanthropic activities. He's worked on eradicating malaria from Africa, and polio from South Asia. And he feels that Narendra Modi's bet on toilets is remarkable.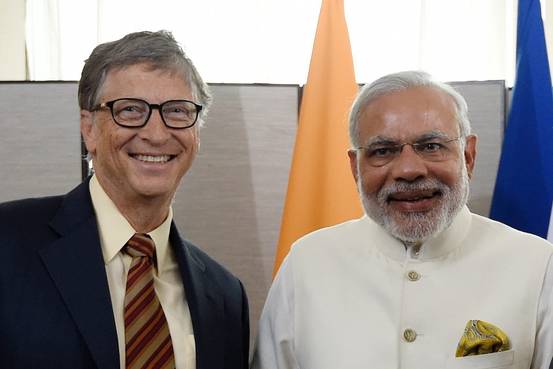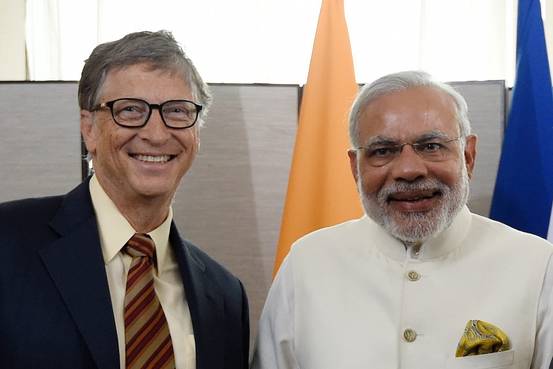 "Nearly three years ago, Indian Prime Minister Narendra Modi made one of the boldest comments on public health that I have ever heard from an elected official," he gushed in his blog. He goes on to talk about how Modi had addressed the problem of open defecation in India in his Independence Day speech to the entire nation. "I can't think of another time when a national leader has broached such a sensitive topic so frankly and so publicly," he says.
And Gates says it was not all lip service – Modi has delivered on his promises. "Even better, Modi backed up his words with actions. Two months after that speech, he launched a campaign called Clean India ("Swachh Bharat" in Hindi), which now includes ending open defecation nationwide by 2019, installing 75 million toilets throughout the country—75 million!—and making sure that no untreated waste is dumped into the environment." Gates then went on a share a little graph detailing the progress of the project, and the results look flattering for the Swachh Bharat Abhiyaan — in the 30 years before the Abhiyan began, the percentage of Indians with access to toilets went up from 10% to 42%; in the two years after its launch, it's gone up to 63%. The goal, of course, is to make sure all Indians have access to toilets by 2019.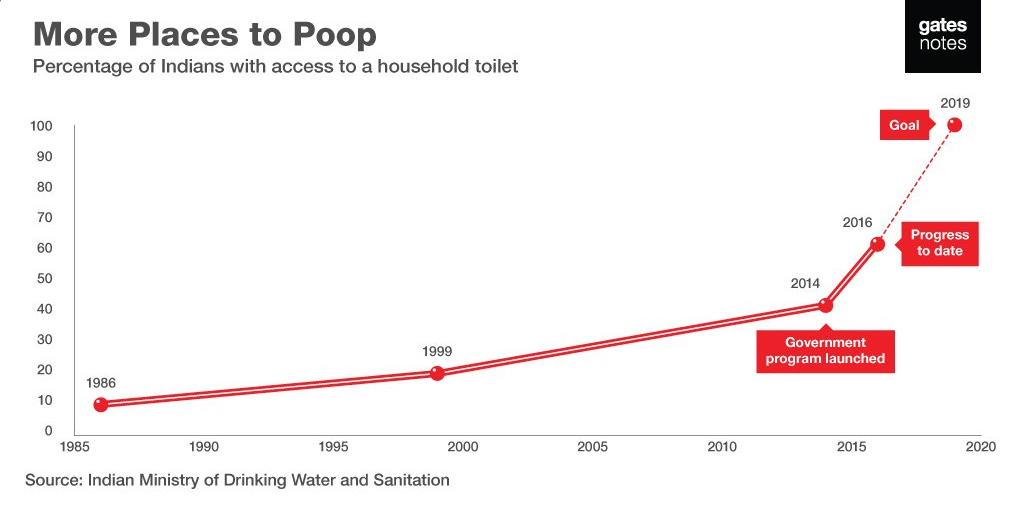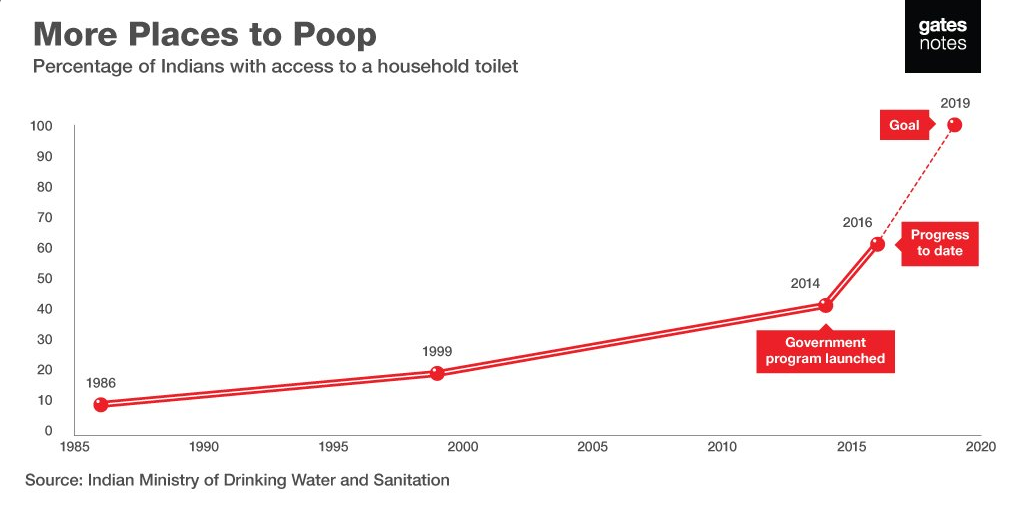 Gates' charitable foundation is also helping out, with its grants providing for research on an omni-processor which renders human waste free of pathogens and turns it into fertilizer. His foundation has been holding contests for researchers to reinvent the toilet, and been piloting projects in India. Gates oversaw these developments during a recent visit, and even talked about toilets while standing in front of India Gate.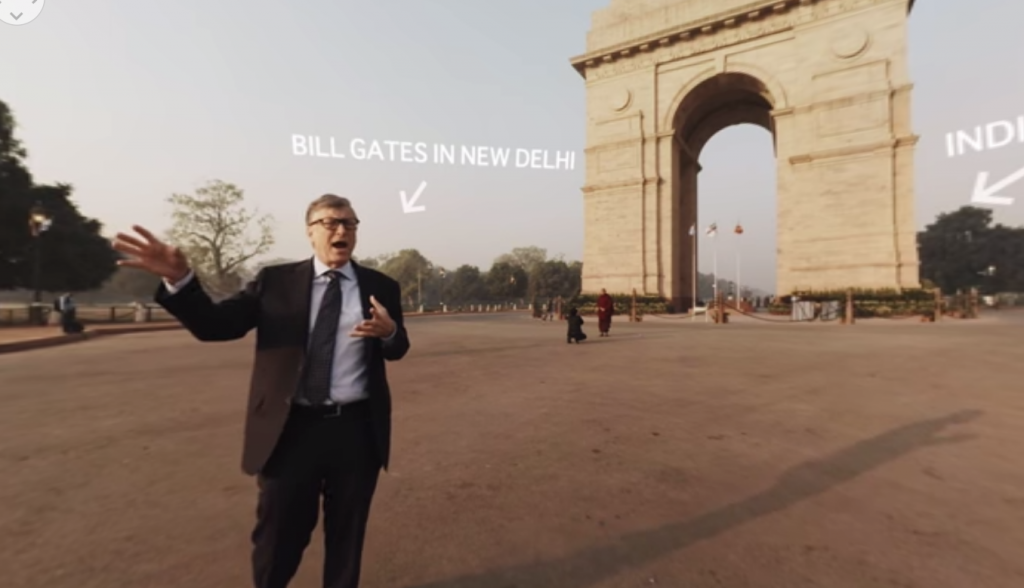 What seems to have impressed Gates is not just the project, but the way it's being handled. Gates is still a geek at heart, and appreciates some good data. And the Indian government has been tracking its progress with a nifty dashboard — you can see the progress of the project at a national level, and then drill down to individual states and union territories. It's all very startup-like, very new-age, and Gates seems to appreciate the thoroughness. "What I love most about Clean India is that it identified a big problem, got everyone working on it, and is using measurement to show where things need to be done differently," he writes.
Gates works with the Indian government on this project, so his opinion isn't exactly unbiased, but it's effusive praise all the same. "By aiming high, the people of India are demanding change, and they are taking action to make it happen. It is a great example for other countries and an inspiration for all of us who believe everyone deserves a chance at a healthy, productive life," he says. Narendra Modi and the entire Swachh Bharat team have just received some high praise for their work, and they're hopefully justifiably proud.