The MeToo movement has been taking steam across India, and is now cutting across fields including comedy, journalism, and even politics. As while more and more women are documenting their alleged abuses on social media, there are also lots that have gone through official channels at their workplace.
Moneycontrol reports that as many as 588 women reported cases of sexual harassment across the 50 companies in the Nifty 50 index. The greatest proportion of complaints came from the IT sector — three of the top four comapnies with reported cases of sexual harassment were IT companies, led by Wipro with 101 complaints. Infosys and TCS followed with 77 and 62 complaints respectively. There were 5 banks among the top 10, including ICICI Bank, Axis Bank, Kotak Mahindra Bank, SBI and HDFC Bank. As many as 13 companies, including Tech Mahindra, didn't report any cases of sexual harassment during the year.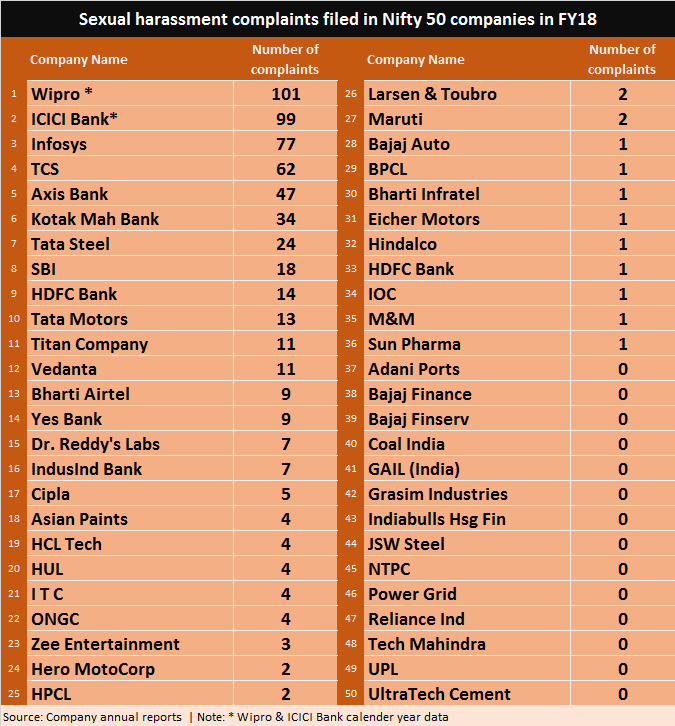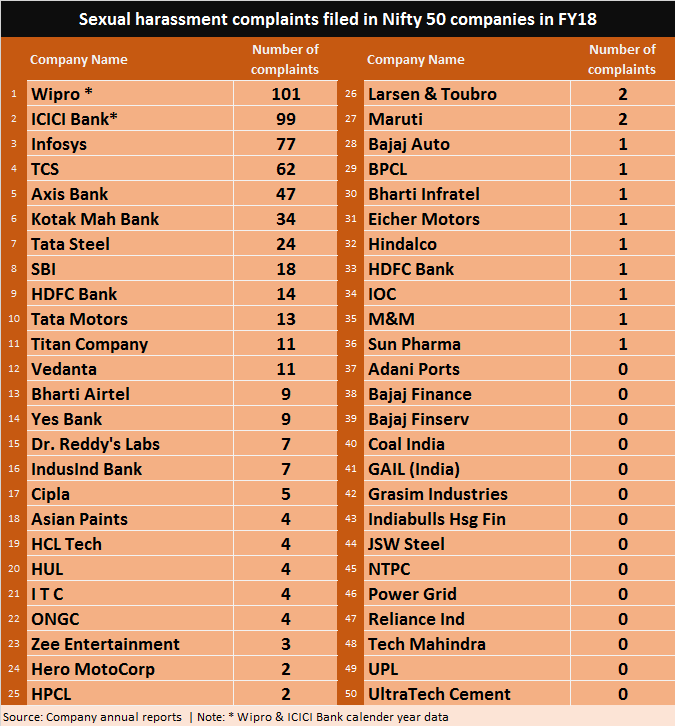 Among startups, the numbers weren't quite as high. Paytm had 10 complaints filed in FY18 in spite of having over 10,000 employees. Flipkart, which has over 40,000 employees, reported 9 cases, Ola reported 9, and Amazon India had a single complaint. Several companies didn't report a single case of sexual harassment, including Google, Apple, Uber and Swiggy.
The numbers of sexual harassment don't necessarily correlate with higher incidences of sexual harassment at the firm. These numbers don't take into account the size of the firm, or the nature of the complaints. Also, higher numbers of sexual harassment complaints could simply mean that women are more proactive about reporting these cases, and speak up more openly about unwelcome advances at the workplace.
The good news, though, is that only 2-4 percent of these complaints were pending at the end of FY18, which meant that the vast majority of these complaints were resolved. In many cases, the action taken amounted to the termination of the employee against which the complaint was made — for instance, for the 9 cases reported at Airtel, as many as 6 were substantiated, and the accused employees were asked to leave service.
As per the Sexual Harassment of Women at Workplace (Prevention, Prohibition and Redressal) Act, 2013, Indian companies are required to have an internal complaints committee (ICC) in place, and also required to disclose data related to such cases annually. The definition of sexual harassment is fairly broad — anything from a series of unwelcome remarks and actions, physical advances, demand for sexual favours and making sexually-coloured remarks as well as any unwelcome conduct of a sexual nature is considered to be sexual harassment at the workplace.