One usually has no control over the physical disability they're born with or was caused by an accident. But what one definitely does get to choose is how to live a normal, happy, and productive life.
Census reports say that over 21 million in India are afflicted with some sort of a disability. Living with a disability is not always easy – there are physical constraints, sometimes even in performing everyday chores. It is often a challenge to find a job, leave alone performing well in it. However, the human spirit has been known to overcome physical and mental barriers to achieve things. Fortunately companies across India are not only accepting, but also enabling and supporting this spirit and fostering a truly inclusive work culture.
In an exclusive feature, we bring you inspiring stories of these 7 differently abled people –  among the hundreds – who have not only conquered their physical disabilities, but continue to work normal successful jobs and careers, proving that the human spirit cannot be thwarted by an accident, of fate or otherwise.  We also hear about some of their struggles and issues they've faced in the competitive realm of jobs.
1.  Ankit Jindal, Marketing Manager, Wipro, Bangalore
Ankit Jindal has been in the news recently and for the right reasons. 
Ankit Jindal lost his eyesight when he was in his teens. But he did not let his disability come in his way, and he recently became the first visually impaired marketing manager at Wipro.
Ankit was diagnosed with Retinitis Pigmentosa, a disorder which causes progressive vision loss- when he was 10.  The disorder has had a family history, and expected as it was, the news had crushed his family. Amit, however continued to finish his education and was determined to get a deserving job. He started pursuing an MBA from the Faculty of Management Studies, Delhi. "It was a nightmare initially. No one had the time to handhold me, especially when there is so much competition everywhere," he says. He would get the notes converted into audio format and started paying extra attention to be at par with his classmates.
When summer campus placements came, he got selected by a company but was declined the opportunity due to his disability and he eventually ended up interning at a friend's startup.  "I was shattered; they didn't look at my qualifications. They just took away the offer because I was blind. I wanted to change this mindset. I wanted people to understand that one can be as good as others in spite of his or her disability," he says.
It was a college project that got Jindal the recognition that he truly deserved. He led a team which stood at second position at the Tata Business Leadership Awards. It was the start of a good time for Jindal, who had faced a lot of difficulties in his professional and academic career so far.
Wipro came as a campus recruiter and Jindal cracked all rounds of interviews without any difficulty. "I knew I had the potential, and Wipro is a very inclusive company. They didn't let my disability come in the way of my qualification," he says. (Source: Better India)
2. Vibhas Sen, Head of Operations at Virtual Snipers, Mumbai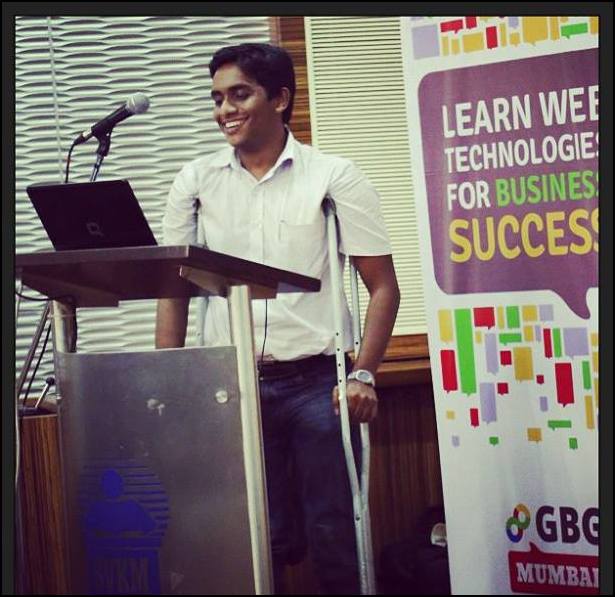 Vibhas has breakfast, drives to work, help brands achieve their marketing goals at his digital agency Virtual Snipers, fences at Malad, drives back home, relaxes at home, goes to sleep.
Vibhas has polio in both his lower limbs and he represents the Indian team in wheelchair fencing. He juggles work, training & matches quite efficiently.
For Vibhas, his disability has never affected his life. His ex-bosses & colleagues love him and they have always treated him equally, he says.
"They all understand & support my sporting life, and allow me to be flexible. And I make sure their trust is not broken with dedication & passion. They have always looked up to me with respect & not sympathy"
Not only does Vibhas kick ass at his company, but also informs us that he never faced any problems in getting a job, and boasts of a 95% interview conversion rate.
Vibhas' company has provided all the ergonomic benefits and accessibility is always taken care of, as Vibhas believes that is the only hindrance in moving about with his condition.
Along with flexibility for work from home during monsoons, as people usually face difficulty traveling then, his company also allows him to work remotely when when he is out of town for matches and training camps. 
"I think people feel disabled if people around them makes them feel differently. I'm bit lucky, no one has made me feel so."
3. Vidhya Narayanan, Recruiter at AVTAR Career Creators, Chennai.
Vidhya works with AVTAR Career Creators, an executive search firm. She is the Assistant Manager of Client Services and manages the Recruitment Process Outsourcing for AVTAR. She had initially joined as an Individual Contributor but was assigned a team within 3 months of joining after seeing her performance.
She is affected by an orthopedic problem called Fixed Flexion Deformity of the Knees which means she is dependent on walking aids like crutches. She was initially diagnosed to be a Cerebral Palsy patient affected in the lower limbs.
"Life was very different for me as I had difficulty in accessing places which others could which meant that even day to day activities like shopping or going out to a restaurant was out of bounds for me."
She however feels blessed to have friends, teachers and family who supported her end to end and made life easier (for example shifting the class to the ground floor or choosing a restaurant which is more accessible.). She was constantly motivated and encouraged by them to participate in activities like theatre and quizzes, which never made her feel apart from the rest of the folks.
It wasn't all smooth sailing though. She'd wanted to pursue her MA in Communications from a popular college in Chennai, but was refused admission in spite of clearing interviews because the Principal felt that she couldn't carry a camera around and walk.
She went on to do her Post graduation from another college which gave her a lot of space and time to pursue other activities.
"I have missed out on a lot of things but I cherish what I have been able to accomplish."
Vidhya admits that finding a job was difficult for her. Most companies wanted someone who could travel and most opportunities came in the form of Business Development and HR jobs. Vidhya had wanted to be in the field of HR and had to wait for almost a year after her post graduation to get into a recruitment firm,  which was not possible at that time due to logistical reasons . "There are several constraints. The company might be willing to take me but it would be located on the 1st floor or 2nd floor with no lifts which would be a issue for me on a daily basis. Thankfully now I am much better after several surgeries, and am able to climb stairs on my own."
However today, Vidhya is a successful professional who finds her 10 year recruitment career fulfilling, and helping people succeed in their careers makes her a happy recruiter. Her company is supportive and sensitive to her needs. She has been given special seating so that she can be comfortable and a place to keep her crutches. Her company ensures that she is not left out in any activity and treat her like just like any other employee.
 "Nothing is impossible. If someone else can do it, why not me? Though the duration in which I accomplish something will be different, but the end goal is what matters."

4. Ajay Kulkarni, AVP at a tech firm, Bangalore

Ajay was working as AVP, Technology ( Product ) in a Bangalore based technology startup. He recently quit his job to explore life and get better learning opportunities, and now works as a freelancer and works on open-source projects.
Ajay is hearing impaired from birth, and unlike Vibhas or Ruchir, doesn't have it so easy.
"Some people talk properly with me patiently, some people push me away, some people ignore me, some people poke fun at me, some people rudely ask me to join government jobs. Generally a day doesn't end without some sort of a struggle. But that is how I've lived since childhood. "
Ajay found difficult to get jobs because of his disability until the Bangalore startup took him on in an important tech role.
"I was never discouraged because I believed that struggle brings glory."
He says that his company let him work like a normal personal, without discrimination- negative or even positive- and were sensitive to his needs. Ajay considers his parents his biggest role models, and is thankful to them for helping him grow, and develop his communication through AIISH
"Disability is never an impediment, but makes people specially abled who can achieve great things in their life. I've met some specially abled people who had no skills and no passion. I tried to push them, tried to encourage them, some of them listened to me and are working hard, that makes me happy."
5. Manasi Joshi, Software Engineer, Atos, Mumbai
Manasi is currently preparing for selection trials for Para-badminton World championships, to be held in London in Sept 2015. She wakes up at 4.30, goes for yoga classes, and practices badminton both in the morning and evenings. In between all this, she also works as a Software engineer at Atos, India.
She has an above- knee amputation because of an accident she met with in Dec 2011. After losing her leg, Manasi had to relearn walking and had to adapt to a new life.
"Initially it was difficult but I could manage it pretty well.", assures Manasi.
Manasi's office has been supportive towards her needs and is physical-disability friendly. They have ensured that her needs are looked into, especially in terms of accessibility.
Manasi believes that people don't give up because of a disability. They give up because they do not get proper support from their family, peers or from society. 
"I think if there is accessibility, education and special attention towards disabled, then disability will never be considered as stigma or you will never come across as a reason to give up. ", she says.
6. Ashwin Karthik, Software engineer, Bangalore
Ashwin Karthik's determination, resilience and optimism is what defines his successful career. Ashwin suffers from most severe form of cerebral palsy, but that did not stop him from attaining what he wanted in his life. Today, he is the first BE graduate in India with such a disorder and works as a software engineer at ANZ corporation in Bangalore, and has previously also worked with Mphasis.
Though Ashwin had secured a good percentage as an engineering graduate, it was difficult for him to find a job because employers thought someone differently-abled will not be able to perform efficiently. Ashwin's greatest challenge was to earn the belief and respect of his superiors at work, as they believed that he could not deliver what was expected of him. But slowly over the years, his performance at work has won over their trust and they learnt that he could deliver the expected results in the set time frame as others.
Ashwin's achievements and award, such as the "Best Employee" award from the honourable President of India, have only reinforced that Ashwin is a hard-working and reliable employee. He credits his mother and brother who have supported him every step of the way, and his best friend Bharat, who for the past 7 years has been at Ashwin's side, even working as his appointed scribe through 4 years of engineering.
Ashwin is now working on writing his autobiography.
"The purpose of writing this book is to convey the message to parents of kids with disability not to give up on their kids. With support, encouragement and opportunity any differently-abled person can lead an independent and dignified life. Also, I want to convey the meaning of selfless friendship."
7. Ruchir Falodiya, Brand Executive, Titan, Bangalore

Ruchir works as a brand executive for Tanishq- Titan's jewellery division-, and takes care its entire digital marketing portfolio. An average day for Ruchir is like any other manager's – filled with meetings with our various agencies,  reviewing campaign performance, reporting, and briefs. He is also responsible for driving footfalls to Tanishq's 160+ retail outlets and generating sales through e-commerce channels, he informs.
Ruchir considers his disability – being visually impaired from birth- a blessing in disguise as it has given him the ability to ignore and cut down on external disturbances and focus more clearly his short and long term goals and set objectives.
"Yes it has not been all happy and great, there has been ups and downs, but I guess that's the story of everybody's life and I've never been in despair because of me being differently abled."
Though for Ruchir, finding a job wasn't all that easy. Ruchir considers this phase the toughest period of his life. While big international companies were were giving certificates and trainings on accessibility tools, management in India was not aware of special assistive technology and softwares. And though Ruchir cleared all rounds of placement processes with flying colours, they always said that they would get back, but never did.
Ruchir is thankful for Titan for accepting him for who he is and giving him an opportunity to prove himself by giving him a very important function in the organization. He believes that Titan is an equal opportunity employer and he has got his job based on his skills and not out of sympathy.
Besides working at Titan, Ruchir is a great believer in open source technology, where the community is making things better for disabled individuals. It has come up with several aids to make things easier for differently-abled people, such as the Orca screen reader on linux, and nvaccess for Windows. These free options are a godsend for people with disabilities, because asking companies to incur extra costs to hire them will make even more reluctant.
His advice to people who give up on life because of a disability is to understand the fun in facing problems and finding solutions, and asking for help when needed. And before asking for help, one should one should try their level best to resolve their issues on their own, and must add value or bring something to the table extra so you are not a liability but an asset for the company.
Ruchir swears by these lines:
"life's battles do not always go,
To the stronger or the faster man.
But sooner or later the one who wins,
Is the one who thinks he can!".