Yesterday Patanjali Ayurved, the Indian Ayurvedic FMCG brand led by Yoga Guru Baba Ramdev, launched Coronil, an Ayurvedic preparation claiming to be a cure for Covid19.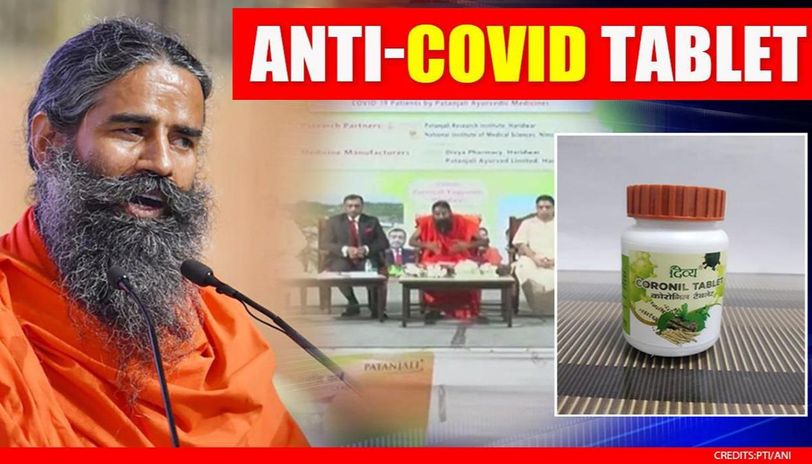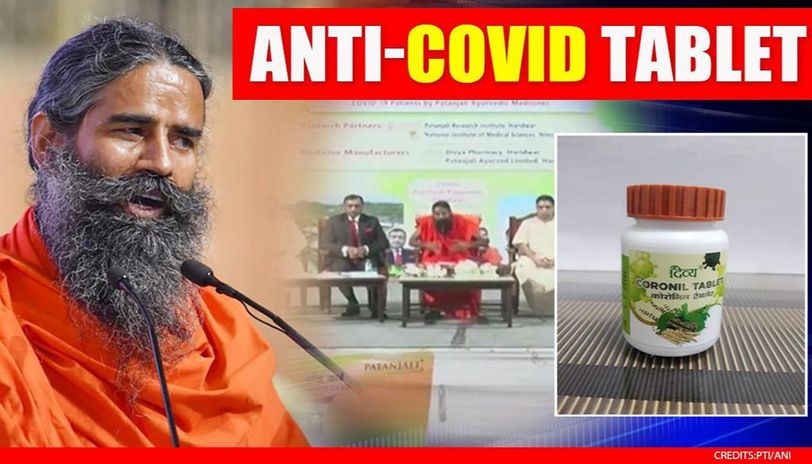 The product purported as a "first and foremost evidence-based Ayurvedic medicine for Covid-19" was launched with much fanfare and media blitzkrieg with a press conference headlined by Baba Ramdev himself and Patanjali CEO Acharya Balkrishna. "We're very proud to announce the first evidence and research based Ayurvedic Covid19 medicine,  Coronil Shwasari. The biggest thing [Sic] is that within 3 days Coronil showed improvement in 69% of the persons with Covid symptoms."
The preparation, tested with "scientific studies and clinical trials", claims to cure Corona patients within 14 days. "Since Covid is a respiratory disease, Coronil will boost the body's immunity, and strengthen the respiratory system. It will also treat Covid complications like cold, cough and fever. No need to take any allopathic medicines. Except when the case has gone to the ventilator stage", clarified Ramdev.
However within hours of the mega launch, the ministry of Ayush, Indian government's healthcare department, decided to step in and asked Patanjali to stop advertising the product until it had submitted the details of the medicines. "Ministry has taken cognizance of news in media about Ayurvedic medicines developed for CoViD19 treatment by Patanjali Ayurved Ltd. Facts of the claim and details of the study are not known to the ministry." the ministry's statement said. As per the provisions of Drugs And Magic Remedies (Objectional Advertisements Act) Act, 1954 under which Patanjali's Coronil launch falls, it is also required to furnish the details of all the clinical trials and studies it says it's done before launching the product. The Ayush ministry had, incidentally, released an advisory in April stating that at the present there were no successful approved treatments for Covid19. It had also clarified that while Ayurvedic treatments have long been used as immunity boosting preparations in the country, their claims as a legitimate disease treatment must be backed by scientific evidence and approved clinical trials. 
Balkrishna later clarified in a tweet that there was a "communication gap" between the government and the company, and that all the information sought by the ministry has been furnished. "This govt encourages Ayurveda. There was simply a communication gap between us and the Ayush ministry. All the standards of randomised placebo controlled clinic trials that we have undertaken have been complied with, and the ministry has been duly informed.", he said. He also shared an image on the composition and the technical literature on the medicine.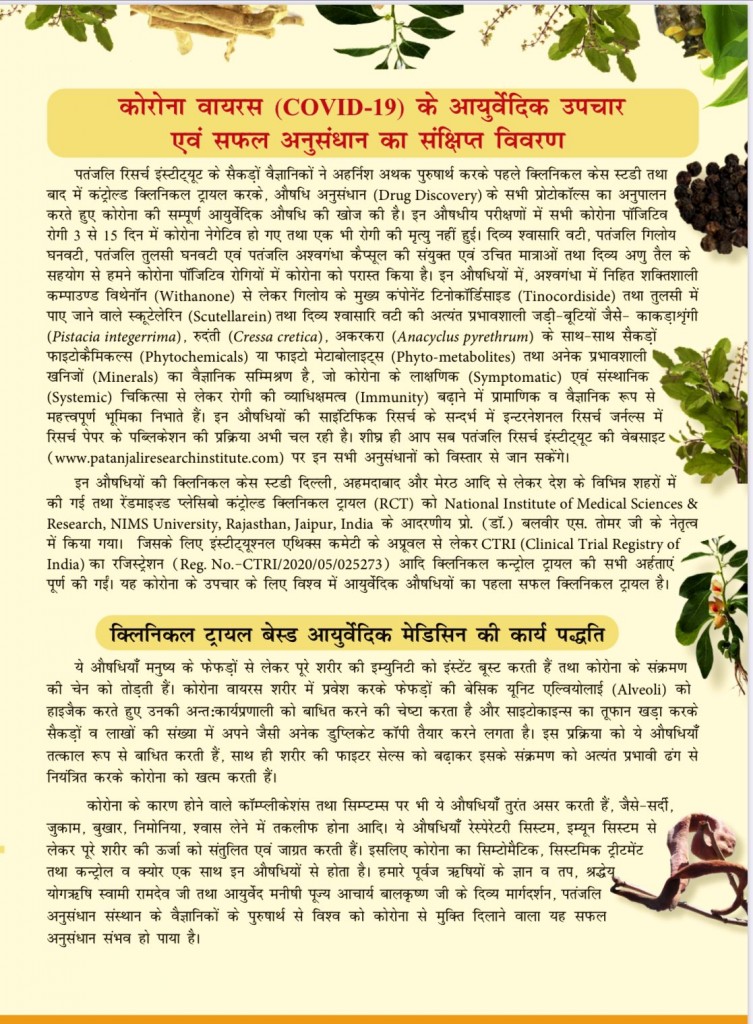 The Covid19 spread has been on a steep incline over the last few weeks in India, despite having an initial slow rate of growth thanks partly to the almost 2 month lockdown in the country. As of today, there are over 440K confirmed cases of Covid19 positive patients, and 11,o00 deaths in the country. 
Patanjali's claim for a Covid cure comes at a time when many pharma companies across the world are in a race to develop and launch a vaccine 5 months into the pandemic, with China, Italy, Germany and US close to a breakthrough. Despite many trial and error around medicines like Hydroxychloroquinine, Remdesivir, Dexamethasone, or Plasma Therapy, no country has been able to report of a 100% successful and peer-reviewed treatment yet. Any commercial vaccines, even if developed successfully, will take around 6-12 months to be available at large according to experts.  
Patanjali may have jumped the gun in announcing the cure for a product with unverified efficacy, but it remains to be seen, if at all, India can be the first country to lay a successful claim to a Covid19 treatment, and with a homegrown Ayurvedic brand at that.