Over the last few years, Patanjali had bulldozed through India's FMCG space, leaving both surprised analysts and napping incumbents in its wake. From being a name that few people had heard of, Patanjali had become India's third largest FMCG company with revenues of Rs. 10,651 crore in FY 2017. It had not only surpassed several established FMCG names — Patanjali's revenues were higher than those of Colgate Palmolive, Godrej Consumer and ITC Consumer last year, but individual products by themselves had been earning Patanjali higher revenues than entire companies. Patanjali's shampoo revenues, for instance, were more than those of Ola, and Patanjali's toothpaste revenues were more than those of Paytm.
But Patanjali's scorching revenue growth has come to a grinding halt in 2018.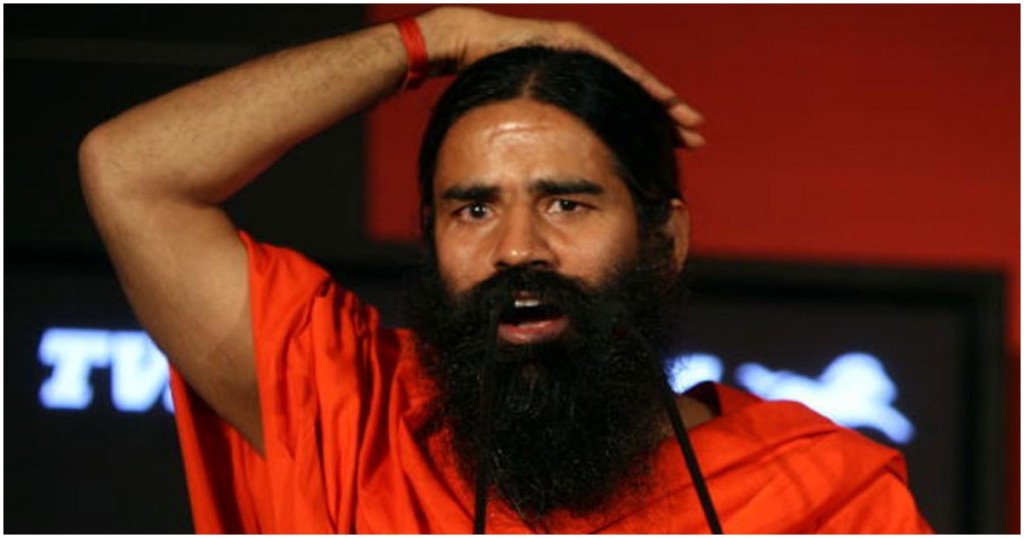 Patanjali's revenues didn't grow at all during FY 18 over FY 17, according to the management. "We have closed the year around the same level as the previous fiscal year's revenue," Patanjali MD Acharya Balkrishna has said. This means that Patanjali ended FY18 with revenues around Rs. 10,561 crore, the same level at which its revenues had been last year. This is a sharp fall in Patanjali's annual revenue growth, which had nearly doubled last year, and had grown 20x over the last 5 years.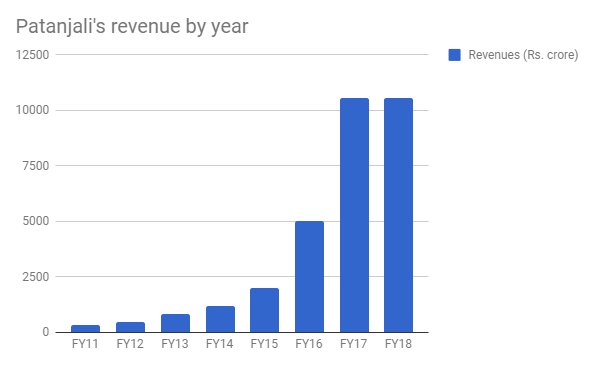 Patanjali says that some of the slowdown was because of factors outside their control. "Lingering effects of the demonetisation and the implementation of goods and services tax (GST) impacted growth," said Acharya Balkrishna."Besides, we invested our energy in developing infrastructure and supply chain during the year. This year, we focused on system development, and not just revenue growth," he added. He went on to say that Patanjali would do better next year.
But for now, the Patanjali juggernaut appears to be on a bit of a break. There can be several reasons why Patanjali's been unable to sustain its high levels of growth — for starters, Patanjali was able to capture a large section of the market based largely off Baba Ramdev's popularity, and it might be having a hard time moving outside that core demographic. Also, Patanjali's growth might've been too fast to sustain at higher volumes — reports have suggested that the company's supply lines are strained, and it's looking to regroup to handle the larger volumes.
But perhaps the most crucial factor might just be that the competition has wised up to Patanjali's Ayurvedic pitch, and are trying to replicate it themselves. Colgate, for instance, now sells something called Swarna Vedshakti toothpaste to counter Patanjali's Dant Kanti, and HUL, India's largest FMCG player launched its own range of Ayurvedic products under the brand Level Ayush. And while Patanjali's growth has stalled, bigger FMCG companies are still growing at the sedate pace they always were — HUL's revenues rose 2.2% this year, Nestle saw its revenues rise 10.5%, and ITC's revenues rose 11%.
While these aren't numbers that would've impressed Patanjali until very recently — last May, Baba Ramdev had proclaimed that Patanjali would double its revenues every year — they show that Patanjali's now fallen behind its rivals in its quest to become India's largest FMCG company. Patanjali's come a long way in the few years that it's been around, but it's already realizing that once it's in the big league, things are a lot harder than when it was a little upstart trying to disrupt the industry.