The fizz might be returning for PepsiCo India.
After four straight years in which the company reported a net loss for its India operations, PepsiCo has finally managed to turn a profit in 2017-18. Pepsi reported a profit of Rs. 190 crore over the period on revenues of Rs. 5,983 crore. This was the first time the company has reported a profit since FY2013, when it had barely managed to break even with profits of Rs. 17.6 crore. The last time it had made a substantial profit was in FY2010, when it had reported a profit of Rs. 63 crore.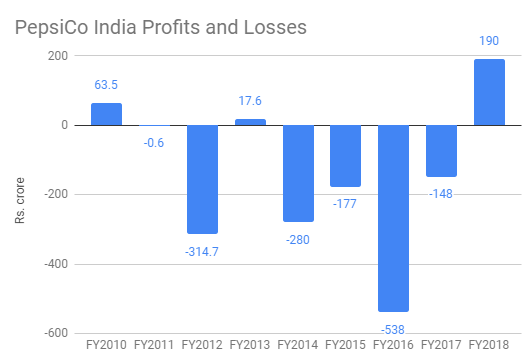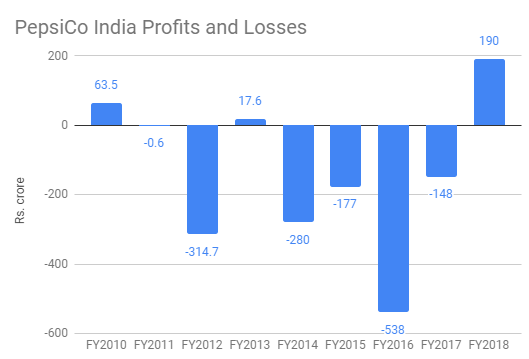 Pepsi's income statements have been nothing much to write home for most of this decade. After managing a profit of Rs. 63 crore in 2010, the company followed up the next two years with losses of Rs. 0.6 crore and Rs. 314 crore. It managed to eke out a profit of Rs. 17.6 crore in 2013, but then followed it up with losses of Rs. 280 crore, Rs. 177 crore and Rs. 538 crore over the next three years. At the end of 2017, its CEO of four years D. Shivakumar quit. However, by FY17 PepsiCo had managed to effect a bit of a turnaround, when it cut its losses by nearly 70%. It has followed that up with another strong performance, this time resulting in a profit of Rs. 190 crore.
Pepsi says it was a combination of factors that have led to the profitability. "Focus on profitable channels, packs and innovation, cost management and productivity to offset inflation, local agriculture programmes and procurement for citrus and corn, and maximising capacity utilisation were factors that brought balanced growth," PepsiCo India chief financial officer Rajdeep Datta Gupta told ET. Pepsi also seemed to focus more on marketing this year — its ad expenses rose 15% over 2017.
Apart from the eponymous cola and other brands including Mountain Dew, 7Up and Mirinda, Pepsi also been branching into other segments. As health-conscious consumers move away from colas, Pepsi has branched into the fruit juices segment with Tropicana, and the sports drink segment with Gatorade. Apart from its usual portfolio of snacks which includes Lay's, Kurkure, Doritos, Cheetos and Uncle Chips, it's also created a breakfast product with Quaker Oats. 
Pepsi said that it's still creating new products and packagings for India, coming up with 80 new variants in the last 3 years. Among these, Lay's, Kurkure, Quaker and Doritos were the key growth drivers, with 'encouraging results' for its new high-margin products Pepsi Black and energy drink Sting.