As pollution levels have soared in Delhi, angry citizens have taken to social media, politicians have been scrambling for solutions, and the rest of the country has marveled at the rapidly rising AQI levels. Amidst all this, a Delhi-based entrepreneur has managed to spot an opportunity to cash in on the situation.
Delhi, which is known for its proud drinking tradition, is now home to an oxygen bar. An oxygen bar is exactly what it sounds like — instead of providing you with a stiff drink, or mixing your favourite cocktail, it provides you with oxygen. The Oxy Pure bar in Saket claims to offer pure oxygen to customers for 15 minutes. The oxygen is available in 7 aromas including spearmint, peppermint, cinnamon, orange, lemongrass, eucalyptus and lavender.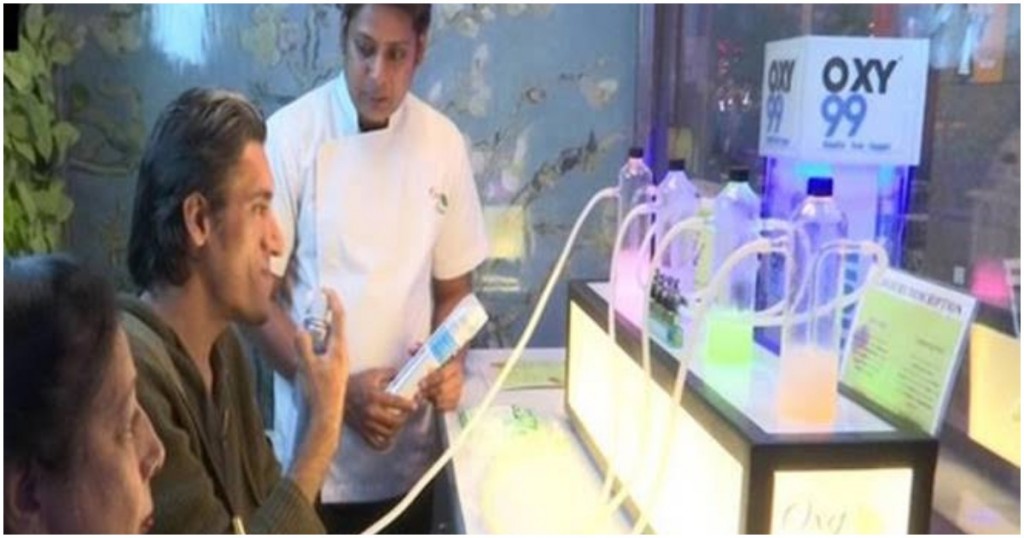 Founded by Aryavir Kumar, Oxy Pure charges Rs. 299 for each 15 minute oxygen breathing session. The customer is given a tube through which flavoured oxygen is provided to them. The apparatus works by controlling atmospheric pressure, and customers are restricted from inhaling oxygen more than once a day. The first outlet is open at Select City Walk mall in Saket, and a second outlet is expected to be opened at Delhi airport by December this year.
Oxygen bars aren't yet popular in India, but there are quite a few abroad that are used for recreational purposes and aromatherapy. Breathing in oxygen at a bar supposedly has many health benefits as it helps the body to rebuild itself, increases oxygen circulation and strengthens the immune system. It also claims to help with relaxation and prevent headaches.
Delhi has been staring at a health crisis in recent days as pollution levels have spiked to record levels. Even as citizens have struggled with the smog, entrepreneurs have been quick to come up with solutions and make some money in the process — sales of masks and air purifiers have risen exponentially in recent years. But at at time when startup ideas seem to be in short supply, for someone to come up with a whole oxygen bar to enable Delhi's oxygen-deprived citizens to be able to breathe does seem like a breath of fresh entrepreneurial air.