PV Sindhu created history last night by becoming the first Indian woman to win a silver medal at the Olympics. And while the whole nation poured praise and wishes on her, Indian brands discovered that they'd found an ideal marketing peg. Sindhu will undoubtedly be offered lots of branding opportunities post her win, but by default she's become the face of multiple brands.
While some of these campaigns are more creative than others, such was the power of Sindu's historic victory that they all saw plenty of engagement on the social media.
1. Pizza Hut is offering free pizzas to Sindhu's namesakes.
While Sindhu didn't do the now-mandatory biting-the-medal photo op at the Olympics podium yesterday, Pizza Hut wants to ensure that at least her namesakes get to bite into some pizza. Pizza Hut had rolled out the same offer when Sakshi Malik won the bronze for wrestling and hundreds of Sakshis were reported to have walked in to claim the free pizza. Luckily for Pizza Hut, Sindhu isn't exactly the most common name in India, so they can be assured of a less overwhelming response to this one.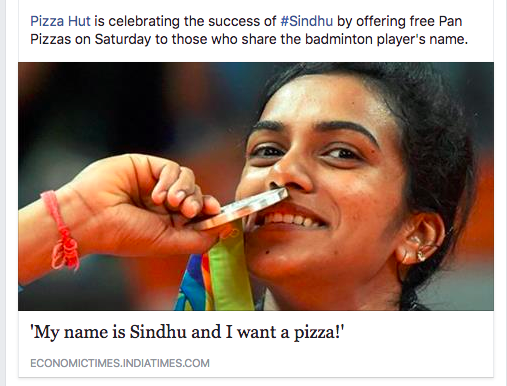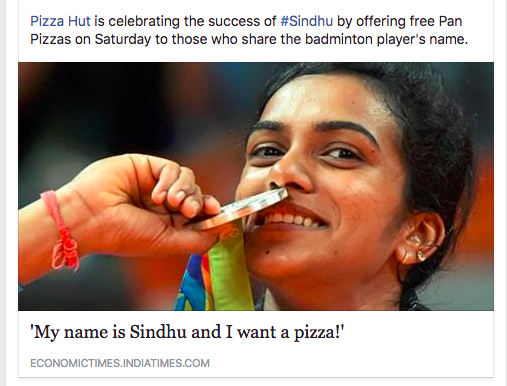 2. Uber's is shuttling you around
Uber helped 'shuttle' its passengers around by briefly changing its car icon to that of a badminton shuttle. Subtle and creative, this one was one of the best ways we saw to honour Sindhu's achievement.
Well done Uber India. Well done. pic.twitter.com/p44rOi5aww

— abhishek tripathi (@abhishek_tri) August 20, 2016
3. Ola wants to get you home early to catch the match
Rival Ola tried to stay a step ahead by offering a discount even before the match was to begin. They offered a discount code, SINDHU, which could be used to get a Rs. 100 off on rides taken between 5pm and 6pm.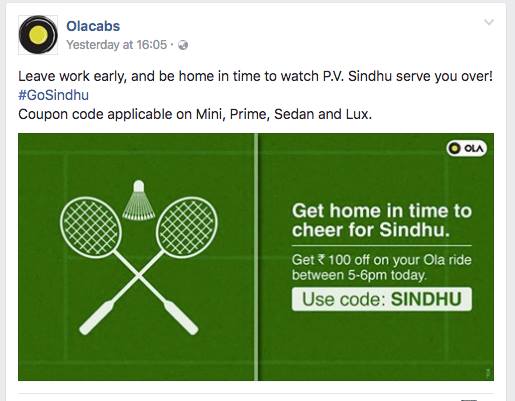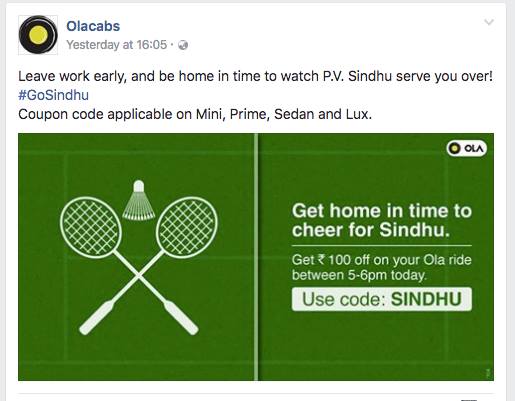 4. OYO's quick creative
OYO rooms rolled out a quick Prisma-like creative as soon as the match finished and Sindhu sealed her silver.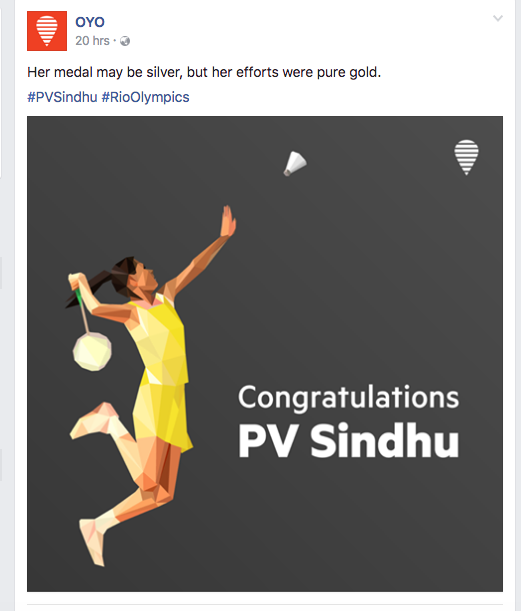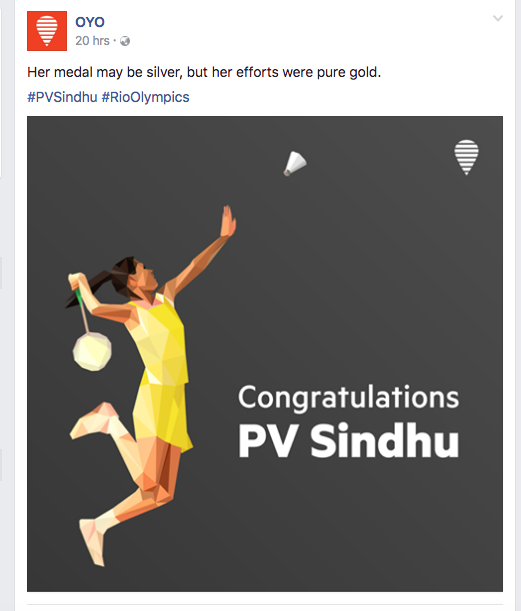 5. Tanishq is all about the gold
Sindhu won silver, but had won the hearts of the nation with her spirited performance. Gold brand Tanishq let us know that she was "gold for us." They also had a "once a gem, always a gem!" blurb on the creative. Punny!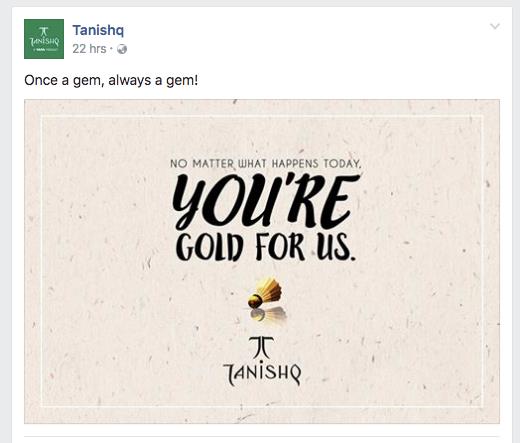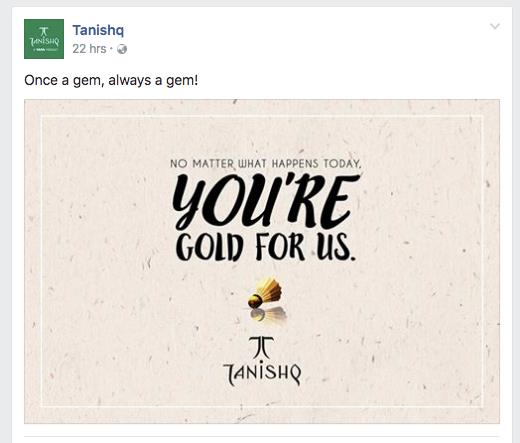 6. Flipkart keeps it simple
Without trying to sell something, Flipkart kept it simple with this well-timed creative in her honour.
No matter what the color of the medal, you'll always be a champion in our hearts. Congrats & well played @Pvsindhu1. pic.twitter.com/0PdlRb9cJL

— Flipkart (@Flipkart) August 19, 2016
7. FreeCharge's #StayCharged creative
FreeCharge also came out with a simple graphical creative congratulating Sindhu.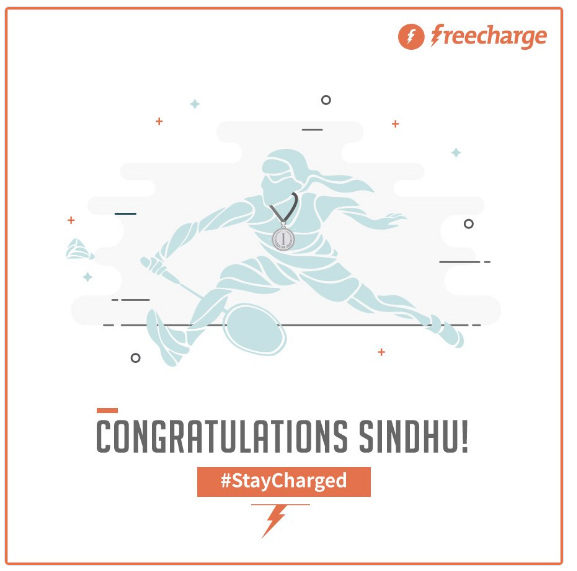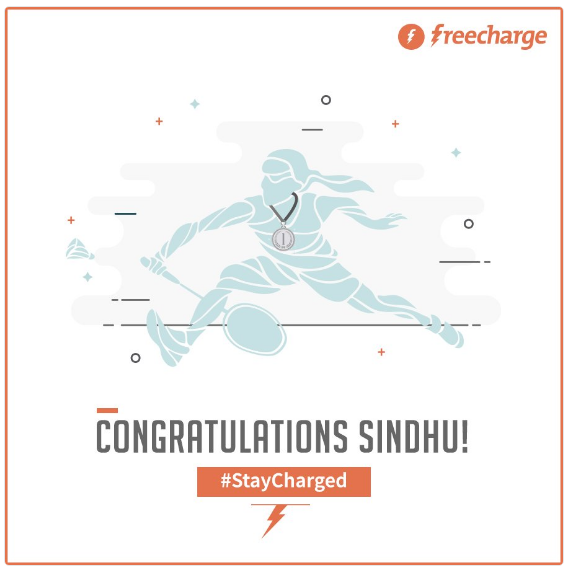 8. Vidyamandir Classes piggybacks on Sindhu's sports medal to promote the opposite
At a time when the nation was bemoaning India's relentless focus on education without paying enough attention to sports, IIT-JEE coaching provider Vidyamandir Classes showed exactly why India doesn't do well at sports. It tried to use Sindhu's sporting achievement to push its own IIT coaching classes, claiming that "the success mantra is common to both an Olympic medalist and an IIT-JEE top ranker." While that may be true, the irony wasn't lost on most people, and the ad was roundly taken apart on social media.