Indian brand Campa Cola had struggled to compete with foreign competition in the form of Pepsi and Coke, but it's now set to make a comeback.
Reliance has acquired the Campa brand from New Delhi-based Pure Drinks group for an estimated Rs. 22 crore. Reliance will relaunch the iconic brand nationally later this year. Campa Cola will be available at Reliance Retail stores, JioMart, and kirana stores all over the country, and provide an Indian alternative to Pepsi and Coke.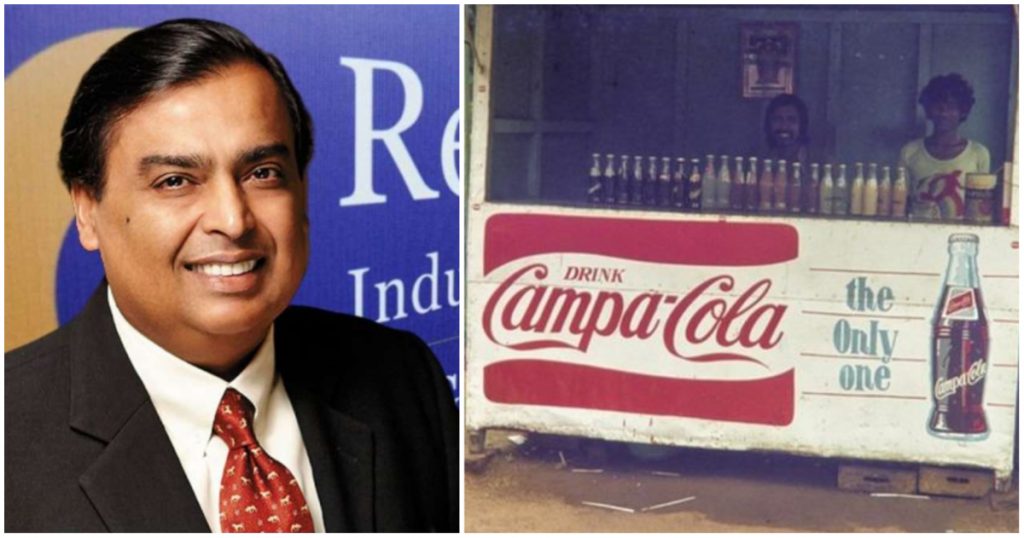 The relaunch of Campa Cola is a part of Reliance's larger FMCG push. At Reliance's AGM earlier this week, Isha Ambani, director of Reliance Retail Ventures Ltd, said that the retail arm of the company is ready to enter the FMCG segment. Her company, Reliance Retail Ventures, will launch the FMCG business with an aim to develop and deliver high-quality, affordable products, which would cater to the daily needs of Indians.  
FMCG isn't a new vertical for Reliance's — Reliance is already the largest retailer in India through Reliance Retail. It also runs a series of private labels, including like Yeah!Colas and Snac Tac noodles. The private labels, including in the fashion and lifestyle segment, contribute 65 per cent to the company's revenue.
But Campa Cola will make an interesting addition to Reliance's portfolio. Campa Cola has its roots beginning in 1949, when Coca Cola had employed Delhi's Pure Drinks group to be its sole distributor in India. In the 1970s, after India's protectionist measures forced foreign brands out of the country, Pure Drinks launched its own drink, which it named Campa Cola. Campa Cola was successful, and became a household name across the country through a series of memorable ad campaigns. But as the economy once again opened up in 1991, Pepsi and Coke returned, and Campa Cola found it hard to compete. The brand eventually fell by the wayside and was discontinued.
Several decades later, Campa Cola has been revived, and it now seems to be in good hands. Reliance is India's most valuable company, and Mukesh Ambani is one of the richest men in the world. Reliance is also India's largest retailer, and through its own stores and Jiomart, will give Campa Cola plenty of distribution to take on the big boys of the cola world. Campa Cola will also evoke nostalgic memories among the older set of consumers, which could help it get an initial set of customers. And if the company plays up its Indian roots, it can pit itself as a local alternative to the foreign-owned Pepsi and Coke.
And Campa Cola's journey, in many ways, mirrors the ebbs and flows of the Indian economy over the decades. When India had first become independent, it didn't quite have the technical know-how to make basic products, and relied on foreign collaborations. Some of these products were successful, but even till the 1990s, were still not good enough to compete against the best in the world. But India's economy has changed since then, and Indian products, right from automobiles to software, can now hold their own against global counterparts. It remains to be seen how Campa Cola's second innings plays out, but if it can take on the incumbent cola behemoths, it could be yet another sign that India has well and truly arrived on the world stage.