Most startup stories could end up being good candidates for movie scripts. The average startup journey features an underdog who comes up with an idea to change the world, and there's ups and downs, laughter and tears, and a grand battle against the odds. But iconic restaurant chain Sarvana Bhavan's story has more masala than most — it begins with a rags-to-riches tale, and ends up with a murder charge.
Sarvana Bhavan might not be particularly big in north India, but is one of the most recognizable Indian restaurants abroad. In places including New York, Paris, London, Frankfurt and Doha, Sarvana Bhavan dishes up standard south Indian fare that loyalists claim tastes exactly the same as it does in the outlets in the company's headquarters in Chennai. Sarvana Bhavan has 33 branches in India, and as many as 47 across a dozen countries, and serves over a lakh people a day.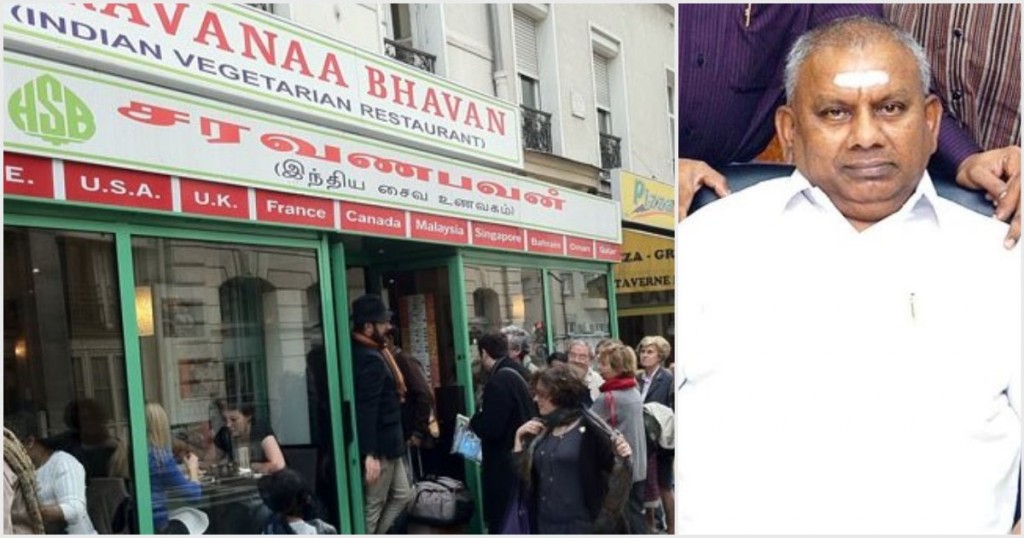 The beginnings of the this global restaurant empire came from an unlikely place — the nondescript village of Punnaiadi in Tamil Nadu, where Sarvana Bhavan founder was P Rajagopal was born 10 days before India became an independent country in 1947. Rajagopal's origins were humble — he grew up in a home that was little more than a shack with mud and cow-dung floors. After he'd completed class seven, he left his home and took up a job wiping tables at a cheap restaurant at a distant resort town.
The restaurant experience — where he supposedly learnt to make the perfect chai — stayed with him. As a teenager, he moved to Chennai, and set up a series of small grocery stores at the outskirts of the city. The stores didn't do particularly well, and left him deep in debt. It was then he realized that there weren't many restaurants in the city, and people had to travel large distances to be able to eat out. Around the same time, an astrologer told him that he'd do well to involve himself in a business that dealt with fire. Rajagopal put two and two together, and Sarvana Bhavan was born.
Rajagopal entrepreneurial journey wasn't an instant success — at the outset, the business was losing Rs. 10,000 a month, at a time when the average dish at his restaurant was priced at Rs. 1. But word soon spread about the restaurant that served good-quality food at reasonable prices, and Sarvana Bhavan was soon flourishing. By the 1990s, Sarvana Bhavan outlets were found all around Chennai, and locals marvelled at the standardization and cleanliness at whichever Sarvana Bhavan they went to. Rajagopal was also known to be a generous employer — his workers called him Annachi or elder brother, and Sarvana Bhavan's perks were unheard of in the restaurant industry, with employees getting free health care, housing stipends, a marriage fund for their daughters, motorbikes, magazine subscriptions, and even a haircut allowance.
In 2000, Sarvana Bhavan expanded abroad, opening its first international outlet in Dubai. Rajagopal's playbook was simple — he wanted to open restaurants in places with large Indian expat populations, and serve homesick patrons the kind of food they'd been used to back home. By 2002, Sarvana Bhavan had opened branches in Singapore and California. Things were looking up for Rajagopal — the boy from Punnaiadi was running restaurants that straddled the globe. But then came the murder charge.
Rajagopal had been married twice — first in 1972, and then in 1994. While simultaneously married with both women, Rajagopal came to be besotted with Jeevajothi, the daughter of one of his assistant managers. Jeevajothi, though, wasn't interested in Rajagopal, and in 1999 eloped with her brother's math tutor, Santhakumar. Rajagopal assiduously pursued Jeevajothi, giving her jewelry, dresses, and cash to help her open a travel agency. Jeevajothi accepted the gifts, but continued rejecting his advances.  
In 2001, Rajagopal allegedly went to Jeevajothi's house and gave her two days to sever her relationship with Santhakumar, and marry him instead. The young couple tried to flee, but were kidnapped by five of Rajagopal's employees, who bundled them into an Ambassador car and put them under house arrest. A few days later, they escaped, and  Jeevajothi filed a complaint with the police. Not long after, Rajagopal's employees kidnapped the couple again and forcibly separated them. Santhakumar called up Jeevajothi a few days later, and told her that Rajagopal had paid an employee of his, Daniel, Rs. 5 lakh to kill him, but he had taken pity on him and let him go, urging him to hide out in Mumbai. The couple, however, decided they'd return to Chennai and approach Rajagoal, and ask him to leave them alone.
That didn't go as planned — after they'd returned to Chennai, Rajagopal's men put them into a van and sent them away to a village for the "removal of witchcraft." They were separated again, and a few days later, the police discovered a body near Kodaikanal. It was Santhakumar's. The cause of death was determined to be "asphyxia due to throttling," and the alleged murder weapon — a sarong — was discovered in a car belonging to Daniel, the employee of Rajagopal's who'd allegedly been paid Rs. 5 lakh to murder Santhakumar.
In 2004, the Madras High Court found Rajagopal guilty, and sentenced him to 10 years imprisonment. The sentence was appealed, and he was eventually sentenced to life imprisonment. The decision was upheld by the Supreme Court, and Rajagopal will surrender by 7th July this year, and spend the rest of his life in prison.
Incredibly, Sarvana Bhavan's international expansion continued through the murder controversy. After setting up its first international outlet in 2000, Sarvana Bhavan had expanded to 29 outlets by 2004, and 47 international outlets by 2014. With Rajagopal now sentenced to life in prison, the business is being run by his two sons, who're looking to modernize and expand the iconic outlet. Rajagopal's legacy might be tainted, but lakhs still stream into his outlets every day, eating steaming hot masala dosas, vadas and idlis at the global chain that's brought south Indian cuisine to the world.