If there's one thing that makes startups stand apart from the big corporations, it's their ability to innovate, experiment and maintain a quirky culture. Brian Chesky, CEO and founder of AirBnB, when getting his round of first round of funding from Peter Thiel was told "Don't fuck up the culture". Much has been spoken about the 'Startup culture', but startup culture goes beyond pretty offices, free lunches and various perks.
It's in the DNA of the company. It's the big things, but it's also the little things. While Google's 20% project time and Facebook's one month project rotations are well known, we have compiled a list of little quirky things startups around the world – small and big – have adopted as a part of their culture. Because happy and engaged employees build great companies.
1. Trial weeks at Zomato, India
Starting the list with this homegrown Indian startup, Zomato practices what it calls the trial weeks where engineers are hired to work at Zomato for a week.  Zomato takes care of the travel expenses, and food is on the house, like for every other employee. This is a great way for both the employee and Zomato to gauge the actual work experience first hand, without committing.
2.  Espresso bar where the leadership plays servers, at Evernote, California, USA
At Evernote, the maker of popular note-taking software, one of their culture hacks is to put their senior managers in-charge of their office's coffee shop (which they call "The Dialogue Box").   Senior managers assume 1-hour shifts throughout the week, which encourages team members to drop by for a chat.   Evernote's CEO, Phil Libin is not exempt from his shift either.  
3. Adventure engineering at Payroll Hero, Philippines
At this Philippines based startup, they have adopted a method called #AdventureEngineering where employees are given the chance to choose from 2 very different lifestyles and to experience both as often as they choose. The employees can choose to work out of either of their office at Manila or  at Jakarta and also travel around Southeast Asia. 
4. Quiet Wednesdays at Rounds, Tel Aviv, Israel
This Tel Aviv based video-chat app  startup wants to help boost productivity by not hosting boisterous parties, but actually "Quiet Wednesdays" wherein no one speaks in the first half of the day. In case you have any query or want to ask something to someone, you can ping them or mail them.
5. Encouraging being great parents at Fundable, Dallas, Texas, USA
Working at startups can be stressful and hard for young children of the parents working at one. Crowdfunding startup Fundable's made a commitment to creating a culture that would be supportive of employees' roles as parents. So they follow a "Family First, No Questions Asked" policy where when if an employee wants to leave early, instead of groaning, the company encourages it.   Employees can bring their spouses or kids to work anytime, any day of the week.  Apart from these many activities are conducted where the whole family of the employee is invited. The employees are also encouraged to leave office by 7pm to be able to have dinner with family.
6. VMware's employee milestone charity program
VMWare recognizes employees who have been with the company for 4, 6, 8, and 12 years. At each of these milestones each of those employees gets a certain amount of money that they can give to any charity of their choice. At the 12 year mark, they're given $12,000 for this purpose. Paul Maritz, their former CEO was a huge proponent of "giving back to the world more than we take", and this kind of program is a result of that.
7. Starter kit at Commerce sciences, USA/Israel
At this SF based startup, the employee pampering starts right from day one. The company has a tradition where the last person to join the company is responsible to create a "starter kit" for the next one to join. Each "kit" is totally different and personalized (depending on how creative the last person is) ranging from funny jokes, interesting books to Nerf Guns and coffee capsules.
8. Twilio Employees demo days, SF, USA
Twilio is an API company that depends heavily on its employee's knowledge of their products so they can effectively explain their product's value to their customers. One of their hacks is the requirement that every employee must build and demo an app built with the Twilio API in order to receive their logo track jacket and Kindle (which is a free company benefit). This goes for all departments: engineering, sales, finance, marketing.
Each Wednesday, at the company dinner, new hires get the chance to demo their apps in front of the entire company. The CEO "knights" them by putting the jacket on them while the entire company cheers as they show off what they've built, no matter how simple or complex.
9. Facewall at Hubspot, Dublin
HubSpot has a project named Facewall that helps the employees to know who they're working with. To maintain its small-company feel and startup culture, HubSpot decided to put a digital wall of faces in its lobby and on the web. The display in the lobby rotates through faces of different HubSpotters, and the online version lets you search for people you work with. There's even a Facewall Game which you can play to challenge yourself to see how well you know the people you work with.
10. Great-tude fridays at Says, Malaysia
In this office, everyone in the office, including guests and clients get together on Fridays and get to share one thing they are grateful for that week. It serves as a deeply emotional and unique experience that helps connect people at a more personal level. It helps foster a culture of being thankful and not taking things for granted. While employees are motivated to work harder. Many companies these days have structured this form of thanks giving. On Google employees can give each other peer bonuses and "kudos".
11. Diversity Celebrations at Mindvalley, Malaysia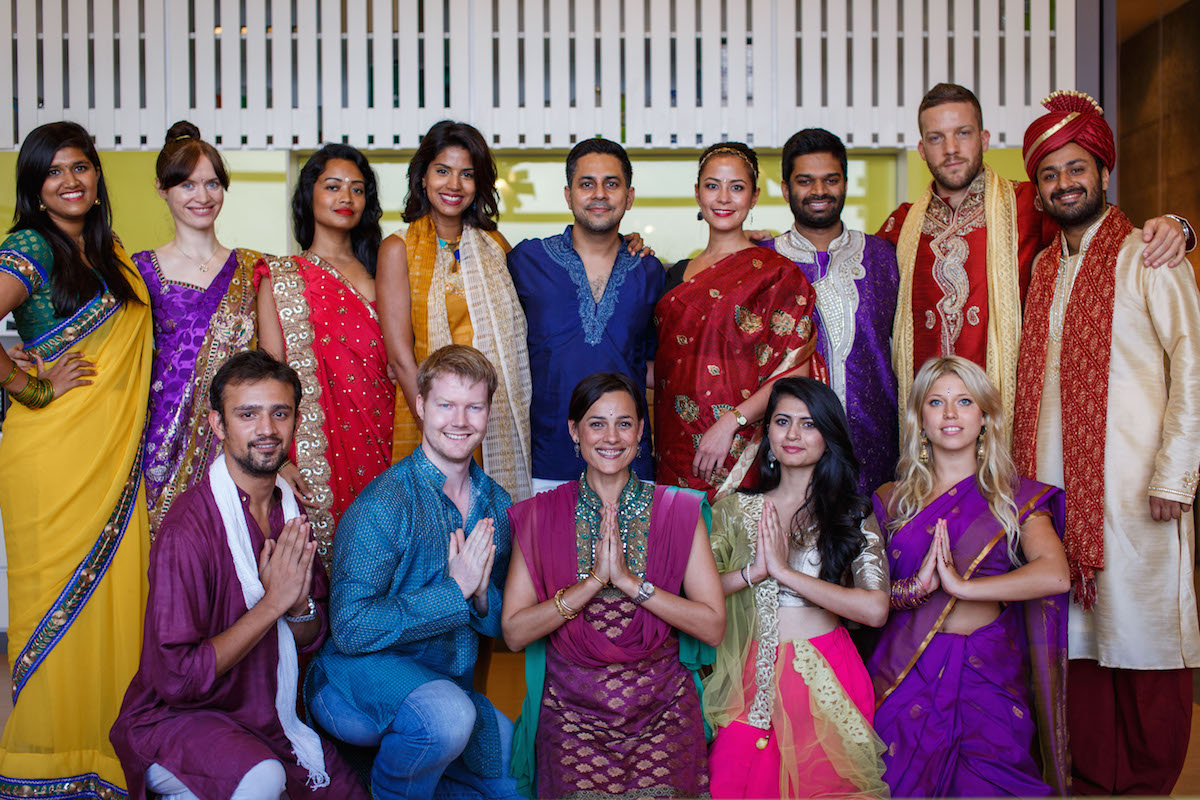 Startups these days are truly diverse  with a workforce from across the globe. At Mindvalley which has employees from over 30 different nationalities, they have culture days like Malaysia Day, India Day and Canada Day. The entire day is dedicated to experiencing and learning about that country's tradition and culture. Co-workers from that country will introduce the company to their food, music and culture. Everyone is also encouraged to dress up in the country's traditional outfits.
12. Transparency at Buffer, SF, USA
Buffer has the unique concept "Open Salaries.", where the company reveals how their salaries are arrived at. They have a simple formula to calculate salaries and these are shared with the whole team. Open salaries are a step towards the ultimate goal of Buffer being a completely "Open Company."
13. Vacation Tax at Quora, Silicon Valley, USA
Quora has something called a "vacation tax". After each vacation, employees bring in exotic food items or other souvenirs for everyone in the office to try. While this is unofficially followed at companies when employees travel abroad, but this brings a sense of anticipation to even the employees that didn't travel. It also gets them to experience new things together and recount travel adventures.
14. Secret Happiness Committee at Enplug
At Enplug, a small, anonymous group of team members spreads little doses of happiness around the office by placing surprises like custom fortune cookies or handwritten compliments on each teammate's desk. It's fun for the "Sunshine Committee" members, as they call themselves, and it motivates the rest of the team!
15. Firepitches at Zipmatch, Philippines
Employees share "crazy" ideas every friday over a few beers. Anyone can present or discuss ideas from improving an internal process to culture hacks. Everyone can ask questions to burn the speaker. They also invite thought leaders from different industries, from social media marketing to building a startup, to share their knowledge with the team.
16. "Awesomeness reports" at Mindvalley, Malyasia
At Mindvalley, the entire team meets once a week for the Awesomeness Report to get updates on new records broken, epic moments and updates from each department. They also have a Bell of Awesomeness which will be rung whenever a new record is broken.
17. Parents' cooking at OZ, Iceland
People living away from their homes can suffer from home sickness or real sickness by ordering in lunch everyday. At OZ, mother or father or any other family member of  any team member could be invited to the office and they could have home style food cooked in the tiny company kitchen.
18. Elephants, dead fish and Vomit: Openness at Airbnb
About a year ago, results from Airbnb's Culture Amp survey suggested that they weren't as open and honest as they'd like to be. So one of the founders, Joe Gebbia, threw out this idea that he called "elephants, dead fish and vomit" – a nomenclature the company has adopted to open up a dialog. "Elephants are the big things in the room that nobody is talking about, dead fish are the things that happened a few years ago that people can't get over, and vomit is that sometimes people just need to get something off their mind and you need someone to just sit there and listen. On a regular basis all Airbnb employees (they call them "Airfam") have a bi-weekly world meeting, which is typically out of San Francisco, but joined by everyone on live stream.
19. Fun birthday tradition at Transifex, CA, USA.
Transifex has a fun birthday tradition where you get a new costume piece or prop from the person who had the last birthday. You have to wear/hold this new piece along with all the past pieces while everyone else sings Happy Birthday. After your birthday, it's your turn to pick out a new piece for the next person's birthday. So with each progressive birthday, the costume just becomes even more ridiculous.
20. Letters to the parents of new hires by Directi, India
Joining the workplace straight off the campus can be an intimidating experience for the candidate and an emotional time for the parents. Directi, other than all the perks of a company that cares, has the practice of sending thoughtful, hand written letters to the parents of the fresh hire, assuring them of the candidate's well being and congratulating the parent on raising the kid well.