It must be among the most unusual of positions to hold, and especially by a cat. Larry has been doing exactly that for the last one decade. As the 'Chief Mouser' at the official residence of Britain's Prime Minister since February 2011, Larry has seen three incumbents, namely David Cameron, Theresa May and Boris Johnson at the prestigious address.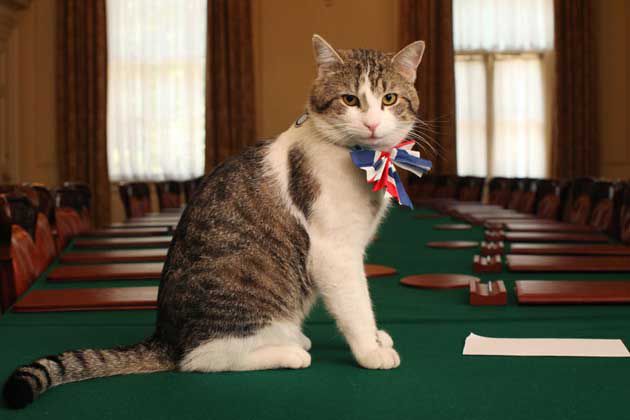 Larry – believed to have been born in 2007 – is a brown and white rescued stray cat who was brought to 10, Downing Street from the Battersea Dogs and Cats Home. Initially intended as a pet for Prime Minister Cameron's children, Larry soon got the 'rat catching' portfolio in the PM's residence due to his "high chase-drive and hunting instinct".
Larry figures on the official Downing Street website, which describes his duties as "greeting guests to the house, inspecting security defences, and testing antique furniture for napping quality". It says he is "contemplating a solution to the mouse occupancy of the house" and has told Downing Street that such a solution is still in the "tactical planning stage".
Larry has over 440,000 Twitter followers and regularly appears in the nation's living rooms in TV bulletins and at major political events. He describes himself as the "Chief Mouser to the Cabinet Office" and says "I'm a 14-year old tabby, in position longer than the leader of any UK political party." A tweet from his account says, "The key thing to remember is that I stay here permanently, the politicians just lodge with me until they are fired. They all work out sooner or later that it is me that runs the place."
In 2016, Cameron had declared that Larry would not leave Downing Street after a change in premier and so it has been. Larry has met a large number of world leaders. He was reported to have liked Barack Obama, who also gave him a pat. When Donald Trump visited in 2019, Larry took a nap under his car.
Larry has had his share of criticism during his initial days at 10, Downing Street. It was said that he lacked the killer instinct and that he spent more time sleeping than hunting for mice. He was almost fired from his position in 2012, when he failed to react to a mouse spotted in Cameron's study.
Larry's life has truly been a rags-to-riches story: from a stray cat in an animal home to an official position at the most powerful address in Great Britain. What a life!