India has produced a remarkable number of women who have made a name for themselves in the workplace. Cutting across business verticals, these women have risen to the top of their chosen fields and in doing so have inspired a generation of new businesswomen to follow in their footsteps. They have shown that while the glass ceiling might most definitely still exist, it certainly seems to be cracking under their combined onslaught.
On the occasion of International Women's Day, OfficeChai presents a list of top women in business in India in 2015.



1. Chanda Kochhar, Banker
Possibly the most recognizable female name in Indian business, Chanda Kocchar is the MD and CEO of ICICI Bank, the biggest private sector bank in  the country. This graduate of Jai Hind College and Jamnalal Bajaj Institute of Management Studies joined ICICI in 1984 and rose through the ranks to become CEO in 2009. 
She was awarded the Padma Bhushan in 2011 for her contributions to Indian banking.
2. Kiran Mazumdar Shaw, Entrepreneur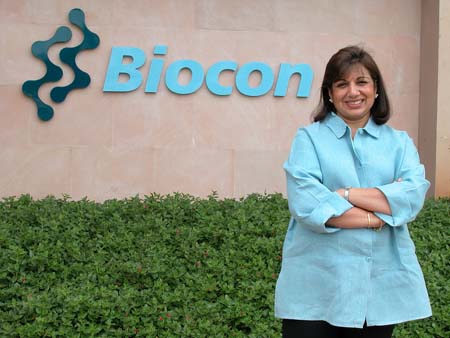 The Chairman and MD of Biocon attended Mt. Caramel's School, Bangalore, and then went on to study Zoology at Bangalore University. Her father, a brewmaster at United Breweries, encouraged her to study fermentation science, and she went to Federation University in Australia to study Malting and Brewing. She started Biocon India in 1978 in the garage of her rented house in Bangalore with a seed capital of Rs. 10,000. Today the company is worth Rs. 15.55 billion, making her the richest self made woman in India.
3. Arundhati Bhattacharya, Banker
Arundhati Bhattacharya became the first female Chairperson of SBI in 2014. Like Chanda Kochhar at ICICI, she has been an SBI lifer, joining the company in 1978 as a probationary officer. She has held several positions during her 36-year career with the bank including working in foreign exchange, treasury, retail operations, human resources and investment banking. Since becoming Chairperson, she has been promoting the cause of women empowerment in the workplace, introducing a two-year sabbatical policy for women employees for child or elder care.
4. Kirthiga Reddy, Businesswoman
Kirthiga Reddy is the head of Facebook's operations in India. She was Facebook's first Indian employee and holds an MBA from Stanford University and MS in Computer Science from Syracuse University. Prior to joining Facebook in 2011, she had had long stints in Motorola and Silicon Graphics.
5. Shereen Bhan, Journalist
Shereen Bhan is the head of CNBC TV 18, India's premier business channel. She began her career working as a news-researcher for Karan Thapar. She has produced shows for UTV and SAB TV. Bhan graduated from St. Stephen's College with a degree in Philosophy and a master's in Communication Studies from the University of Pune, with film and television as her area of specialization.
6. Ritu Kumar, Designer
Ritu Kumar deserves to be on this list because she's probably dressed all the other women on this list. Kumar is one of the most recognizable names on the Indian fashion scene. She has made a name for herself for her unique design style, reflecting the ancient traditions of Indian craftsmanship in a contemporary vocabulary. Even at 70, she is still going strong and was awarded the Padma Shree in 2013.
7. Ekta Kapoor, Producer
The reigning queen of the Indian Television television industry is the head of Balaji Telefilms. She's the creator of the two of the most iconic Indian TV series, Kyunki Saas Bhi Kabhi Bahu Thi and Kahan Ghar Ghar Ki, which transformed Indian prime time television in the 2000s. She turned around the fortunes of the struggling Balaji Telefilms group and turned it into the media giant that it is today, with a revenue of US$67 million in 2014.
 
8. Vinita Bali, Businesswoman
Vinita Bali is the CEO of Britannia India. Before Bali joined the confectionary giant in 2005, the company was going through a lean period.  She turned the fortunes of Britannia around, and in 2011, she debuted in Forbe's list of "Asia's 50 powerful Businesswomen". She is a graduate of Lady Shri Ram College for Women and holds an MBA from Jamnalal Bajaj Institute of Management Studies, Mumbai. Before Britannia, she had worked at Voltas, Cadbury, Coca Cola and Zyman Group. 
9. Shahnaaz Hussain, Entrepreneur
Shahnaz Husain is the CEO of the eponymous Shahnaz Herbals Inc. – a name that's been identified with beauty in India for the past 40 years. Hussain grew up in Lucknow and later went to Tehran to study cosmetology and trained in cosmetic therapy  in London, Paris and New York.  She came back to India in 1977 and established her first beauty salon. Today the Shahnaz Husain Group has over 400 franchise clinics across the world covering over 138 countries. She was awarded the Padma Shree in 2006, and won the Success Magazine's "World's Greatest Woman Entrepreneur" award in 1996.