India's homegrown financial revolution over the last few years has been something to behold, and even foreign giants are now feeling the heat.
Visa has complained to the U.S. government that India's "informal and formal" promotion of domestic payments rival RuPay is hurting its business in the country. Visa reportedly raised concerns about a "level playing field" in India during meeting between U.S. Trade Representative (USTR) Katherine Tai and company executives, including CEO Alfred Kelly.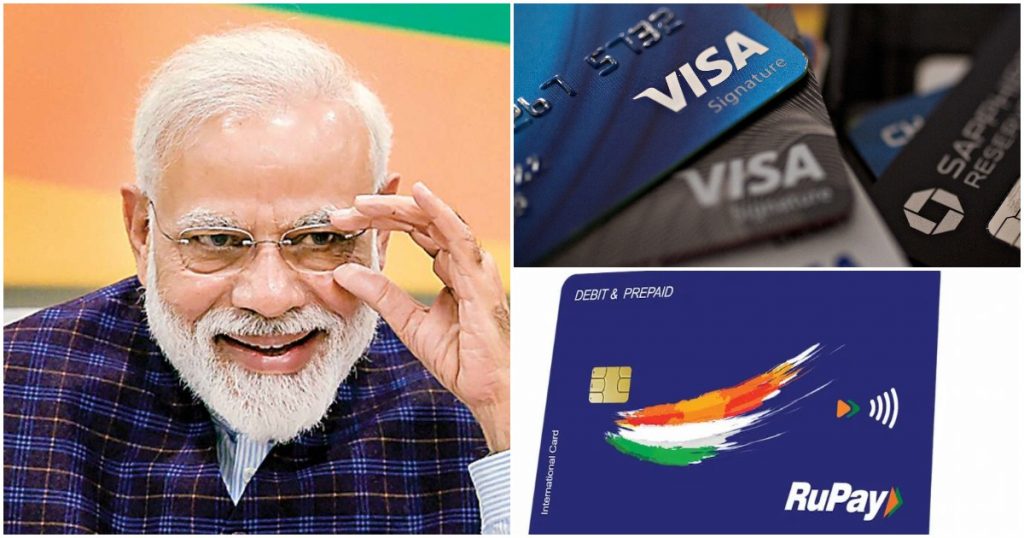 "Visa remains concerned about India's informal and formal policies that appear to favour the business of National Payments Corporation of India" (NPCI), the non-profit that runs RuPay, "over other domestic and foreign electronic payments companies," a memo sent by Visa said.
In its memo, VISA cited Indian PM Narendra Modi's "speech where he basically called on India to use RuPay as a show of service to the country," according to an email U.S. officials exchanged on the meeting's readout.
Over the last few years, Indian PM Narendra Modi has heavily promoted the homegrown RuPay cards. In a 2018 PM Modi had portrayed the use of RuPay as patriotic, saying that since "everyone cannot go to the border to protect the country, we can use RuPay card to serve the nation." He had gone on to assert that the money which is generated by RuPay Card transactions was used for the development of the country. 
Modi's exhortations — and the fact that RuPay cards were issued to millions of new account holders under the Jan Dhan scheme — have made RuPay leapfrog over giants Mastercard and Visa in terms of users in India. RuPay now accounts for 63% of India's 952 million debit and credit cards, up from just 15% in 2017.
RuPay had been founded when NPCI, which is owned by the RBI and a consortium of Indian banks, had realized that 90% of credit and debit card transactions in India were domestic, but were being served by two global companies in Mastercard and Visa. These companies charged high fees because they were the only ones with the proprietary technology — merchants in India can pay as much as 2.5% in fees during each transaction when payments are made through Mastercard and Visa cards. RuPay intended to create an alternative payments system that lowered fees, and created an India-owned payments network.
Visa isn't the only payments giant that seems spooked over RuPay's rise — in 2018, Mastercard had similarly complained about Modi's use of nationalistic sentiments to promote RuPay. But Modi might be well within his rights to promote a homegrown payments system — the money generated by RuPay does stay in India, while the money generated by Visa and Mastercard helps in bulking up the balance sheets of these global giants. It's also not unusual for the Prime Minister of India to promote a homegrown payments scheme that's been initiated by the government; other constitutional officials have done it too — in 2014, the RuPay card had been formally dedicated to India by then-President Pranab Mukherjee.
But Visa and Mastercard seem to be clearly spooked by the gains in market share that RuPay has made over the last few years. After Coke and Pepsi, Mastercard and Visa form the most prominent business duopolies, with these two companies together accounting for a lion's share of global transactions. That duopoly is being threatened in India — now a domestic competitor, RuPay, has a bigger share than Mastercard and Visa combined. Mastercard and Visa can either try to compete fairly, or complain to the US government about how the Prime Minister is hurting their business by promoting a government-owned product. Mastercard and Visa, at the moment, clearly seem to be doing the latter.