Facebook is takings steps to finally begin monetizing its giant $19 billion investment into WhatsApp.
WhatsApp has sent out an update to users, asking them to accept its new terms and privacy policy. "WhatsApp is updating its terms and privacy policy," the message reads. It goes on to say that the new terms will carry updates on how WhatsApp processes users' data, how busineseses can use Facebook hosted services to store and manage WhatsApp chats, and how WhatsApp will partner with Facebook to offer integrations across Facebook company products. Users are given a choice to immediately accept WhatsApp's new terms, or be reminded later. But there's a fixed deadline on the horizon — WhatsApp says users will need to accept the terms by 8th February to be able to continue using the service.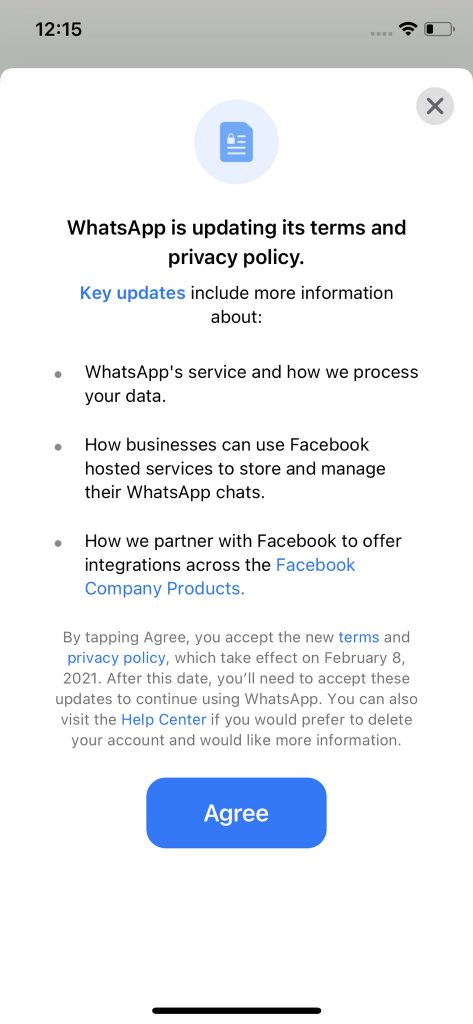 The biggest departure from WhatsApp's previous terms is how Facebook is going to closely integrate with WhatsApp — earlier, users had an option to choose whether they wanted to share their WhatsApp data with Facebook. That option is no longer available with the latest update.
A Facebook and WhatsApp integration would likely put together two enormously powerful datasets — Facebook knows what your interests are, and what kind of things you like; WhatsApp, on the other hand, knows who your friends are, and who you talk to. Putting this data together could help Facebook deliver better ads on Facebook, and perhaps eventually look at adding ads in WhatsApp as well, perhaps integrating them within user stories.
But what the update will also allow for is businesses to start getting customers through WhatsApp. It appears from the update that businesses pages across Facebook and WhatsApp will be integrated, and businesses on Faceabook will get access to chats they'd had with users through their WhatsApp business accounts. This could lay the groundwork for Facebook turning WhatsApp into a giant e-commerce lead generation service, with users pinging businesses first on WhatsApp before making their purchases. WhatsApp has 400 million active users in India alone, and could end up opening up a whole new e-commerce channel for businesses and companies.
But it's not going to be all fun and games — the latest update led to some consternation online, with some people taking to social media to voice their displeasure over being force-fed the new terms. WhatsApp is far too integrated into people's daily lives, and the update doesn't immediately sound alarming, so it's likely that the vast majority of WhatsApp users will accept the terms before 8th February. But Facebook hasn't always been successful with e-commerce — Instagram Shopping hasn't quite been the hit it could have been, and the company still makes 99% of its revenue through ads. WhatsApp, though, has been Facebook's secret weapon — it paid $19 billion for it in 2014, and hadn't generated any meaningful revenue from thus far. The latest update, though, makes it appear that Facebook is preparing to unleash the massive potential of WhatsApp in helping the company make some money.