People across ages have always harboured dreams of spreading their wings and going overseas. Whether it's for fatter pay cheques, better living standards or just for the experience of living in a different culture, millions leave the comfort of their homes to work in foreign lands.
In an exclusive story, OfficeChai profiles 22 such people who're working in 22 different countries across 6 continents about their experience and asked them what it's like to work in the country they do.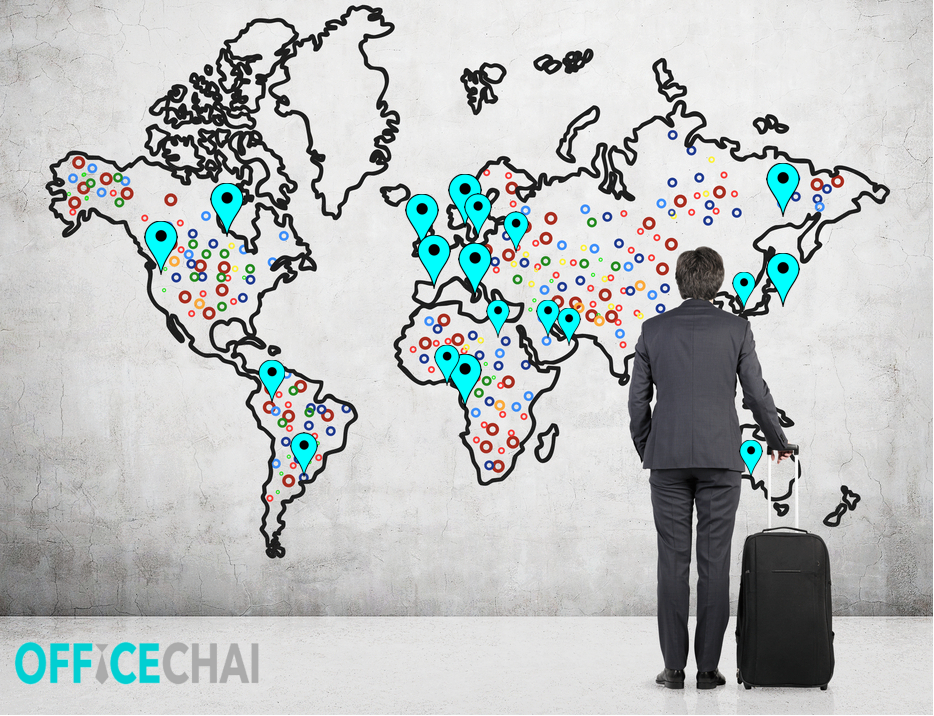 While a better lifestyle, work life balance and a higher respect for all professions emerged as the underlying theme in the responses, we discovered some obscure facts and a few eccentricities about each country in the process.
Maybe there's a takeaway from each country our own could learn from.
Here's a virtual journey into the working culture across the globe.
Sashi Bezawada, Headphone engineer, Tokyo
"The Japanese are crazy punctual. I can't get late. Even if I'm a minute late, I will be marked absent for the first half of the day. In fact train departments give you a "late certificate" if the train is running even a few minutes late to show as proof at work!
We have this funny ritual at work where we have a 'pachi pachi meeting' (clap clap meeting if translated literally) every time a newcomer joins or someone leaves the department. The person says something and everyone rhythmically claps at the end.
The team drinks together quite a lot more often than I think people usually in India do. They have this thing where the newcomer is made to dress up as a girl (if the newcomer is a guy) at the welcome party.
Also the newcomers are taught without having too many expectations. And generally any person has the flexibility do any work, as long as the person is willing to learn. But overall I think work culture in India is more open minded and supportive of innovation and new ideas"
Sarthak Khalucha, Digital Marketing Manager at a healthcare firm, Dubai
"A standard work shift in Dubai is 8am to 6pm, which I'm guessing is to avoid being out in the peak hot hours of the day in summers. Sundays are working days because Fridays and Saturdays are the off days here.  It's mandatory for employers to provide health insurance to all employees.
Whereas in India workplaces are getting increasingly flexible with what you wear to work, it's still quite formal here. If you're a guy in a corporate office, a formal attire is incomplete without a tie,  and you can expect to wear suits daily if you're assistant manager or above.
And oh you pay 0 taxes on your income here!"
 Shruti Bhatnagar, Vice President of International Risk at ABN Amro Bank, Amsterdam
"The most unique but enticing custom of Netherlands is the 4-day working week. Netherlands believes in maintaining a work life balance and that it is essential to an employees' quality of life, so that means more time off, flex working, and lots of social events.
In Netherlands, people like to and are encouraged to bike to work. We even get tax relief on the bikes we purchase!
And no smoking or drinking is neither encouraged nor allowed at work, regardless of Netherlands' approach towards drugs otherwise ;)"
Disha Rao, Corporate Social Responsibility Specialist, The Travel Corporation, Toronto
"Canada is a famously polite society. So for instance if someone sees me walking towards the door, they wait till I get there to swipe the card for me to go through! That person will wait up to an entire minute to hold the door open for me. Even if someone is trailing me, and enters the loo with me and I hold the door open for a split second, there's a round of thank yous and no worrys exchanged! Oh and the funniest thing, at 3 in the afternoon, if I'm seeing someone for the last time that day, they'd still wish me good night! When I leave work at 5 in the evening everyone says goodnight!
The weather is a huge topic of discussion here. Since it's so extreme, it's okay to Work From Home. The focus is on getting the work done, and not just being in office for the sake of it. I love the latitude I'm given about my work.  I am free to take the project in the direction I think makes most sense"
 5. Kuwait
 Tanya D'costa, Assistant Merchandiser, MH Alshaya
"You'd think this country is conservative, but it's not. Even on Ramadan we are allowed to eat in our office pantry and lunch room. There aren't too many restrictions on girls. No dress codes either. You can wear sleeveless or skirts in the office! It's a free country like India.
Plus the biggest difference between India and here in Kuwait is that unless you're a doctor or lawyer or something that needs a specialization, you don't need to be qualified for that field. For example I did not do any retail management course or specialization but still bagged a job in merchandising, without prior experience or knowledge. It's about your confidence and basic understanding of the field.
Also, the employees are respected equally regardless of position or nationality.  We have many Pakistanis in the office and there's no ill will or rivalry like you would have in India."
 6. Hong Kong
Yogesh P, Banker
"There are two tiers of work actually – one of finance, banking, lawyers and real estate, and second, the blue-collared workers. The 1st one gets paid a lot, they work very hard, and they party hard. Many of the blue-collared workers don't get paid well compared to the rent levels and expenses.
Hong Kongers are known to work hard, party harder – but it is mostly the expats who are the party types! Many locals live with their parents to save on rent, which is extremely high. Professionally, respect to seniority is prevalent everywhere. There is a general sentiment that one has to earn their way to the top, through hard work and patience. Of course, there are exceptions, especially in finance. Hong Kongers are usually well dressed, know their brands and the women are fashion-conscious. Also, there's a good number of women at the workplace. There is no discrimination anywhere.
And oh office flings are rumoured to be quite common. Hong kong is empirically known as the fling capital of the world!"
 7. Germany
Varun Nagendra, Producer for an online games company, Hamburg
"Germany has a reputation for being a straight-laced, law abiding by-the-books country. There is a law for everything. Prostitution is legal, drinking in public is legal, smoking in public is legal but working on a Sunday is illegal! So is running out of gas on the Autobahn. This can be extremely challenging especially if you work as a supervisor. It is highly illegal to ask an employee to work on a Sunday. Everything is closed on Sundays. You can't drill on Sunday or tune your piano!
Germans also work hard and play hard. Working hours mean working hours! Employees are punctual (it is considered extremely rude to be late to a meeting), goal oriented and value direct communication. They do however enjoy a high number of paid vacation days, extended holidays during Christmas and a sometimes strictly restrict work related emails after 6pm. There is a strong emphasis on separating work from play and everyone works towards a balanced life. This is something India can learn from. Employees are also well protected by the German labor law.
P.S It is illegal to flip the middle finger. Another driver can report you if you are seen flipping the bird, resulting in a fine or a suspension"
 8. Ireland
Copal Mathur, Marketing Manager at the Irish Management Institute in Dublin
"The "pub" culture is very unique in Ireland and the pub is a social meeting point for everyone in the community, and not just a place to get drunk! This trickles into the work environment as well and often informal meetings are held in pubs over a drink. It is unique, yet enables camaraderie and I think it has what has contributed to Ireland being one of the top countries for innovation and entrepreneurship. It is well documented that our best ideas come when we are relaxed and not in a formal meeting setting. Meetings in the pub over a drink result in lots of great solutions to difficult challenges!
Irish have a very strong work ethic which in turn results in a much better work-life balance.They work hard, but enjoy life as well.
Being a small country, relationships and reputation are key in a business environment here and the Irish have taken customer service to the next level!
Another very noticeable feature is how honest and straightforward people are. In a business environment people respect each other, each other's time and pressures. There is no smoke and mirrors!"
 9. Colombia
Nilanjana Bhattacharya, Engineer, Bogota
"Colombians are highly non-confrontational. They are charming people that believe in talking in circles until the message is conveyed. Respect for authority is strong to the point of an employee never expressing an opinion in case it ruffles the supervisor. Now Colombia is a big country and behavior will differ across it. Bogotanos are polite, charming, always smiling and are dressed very, very well always. Personal and family responsibilities take highest precedence over everything. People greet strangers on the road, are always smiling, and are very chatty and helpful.
Most Colombians will go out of their way to help you out with a task if you ask, as opposed to many Indians who will not. The pace of work is much slower than in India."
 10. Italy
Aditya Bawane, PhD student, SISSA
"People here value their holidays and free time very much – they are always going to the beaches or on hikes. They don't take their work home often, they'll rarely check their emails at home or during the holidays. Oh and their lunches are a social event – people sit and eat with all the attention to the food and their friends. Italians don't necessarily work long hours, but they work diligently. And there's a lot of bureaucracy – there's lots of running around and form filling to be done, sometimes for things as simple as seeing a doctor. Luckily the people within the system are good, so things seem to work okay."
 11. Nigeria
Shailesh Kumar Ambasht, Sales & Marketing Manager, Bijai Global techno Ltd, Abuja
"Nigeria is one country which treats Indians like first class citizens. Your knowledge is valued here and the facilities given by the companies are great (like chauffeur driven car with fuel expenses, housemaids etc ) The salaries are paid in local currency as well as in USD. The local currency is for your expenditures in Nigeria whereas the company sends the USD directly to your overseas account, in my case my NRI account in India. Thus the USD part is total savings. The ticket and visa charges are all borne by the company. On the local front, as I said, you are treated as a first class citizen and people respect Indians and foreigners. Most importantly Nigerians are the happiest people I have ever met. One thing that India could learn from Nigeria is how to welcome foreigners with an open heart and a big smile"
 12. Brazil
Kshitij Deshpande, Software Developer, Sao Paulo
"I find Brazil puts more emphasis on one's personal life and they make sure people are not overworked. Unlike in India where people will go any length to get the work done, stretch their work hours etc. because there is so much competition, here in Brazil, there are fixed working hours, and rules and regulations for compensation are very strict if you want somebody to work beyond their regular hours. I feel awed that its very hard to find any English speaking people in Brazil and yet these guys are so self sufficient. They don't care about what the rest of the world is doing and are content with what they have.
Oh and of course football is a religion in Brazil! So, during Big games like the FIFA world Cup last year, every Brazil match day used to be a half-day or a holiday! They also love Indians and the Indian culture and many of them are crazy about Bollywood and Indian soaps!"
 13. Guinea
Jayneel Jadeja, Consultant, KMPG
"Working in Guinea is very different, especially for foreign nationals. There are language and cultural aspects one should be aware of. Also security and commute are daily challenges – gates are barbed and guarded and locked heavily at night. Also there are only cash transactions throughout as there are no ATMs in the country! Foreign nationals have to carry passports on them at all times or they'll be put in jail. No cameras or pictures allowed anywhere outside.
During Ramzan no one eats food in the office and no one else even offers. Even those not following Ramzan are not allowed to eat food in the office. There is no water in the office either at that time.
On Fridays, people wear colorful and bright clothes, which is traditional Guinea wear."
 14. South Korea
Amit Pandey, Software Developer, Samsung
"Being an Asian country, we do have lot of similarities with India – team spirit, collective goals, and collective responsibilities are overarching themes at the office and elders.can.not.be.wrong.
We as a nation can learn lot of things from here, particularly, how the Koreans have contributed to their country's progress. After the Korean war, they donated their own gold to the country treasury so that they could buy or set up industries. Koreans are very nationalistic. Also, since they were colonized by Japanese they're also influenced by them a great amount and respect to the seniors is a manifestation of it.
They don't speak much English so can tend to come across as aloof first, but once you get to know them, you'd realize that Koreans are friendly and rather simple beings. Work and Soju (Korean drink) are two important parts of their life."
 15. Egypt
Dr. Rashid Ilyas, Medical Student, Cairo
"Egyptian people are very friendly and welcoming. They seem to love Indians – everyone seems to be an Amitabh Bacchan fan! The work culture is similar too. Egyptian women work alongside men in most offices, though they are sometimes segregated in a different room from the men. People love to bargain and negotiate. But things have been bad since the insurgency. There was a lot of violence on the streets and many people were killed. A friend of mine was very badly hurt. I wouldn't advise anyone to come here to work any time soon, not for next 5 years"
16. Poland
Navjyot Walia, Consultant at Deloitte, Krakow
"After its communist phase ended, Poland decided to invest heavily in education. Krakow is about 65% students so workplaces are very young and vibrant. Poles are also very hardworking and just like Indians, they are willing to travel long hours for work and do not distinguish between the type of work or quality, and appreciate the fact that they have a job! Yet they don't compromise on the work life balance and the office is deserted after 6pm! Poland is fast becoming the outsourcing hub for Europe especially for the high demand with european language specific support needs.  Strange thing about working in Poland is there are by far more women than men in every workplace!"
 17. Denmark
Krutika Bavishi, Phd Research Scholar at University of Copenhagen
"Work-Life balance is given utmost priority here". Your work contract defines the working hours and holidays. People work efficiently during weekdays so that weekends are absolutely free. You also get pension and unemployment benefits here which makes you relaxed as an employee. There is also a high taxation system – we pay around 36% of our income as tax. This in turn, ensures that you even get free education, health insurance etc. What I appreciate the most about Copenhagen is a hierarchy-free society-I think this is typically Scandinavian. A bachelor's student has as much respect as an eminent professor and this equality is not merely on paper, you will see it come across, clearly. You will see a transparency and openness, whether at work or otherwise.
People are honest, friendly and welcoming. Although there is a notion that Danes are "cold people", you should see them in summer- everyone is smiling. The Danish people have been ranked as the best non-native English speakers of the world, which makes it so easy to walk around and explore, unlike other European countries. You can comfortably expect an 80-year old lady to speak perfect English! Besides, Denmark has also been consistently rated as the least corrupt & happiest country in the world: You now know why!"
 18. France
Arjun Suresh, PhD student at INRIA
"French people take lots of breaks! The lunch break is 2 hours long and there are two half hour coffee breaks. In spite of this, they are efficient and systematic at work. In office they don't do personal stuff and at home they don't do office work. Recently, there were reports of French people being discouraged from answering work emails post 6pm!
Working at night is frowned upon. In fact many people leave their official mobile phones in office!
There are plenty of strikes in France though. Sometimes university students and even employees don't come to work because of them.
Contrary to stereotypes, French people are usually friendly. There's almost no class of workers. A sweeper is respected as much as a professor and the pay is also not very different. So everyone respects each other. Hence no one really does anything which they don't like unlike in India, where people run after high paying jobs!"
 19. Thailand
Ankit Laxmi Vajpayee, VFX professional, Bangkok
"Bangkok is cosmopolitan so you get to work with people from all over the world! It's especially great for the creative fields where such global interactions bring perspectives and lots of learning to the table.
Thai people love their king and would do almost anything in his name.
The most striking part about Thailand is the number of women employed in every sector- right from a street vendor to top management roles, women are very empowered here."
 20. Norway
Uzair Fahmi, Consultant
"Norway has the most convenient work culture. Either it is extremely efficient or extremely lazy, I can't tell! Nobody stays back in the office beyond 5pm. The country is so expensive you can barely save any money.
Norwegians are usually reserved and barely mingle with the outsiders. Skiing is to them what cricket is to us! There is not much difference in salary between the finance head and the guy who cleans his desk. Climates are extreme – no sunlight for 2-3 months in winters, so you stay at home and hibernate, then and during the summers, barely any night!"
 21. China
Ananth Krishnan, China Correspondent for India Today, Beijing
"The first thing that strikes you especially coming from India, the day begins early in China! Your phone starts ringing at 8 or 8.30 in the morning. The early starts are, however, compensated by strangely long middle of the day lunch breaks. If I'm on deadline and trying to reach a government official, forget about making any calls between 11.30 am and 1. 30 pm! Folks love their long lunch breaks. And don't compromise. It's not uncommon to see people napping on their desks during this long lunch break.
The second is folks love their lunch-time walks. In Beijing or Shanghai's Central Business District, at lunch you'll see groups of office walkers, often walking hand in hand, on slow leisurely strolls. It's not a bad habit — there's a strong belief here that walking after meals does a load of good.
Also, it never ceases to amaze me how seriously people take their jobs here, no matter whether you're cleaning a public lavatory or watering roses along a highway or on an assembly line in a factory. Indian executives tell me here that despite rising labour costs and difficulties of doing business in China, they will think twice — or thrice — about moving business out of China just because of labour productivity. The government has seriously invested in training its labour force over the past two or three decades and is reaping the rewards today. And you can't have productivity without respect for work. People don't look down on others for the work they do. A garbage cleaner or recycler is just as respected as a postman or traffic cop. And this, more than anything, encourages people to take their work seriously, no matter what they do."
 22. USA
Pramath Malik, Consultant, Dolcera, Seattle WA
Unlike India, where we are used to being constantly told what to do, working in US comes with an assumption that you are the best person for the job. You are usually only given goals not specific actions to perform. There is a strong a sense of responsibility in achieving your personal and team goals; excuse making is strongly looked down upon.
While the sense of independence and responsibility are attractive, my personal experience has been that most people move to US for one of two reasons – a higher salary or a better lifestyle. The cosmopolitan cities in the US have become a haven for people who are otherwise ostracized/discriminated against across the world based on their gender, orientation, race, political beliefs or other "stereotypes". It's this spirit of America, which is very attractive – The strong liberalism, respect for entrepreneurial nature, etc.
In the US most people are very specific about what kind of work they want to do. Skilled professionals generally see their careers as an integral part of their life. For example, being a skilled developer is an identity for people in that line of work – they live, eat and breathe code; similarly teachers are super excited about why they are teachers and insanely motivated despite low wages. These are just 2 examples; I can cite dozens. Work in India however seems to be just seen as a "job" which gives them just the monetary reward. Everyone is a software engineer or MBA, so in the evening they try to branch out, in social settings everyone is going well actually I am also a photographer, etc. (Why are you wasting a seat at IIT if it's not your calling, I wonder).
I think this also my biggest learning, about finding what excites you, keeps you going and doing that for a living; rather than trying to be in multiple boats and ending up mediocre in both your passion and job. It's the source for American drive.
Recommended Reads: