[This article is a part of our series Off the desk, where we feature unconventional jobs that go beyond the corporate]
Mohit Gopalani is someone who effortlessly transitions between his daytime job and his hobby – and both of them involve drums. During the week he works as a Brand Manager for Furtados Music, selling drums for one of the most popular drum kit brands in the country. On weekends, he runs his own musical school where he tutors people, young and old, on the art of playing drums. OfficeChai spoke to him about how he's managed to strike a balance between these two roles, and the inspirations behind his obsession with music.
What's your educational background? Were you interested in studies?
I graduated from MMK College, Bandra in 2009 as a BMS (Bachelor of Management Studies) student. Studies was something I was decent at (65-70% types), but I knew I would not go in for an MBA or a similar higher education course. As far as my interests in subjects go, unfortunately in school there was no choice but study all the subjects. But when I got in to college, thankfully I could pick and choose the ones I thought I would be good at.
When did you get into music?
Even as a kid, I had a sense of rhythm. I would tap on the table and other available utensils and try to create a groove. Though no one in my family has ever learnt or had any formal training in music, I feel I'm blessed with the knowledge and ability to play and understand it. My musical journey began at the age of 6, when I started learning the tabla in the nearby temple that I used to visit with my family. And from then on, there was no looking back. It started from playing the Tabla, went on learning Drums and now I also play other percussion instruments like the Djembe, Cajon, Darbuka, Bongo, among others.
Why did you choose drums? And who was your inspiration?
In my opinion, the drums are probably one of the most fascinating instruments keeping my inclination towards grooves and rhythm! They are the biggest in terms of its size and requirements to set it to up before u sit back and play. As a drummer, one is the least visible on stage but most audible. However whenever I have seen a live gig, be it the Navy Band, Rock Concert, or even folk music, my eyes always went to what the drummers are doing.
Initially, there was a lot of struggle to find a good trainer who could teach drums. It took me a few years until I finally met Gino Banks. It was under his guidance that I transformed and evolved as a drummer. I still meet him and he always shares his knowledge about playing the instrument and his insights into various drum setups and gear.
What's an average day for you like?
Given that I work at Furtados Music as a Brand Manager (India), managing one of the best-selling drum kit brands in the Country – Mapex Drums, I have had the opportunity to meet a lot of drummers – national and international. I can watch them play very closely and talk to them about their practice regime and improvement techniques. It keeps me occupied during most of the weekdays. It is a great place to work where my knowledge and understanding of drums and related products and brands perfectly blends with the management and marketing skills required for the role.
This in turn has fed back into my hobby of teaching drums – I've picked up many skills which in turn I impart to my students. On weekends, run a music class, MUSICAL VIBES, situated at Juhu, Mumbai. It turns 5 this year!
What made you take to teaching drums as a profession?
I had never imagined that I will ever be teaching drums. Destiny has its own plans, and this was one of them. Back in 2010 it struck me – why not share my knowledge of drums that I have learnt? That's when MUSICAL VIBES was born. It was in May 2010 that  I started with a couple of students on a Sunday morning and from then on been spreading and sharing good musical vibes! MUSICAL VIBES lets me meet people with varied backgrounds, skills and knowledge. The age group that I have is between 9 to 45+ years. There is so much to learn from each individual based on their experiences in life and educational background.
Teaching has helped me as a person and as a musician.  Each time I teach someone new or explain something new to someone, I go back to the basics. It makes you ponder over the things that you've learnt and sometimes question your own set of skills.
As a trainer, I always want people coming to me to enjoy learning and play well. So, even I have to put in efforts to enhance my teaching skills and practice to keep getting better!
What are the challenges of being in this industry?
The music teaching industry is small but emerging, as there are just a handful of big names involved. Most classes are run by individuals or a group of people. One has to have the quality in their teaching along with a clean approach while sharing their knowledge with people. Thankfully, schools have started with Music as a subject, so students these days certainly have some idea when they come to enquire about their inclination towards learning a specific instrument. We also get people who look at it more like a hobby or a stress buster, rather than being serious about learning and playing the instrument.
Also, the support from my family and friends has been crucial. They have been very supportive, both in good times and bad. Things wouldn't have been the same without their love and blessings. 
What have been some of your best moments as a drummer and a drumming teacher?
The most memorable moments have been the experience of playing with various musicians at different venues. Every gig is special and has lots to learn from it and move forward. The best part is when people come to you after the gig and say 'You played well'. These few words make a huge difference to an artist and certainly motivates you to get better.
Earlier this year, I organized an event 'DRUM-E-BAAZ' where 5 students of my class (who could play quite well) were given an opportunity to perform on stage in front of a live audience. This gave them a boost with an experience of playing live and it was a source of tremendous personal satisfaction to me, that I could train them and take it to this level.
In terms of playing, I had the opportunity to perform with Boman Irani for a show dedicated for Uttarakhand Relif Fund which was broadcast live on Star Plus.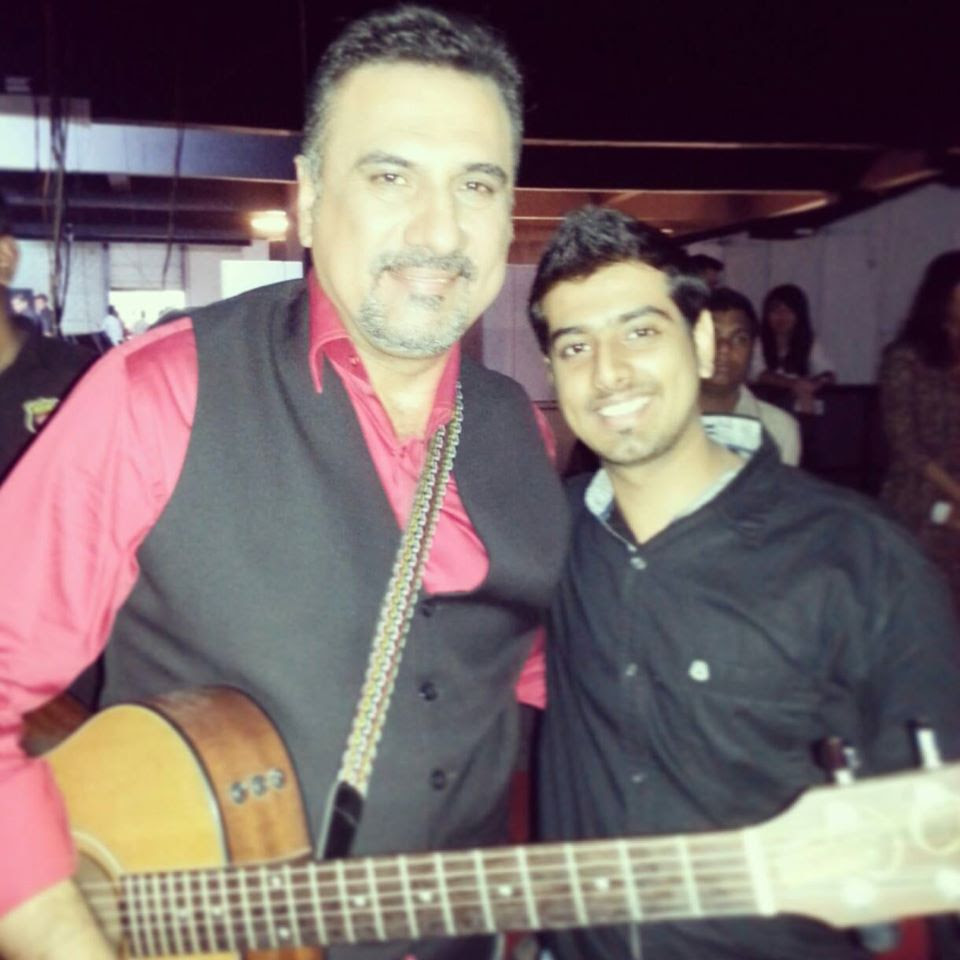 Also, I have had the privilege to teach a very famous Bollywood actress having an interest and passion of learning drums. Unfortunately, I can't reveal the name here. (laughs)