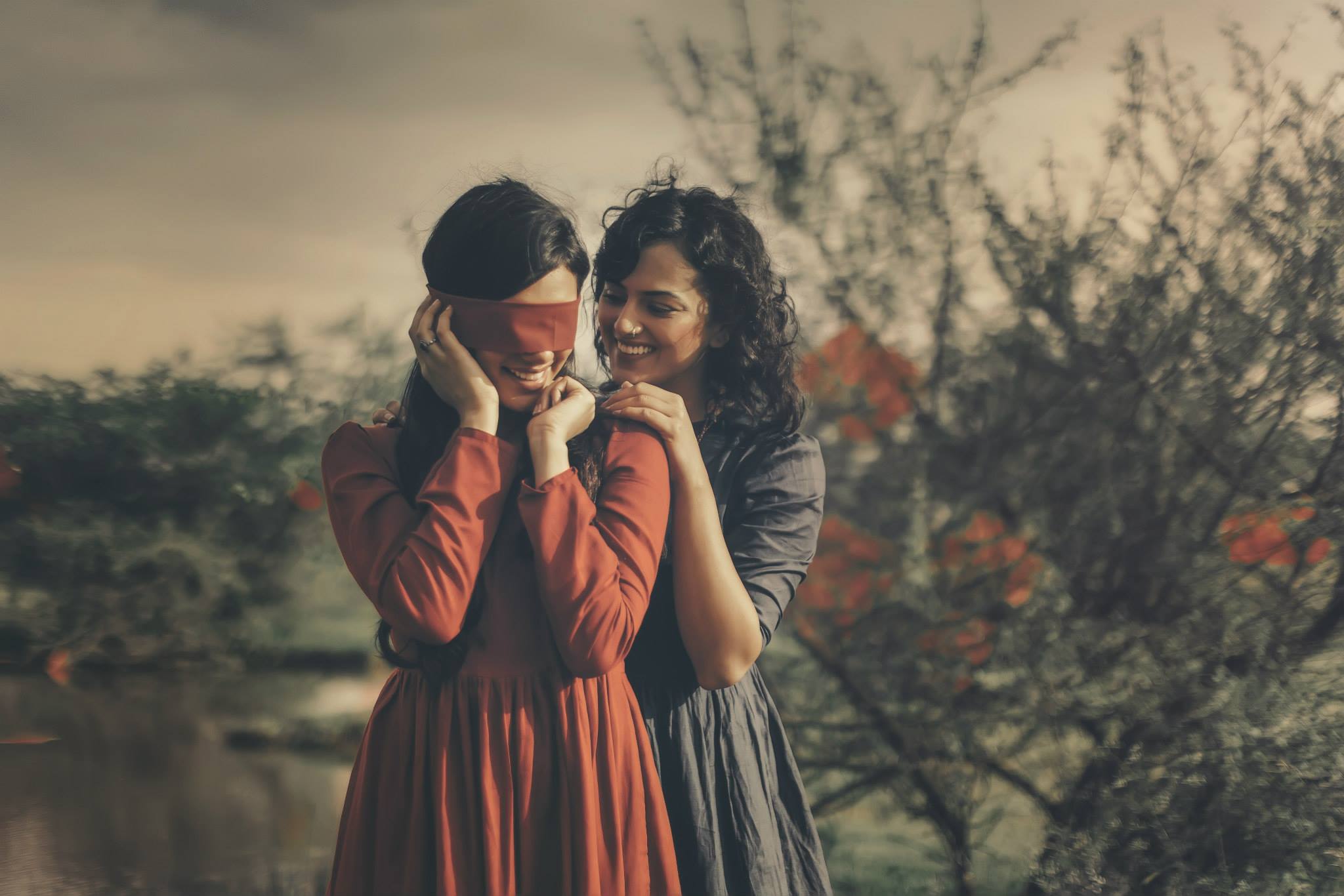 Unless you've been living under a rock over the last couple of days, you've seen these images that have taken the internet by storm.  Provocative and emphatic, they've stirred up discussions, drawn adulation, and even brought people to tears. Arjun Kamath is the man behind the project. In an exclusive interview to OfficeChai, he talks about the photo shoot, internet fame, and his love of photography.
How does this feel? Your work is all over the internet today.
It feels great and I'm very pleased. It feels good to be appreciated. The most heartening aspect has been receiving messages of support from strangers. Just today, a bisexual woman messaged me that saying how the photo shoot had moved her to tears. She says she'd been ostracized throughout her life for being bisexual and being dark skinned. She said she was really happy I'd brought this issue out into the open.
Is this a cause that's close to your heart? Do LGBT issues resonate with you?
Definitely. Being straight, I think I can look at the whole situation more objectively. I don't think discrimination against gay people is any different from other types of discrimination, such as discrimination against overweight people or discrimination against dark skinned people. People should be allowed to lead their lives without judgement. It's cowardly to make fun of people who are different from you.
That said, I don't consider myself to be a gay activist. I'm an artist and I work on subjects that move me.
How did the idea of the photo shoot come about?
I wanted to work around the theme of "coming out of the closet". I thought, why not have a literal closet and have people come out of it. It started off from there. And having a solitary closet in a forest is a pretty striking visual image.
The kites in the shoot represent freedom. They're all stuck in the trees around the forest, and reflect how stifling it can be for someone who's LGBT to keep their identity a secret. And we used dark tones throughout because it's a fairly grim subject and the story doesn't have a happy ending. I didn't want it to look bright and happy like a television commercial.
Logistically, it was an interesting shoot. I had to look for an area in Bangalore with no buildings and wires, and that's not easy, (laughs). We settled in a place near Devenahalli, which was around 50 kms from the city. I had to get a special closet made. Most closets aren't big enough for people to fit into, so I had one made to order. And we had to set fire to it in the end.
That sounds like an expensive shoot.
Haha it was. Good thing the cupboard was a replica. No way I'm setting fire to an original vintage cupboard.
Are you a full time photographer?
I'm currently studying filmmaking in USC in California, one of the best filmmaking schools in the world. I had quite a conventional career path until college – I studied engineering at BMS College of Engineering. Once I graduated, I realized I was more interested in photography. I started freelancing right after college. I did wedding photography, photographed coffee estates. Those gigs pay well. Now I want to get a professional degree, come back to India, and make Bollywood movies.
Really? We wouldn't have guessed.
Yes I'm a huge Bollywood fan. I grew up watching Quyamat Se Qayamat Tak and movies from that era. I think the Hindi movie industry is at an interesting phase. There's lots of cool cinema being made…Badlapur, Udaan, Queen, Kahaani, Lunchbox..movies like that. And I've had a bit of a brush with Bollywood. I had a small role in 3 Idiots. Nothing major, but I met Rajkumar Hirani and Aamir Khan. Hirani is one of the best directors we have, but he was incredibly humble. I want to follow in his footsteps.
How does an engineer become so interested in photography?
I was an accidental engineer. I only studied engineering because my entire friends circle was studying it. I tagged along. Midway through, I realized my heart wasn't really in it. My teachers weren't my biggest fans. I parents were summoned to college quite a few times. (laughs)
I had attended a photography workshop and a couple of theatre classes. I'd bought a point and shoot camera, and I used it to the hilt on a trip to Delhi. I was taking pics of sadhus through leaves and cycle wheels, you know, the usual stuff. I had a great time. By the time I finished my degree (and I did finish it, no backlogs or anything), I knew I wanted to be a photographer.
How did your family react to this? Were they supportive?
AK: I would say they weren't unsupportive. They were a little worried for me, and that was natural. Before telling everyone I wanted to be a photographer, I'd also said I wanted to be a lawyer and a fashion designer. So it was natural for them to be a little wary. But I guess they noticed that I was passionate about photography. I'd have thought twice getting up at 3 to study for an exam, but I'd be up and about if I had to get up at 2 for a photo shoot. They seemed to sense that I was serious about this.
Photography is really taking off. There are tons of people who want have DSLRs and want to take this up seriously. What advice would you have for a young photographer who wants to stand out?
You need to know why you've picked up the camera. There has to be a story you want to tell, something you specialize in. I for instance really like shooting people, so I focus on that. You'll need to find out what motivates you.
Also, look for feedback. I had some very kind responses to my first few facebook albums. And when something does do well, keep yourself grounded. Internet fame can be very fleeting. It's important that you don't let it get to your head.