As children, many of us have dreamt about becoming a pilot when we grew older. There's something captivating about the thought of flying amongst the clouds and reaching distant lands, all while wearing a smart white uniform to boot.
However, flying is not all fantasy and cool views but involves enormous hard work, persistence and struggle before one embarks on the high life.
In our uncorporate jobs series, we speak with Raghuvamshi Surikuchi, a first officer with Indigo airlines and get the lowdown on the fascinating and inspiring life of a commercial pilot in India.
Give us a brief family background.
I am 29, born in Patancheru, now a part of Greater Hyderabad. Spent a large part of my childhood in Mombasa, Kenya. We moved with dad to Kenya, where he worked in the steel industry. I also spent time in South Africa and New Zealand. My parents currently live in Abu Dhabi and I live in the city I was born in. I did most of my schooling in Kenya. I attended High school in Hyderabad, and was interesting as I was spending a lot of time web designing and discovering life in India. College was fun but testing too and we never did anything ahead of time and it was always a rush job at the end of the sem. 
What made you decide to be a pilot?
I was 6 or so when I first went into a cockpit of the Kenya Airways B767 service between Nairobi and Mumbai. The view from the cockpit and the amber lights totally drew me and somewhere in the back of my mind I always wanted to do it.
What are the challenges in becoming a pilot? 
There are plenty of challenges in becoming a commercial pilot. Firstly, the battle begins at home. Coming from a non-aviation background, you need to do as much research as possible and keep asking people as information is limited online, at least for a commercial pilot's license in India. After you think you have all the information (which you rarely do ), you then have to convince your folks that you're going to something that's not done in the family before and that too on a course which costs a pretty penny and no job guarantees after.
"Note there are about 7000 jobless CPL Holders in India and recruitment in a great year is hardly 30-40 people."
I eventually chose CAE Gondia as my flight school. Firstly, you need to complete you Class 2 and Class 1 Medicals, sit in Ground School for about 5 months and clear 7 written papers, followed by 200 hours of flying in all weather conditions. I was lucky enough to be able to appear for the indigo recruitment exam 6-7 months after completion of my CPL. The recruitment process is in 4 parts and takes roughly about 2 years to be able to fly as a co-pilot after having cleared the first stage. The training is tough, extensive and it leaves no stone unturned. DGCA pass percentage is 70% and the company pass marks are much higher than that. There is no regular schedule and you're expected to be fit for the job as and when rostered. This involves a lot of regulatory measures and even more conservative personal measures to be legal to fly keeping safety in mind. So, challenging is probably an understatement as the wait can really demotivate you and it takes all the effort you can muster to keep studying and be updated. Having said that, the view from up there is totally worth it, all you need is some passion and a whole lot of determination. 
What's your average day like?
With the current roster system, you're either flying, on reserve or have an off. When flying from Hyderabad, most of our flights are early morning and you're required to report before 5 am for which you need to be up by at least 3. Which means you've go to be in bed by 7-8 pm. This takes a lot of getting used to. Once you get to the airport, you go through the documents for the day, do your Medical exam and conduct the flight briefing with the entire crew. You proceed to the aircraft, perform your checks and prepare for your first take off. There are usually 3-4 sectors to operate each day, some that bring you back home for the night and some that give you 24 hours to spend in other cities. As of now, each flight is really exciting and I'm sure that someday it will become routine but till then, each sunrise, sunset, cloud formation up at 35000 ft really excites me.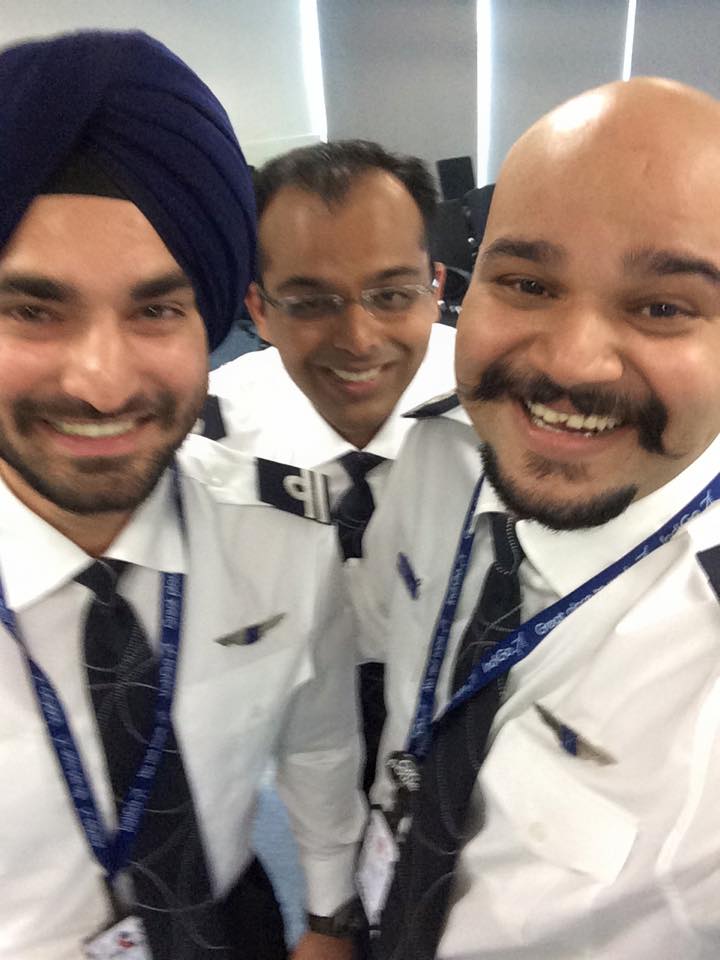 What are the best part about your job?
The best part of my job is that no two flights are predictable, you're always on your feet and any of the variables could change last minute. I find this really exciting and the view is just worth everything. Being paid (and paid well) for something you love doing, is the ideal situation.
What are the worst parts?
The worst part of my job is that its difficult to follow regular patterns as like the flights, your schedule this month will have no relation to your schedule next month. Its hard to meet your other commitments on the ground as its not guaranteed that you'll get weekends off or specific days off. Also, the most common complaints i've heard and experienced is that you get lonely quite often when you're away from your home base for a long time. 
Do your fear for your life should the worst happen?
You're trained to think " what can go wrong now and if something happens what are my immediate actions? " other than that I don't think anyone really fears the worst. It's like the stock market, higher the risks, higher the reward. Here the risks are really "high" (winks)
Most people have this question for pilots. Do they socialise a lot with the cabin crew?
(laughs) I don't think there is more fraternising between colleagues in the airline industry than other industries. Also, unlike other industries, the chances of working with the same person more than twice in a month is quite rare so I think a lot of notions are unfounded. Like any work place, colleagues get along but no real social scene afterwards as the time available on layovers often just allows for minimum rest and the hotels are different for cabin crew and flight crew.
What are some of the highlights of your career
It's all a highlight for me at the moment. Every flight seems monumental and gives me a sense of achievement. During my training I was selected by my batchmates for a Peer Award. That was a really good experience.
Any advice for aspiring pilots?
My only advice would be- gather the entire information before jumping into it and once you get into it, don't look back till you achieve the end goal. It's really not that difficult, in retrospect of course.