Social media giant Facebook has made a recent announcement where it has stated that they have invested $5.7 billion (Rs 43,574 crore) in Indian telecom mammoth, Reliance Jio, (a three-and-a-half-year-old subsidiary which besides being one of the largest telecom operators also runs apps like JioSaavn, JioMart, and JioCinema) to deepen its roots into the Indian market
The company released a public statement saying "Today we are announcing a USD 5.7 billion, or Rs 43,574 crore, investment in Jio Platforms Ltd, part of Reliance Industries Ltd, making Facebook its largest minority shareholder,".
Facebook's utmost focus will be laid on its subsidiary messaging platform WhatsApp by entering into a symbiotic relationship with Reliance E-commerce venture "JioMart" to empower small businesses by connecting the people.
Besides this, there are various products that Jio and Facebook already have, and they can mutually benefit from each other's product.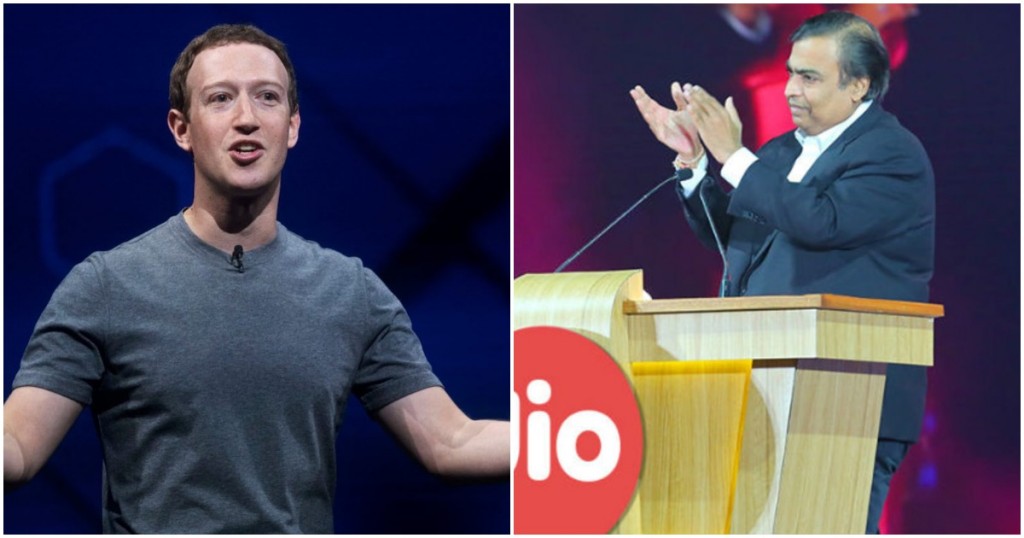 Mobile Gaming:

Jio has reformed the gaming world in India, with its free data and easy accessibility.  Facebook has recently launched its streaming app, with its recent collaboration Jio can encourage gamers to choose the Facebook streaming app which will help to attract more new gamers hailing from India. 
Payments: This strategic deal will facilitate Facebook as recently Facebook-backed WhatsApp has secured

approval

to roll out its digital payment service in India to compete with Google Pay and Paytm. 
Video Streaming: 

Both the Companies are backing a successful video streaming platform; JioMovies by Jio and Watch Platform by Facebook.  An allegiance will help both the platforms to attract traction. Facebook recently streamed the Auto Expo event on its platform and it has a lot of user-generated content, which Jio doesn't have access to. Jio already has relationships in place to get movie content on its platform.
Free Basic Platform: Previously Facebook designed a Free Basics platform, which was unsuccessful and had to be shut down by the Telecom Regulatory Authority of India because of net neutrality concerns. Free Basics, the social network offered to provide free access to certain services to a certain segment of Internet users. It might be possible with the recent collaboration that Facebook will again release its Free Basics platform under the guidance of Reliance Jio. 
At this moment these are just some assumptions hinting where both the companies can collaborate but nothing is set on stone as there has been no official statement yet being released from both the companies.
RIL subsidiary Reliance Jio boasts of a subscriber base of 370 million in India and the total valuation of the company at over $60 billion as per the Analysts at Bernstein. Three-and-a-half-year-old, Reliance Jio commenced its commercial operation, with its innovative offerings it raged a war amongst all the major telecom players, Jio services were one of its kind i.e. its offered hassle-free 4G data and free call. 
How Reliance Jio transformed India's telecom industry:
These innovative services created such immense waves which led to heralding of the new beginning in the telecom industry by providing an apparent edge to Jio over its competitors. To mitigate the effects of the price war, many telecom providers like Vodafone and Airtel swiftly made various amendments to their Data and mobile tariff plan. But they failed to influence the market as they cannot match what Jio was selling, thus this led to Jio becoming the powerhouse it is today.
 With the recent developments, the existing telecom sector will soon face dreadful consequences. Telecom sector has a debt of nearly Rs 7 lakh crore, and the two telecom giants owe combined nearly Rs 90,000 crore to the government subsequent to the recent adjusted gross revenue (AGR) fallout.