Imagine stepping into a dental clinic, and having the doctor strap on a pair of virtual reality glasses to calm you down. Sounds unusual, doesn't it? But there's been a threefold increase in the use of VR glasses in dental clinics in the US. Doctors also observed that after spending some time in the virtual world, patients' stress resistance increased, allowing doctors to easily perform their procedures.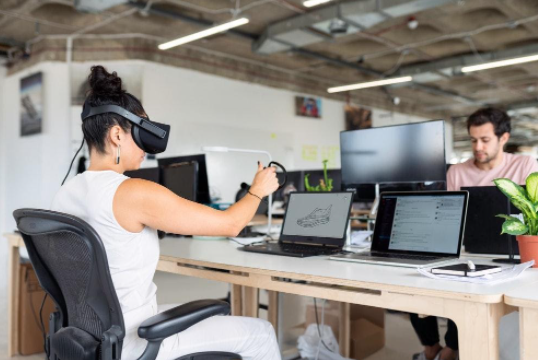 But the biggest adoption of VR devices has been by the entertainment industry. Many have already heard about VP parks and live casino games with augmented reality. VR technologies are also widely used for marketing. Millions of dollars are being spent to build VR devices that could help brands market their products. VR devices are no more a gimmick, and can help attract customers and selling products.
VR is also being used to help train employees. VR is being used in training people for specialized operations, such as flying planes — VR glasses are being used in flight simulators. VR glasses are also being used for more mundane tasks, including training sales executives and marketing personnel.
While VR requires big bulky glasses, AR, or augmented reality is also coming into its own. AR is more accessible. All it needs is a smartphone, and most people already have a smartphone to be able to enjoy an augmented reality experience.
At the same time, the user does not break away from the real world, but sees extra data in AR glasses. It allows users take into account the details in a three-dimensional format, which again has found a myriad of uses,
Experts Confirm VR Efficiency
VR is a tool for working with the new millennial generation. It corresponds to the spirit of the times and covers the need for a collection of technological solutions. 
At the same time, VR is still not independent tool. It will only work in conjunction with a set of methods for distributing tricks. You still need targeted advertising, SMM, TV ads, etc. A company must identify the goals that VR technologies can help to solve. It will help to study examples of working with mobile populations in the market. 
Digital marketing with VR is very popular among large and medium businesses. The surprise and the wow effect of VR, awakens the curiosity of users and the desire to try a thing or service in real life. 
Vivid emotions cause repeated positive experience and motivate the sale of the product. After all, the statement "first try, and only then pay" is an excellent motivation.