Gambling has had a colourful history in India and is referred to in Ramayana which is dated hundreds of years BC. Gambling games involving dice and boards are mentioned in Ramayana and it is believed by some that the board game may actually be referencing chess.
Fast forward many centuries and gambling houses were rife across the country. By the 1700s cricket was introduced along with horse racing, and sports betting hit its stride and became hugely popular.
However, during the 1800s it was believed that gambling was becoming out of control and the British rulers decided to introduce the 1867 Gambling Act which outlawed nearly all forms of gambling. It is ironic that the British chose to do this when considering the history of bookmakers in the UK and the looseness of their own gambling laws.
Now, could it be time for these laws to change?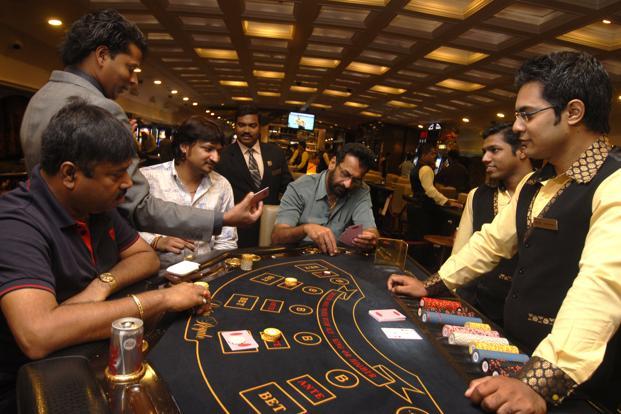 How is gambling in India now?
For a visitor to India, it may seem strange to find that the 1867 Gambling Act still largely controls what the population can bet on. Most gambling is not allowed unless the game or sport result is deemed to be decided by a level of skill.
Therefore, slot machines, blackjack, roulette, cricket, and most other sports betting are unlawful. There are allowances for some areas such as poker and horse racing, as these are seen as games/sports of skill.
States in India can in fact enact their own laws as to what is legal to gamble on but by and large, most betting is not allowed. Even bingo is not allowed to be played for money.
What about casinos in India?
There are currently three states that allow casinos in India; Daman and Diu, Goa, and Sikkim. Of these three states, one stands out as the home of casino lovers and gamblers; Goa.
Casinos in Goa are very popular with tourists and they come in two forms; land-based and floating casinos. The floating casinos were originally launched as a way to circumvent gambling laws. At the time no casinos were allowed to be built on land but there was a loophole in the law. No one thought to add a clause saying water-based casinos were also banned and so, floating casinos arrived and enjoyed operating on the Mandovi river.
These floating casinos must renew their licences every 6 months but as this has been happening for a decade now it seems unlikely they would ever be rejected. On the contrary, land-based casinos are now expanding and there are around 16 land and water-based casinos in Goa now.
Online gambling in India
Anyone who wants to play in an online casino in India is still largely free to do so. There is little regulation regarding online gambling and as long as the casino is based outside of India there should be no problem for any individual to sign up and play games.
An online casinó allows players to enjoy all the traditional games from the comfort of their home. They can play poker, roulette, slot machines, and even gamble on sports. However, to be fully legal the company that runs the casino must have its physical location and servers outside of the country.
However, some states are now passing legislation to ban all forms of gambling and especially targeting online games. In November 2020, Tamil Nadu passed laws to ban all online gambling thus becoming the third Indian state to do so.
Even if more states follow to outlaw online gambling it is likely to continue as it is hard to enforce. Indian-based online poker rooms have stopped accepting local players but this won't necessarily stop people from joining overseas websites.
It will be interesting to see if the states try to stop financial transactions from banks to online casinos as this already happens in some other regions in the world.
What about the future of gambling in India?
When you consider the rise of online gambling in India it is hard to imagine these players just disappearing when laws are passed. Overseas websites, VPNs, and underground sportsbooks can all be utilised by a committed gambler.
What might happen though is the 1867 Gambling Act may have to be amended again as India sees billions of rupees in tax money vanishing. The Minister of Finance Anurag Thakur himself has expressed support for legalising gambling. He believes that while gambling is not controlled by the government, sporting events are more open to match-fixing and tax revenues are being missed.
He also compared the 'natural instinct' of young Indians to gamble and bet the same as anywhere else in the world, including Macau, Las Vegas, and Nepal.
When government ministers are publicly giving their support for the gambling industry to be wholly legalized, or at least some of it, then you can bet that some changes are being discussed very high up.
If gambling becomes legalised what will change?
It would depend on how any new law was set out and if it was adopted at the state level. While many states may embrace some areas of gambling it is possible that others would not and could even reject licensing applications en-masse.
On a positive note, the potential future gambling industry could provide employment for thousands, bring new revenue into towns and cities, and create more tourism from overseas gamblers.
Summary
For now, cricket fans will still have to dream of the day that they can bet on cricket without going online but there are some signs that things may change. However, players can get a casino mit bonus by signing up to an online gambling site and enjoying blackjack, slot machines, or roulette just by using their smartphones.
When the Minister of Finance and other public figures start to raise opinions then there is a real possibility of seeing new laws. How popular new gambling laws will be is another matter. While gambling can be fun it can also bring problems and must be done sensibly. When this happens, the delights of floating on the Mandovi in a Goan casino can be fully enjoyed without worry.