Gone are the days when employees would sit in cold and grey office spaces and work individually in sad and lonely little cubicles.
A new age of modern office spaces have been ushered in that puts an emphasis on teamwork and cooperation.
The modern day office environment is open plan, eclectic and may contain a variety of different amenities.
The water dispenser is no longer the primary meeting spot of the office. Modern offices may contain everything from gyms to ping pong tables, swimming pools, or even massage rooms where coworkers can gather and spend some recreational time.
The main goal of contemporary office spaces is to display the vision of the company that inhabits the office, and to motivate employees to work towards that vision while feeling happy, energised, and productive.
In this article, we will take a closer look at some of the world's biggest companies who have invested heavily in good and unique office spaces.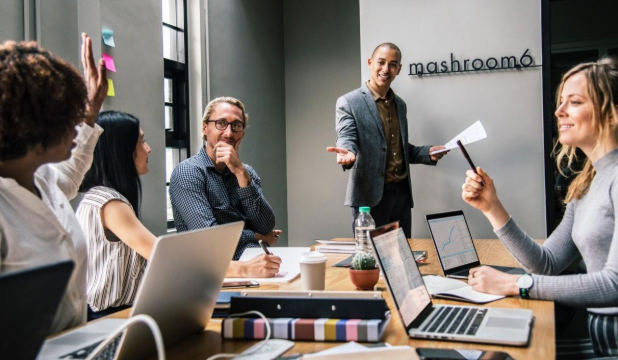 Google
Google offices across the globe are admired for the perks and inspiring work spaces that they offer to their employees.
Most of Google's offices offer benefits like in-house massage rooms, free gourmet food and gyms.
Also, each Google office around the world is unique. For example, the office in Venice has a climbing wall, while the Zurich office comes equipped with an indoor basketball court.
Google offices are known for their expressive patterns, bright colors and unique furniture designs, which can also be found in Google's highly recognisable logo which changes every so often in accordance with worldwide events and holidays.
Moving between different locations within the Google office space is made easy and seamless, with some office locations even allowing employees to use roller skates, scooters, and other vehicles to get around.
Optimising movement within the office is one of Google's ways of emphasising their main mission, which is to help their users get from point A to point B on the internet in as few steps as possible.
Apple
From a customer perspective, Apple is popular for their beautifully designed products and their amazing retail stores which are open plan and allow visitors and prospective buyers to roam around the shop and use all of the different Apple products on display in the shop.
However, if you think visiting an Apple store is a great experience, you should check out their main office location which is situated in Cupertino, California, at a place known as Apple Park.
Apple Park (which is the main headquarter of the IT giant) sits on a 1.46 square kilometer lot, making it one of the biggest office spaces in the world – even bigger than the Pentagon!
The office building is shaped in the form of a perfect circle, and it houses more than 12,000 employees who have access to some great facilities which include a wellness centre, cafés, an auditorium, and a massive green space.
In fact, most of the Apple compound is made up of outside green spaces which is riddled with apple trees and includes a manmade pond at the center of the facility.
Fun fact: there are 1,000 bicycles spread across the Apple facilities which can be freely used by Apple employees to move around the massive compound.
ComeOn!
ComeOn! Is an international betting site that you probably haven't heard about before.
The company has offices around Europe in cities such as London, Malta, and Stockholm, where employees are encouraged to thrive in an environment that experiments with the boundaries between work and play.
As an employee at ComeOn!, you have access to games such as Playstation, Ping Pong and Pool.
They also give workers flexible working hours (allowing them to work from home), along with a generous wellness allowance.
Working at ComeOn! Doesn't feel like work – it's an environment where employees are encouraged to be productive while having fun, which is something that really boosts employee productivity and retention.