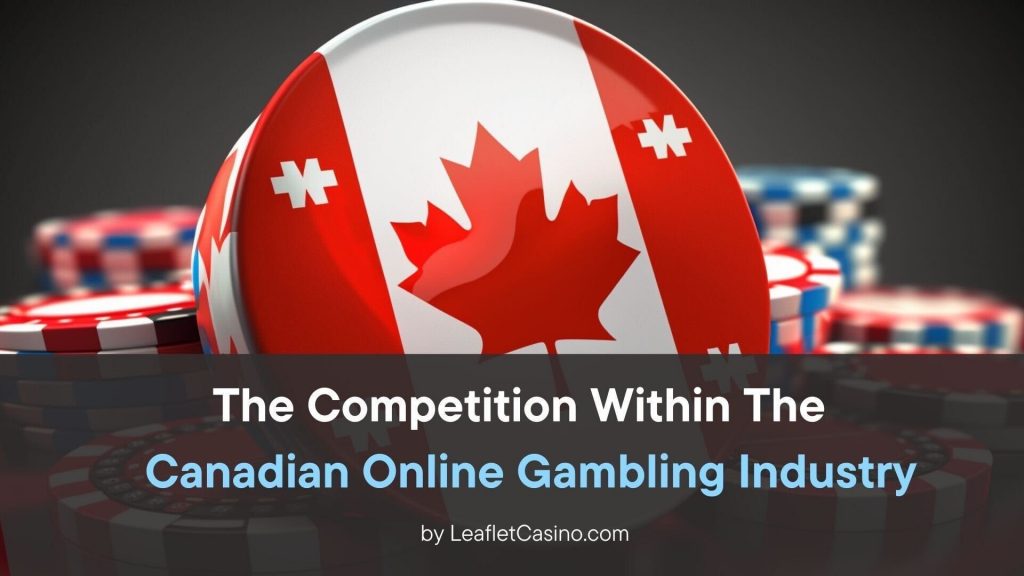 The Canadian online gaming industry is very competitive, with many players vying for a market share. The main reason for this high competition is the market's vast potential. The country's large population has an interest in gambling. But, a lot of people prefer virtual gaming over a land-based casino. This gives a good opportunity for platforms in Canada to provide their services to gamblers.
There is a high level of rivalry among Canadian gambling companies. Yet, several operators stand out from the crowd. These betting companies have differentiated themselves from others. It was done by offering unique features and services that appeal to Canadians.
Overview of the Canadian Online Gambling Market
The Canadian virtual gambling business keeps advancing each year. It has grown to become one of the most promising income-generating sectors in the country. Here is a brief highlight of the industry's present state.
Market Size
Canadians spend $16 billion a year on gambling, with $4 billion spent on offshore projects. The growth of the industry over the years has been massive. This is due to online options such as mobile gaming, live slots, and free versions. The gambling industry in Canada generates $31 billion annually and provides over 135,000 jobs worth $15 billion. Canadians, on average, deposit $824.68 yearly. This is more than US and UK gamblers.
Type of Companies
The gambling industry in Canada is diverse and open to many companies. Online sports gaming is offered by numerous bookmakers with good odds. Online casinos offer a wide range of options. This includes table slots, live games, and lotteries, with sports gambling and lottery solutions provided by local places. These largest sectors, online sports betting, and casinos, are growing steadily.
Most Popular Gambling Products
In Canada there is an excellent variety of software and events in the gambling industry. Despite the pandemic's impact on revenue, the market is expected to recover in 2023. It will compensate for previous losses and increase income levels. Different titles and sports gaming are also common among Canadians.
Demographics
In Canada, virtual gambling is popular among both men (57%) and women (43%), with females often using mobile options. Quebec caters to French-speaking users, while Ottawa, Toronto, and Vancouver offer facilities in both English and French. Alberta, Manitoba, Quebec, and Ottawa allow gambling from the age of 18. Most other provinces require users to be 19+.
TOP 5 Biggest Competitors in the Canadian Online Casino Market
Several big players dominate the wagering world in Canada. They have established a strong presence in the industry. Below are FIVE of the greatest rivals in the online wagering business.
Grand Mondial Casino
Grand Mondial is a popular platform established in 2005. It is known for its generous welcome bonus. The promo includes 150 free spins on the Mega Money Wheel game for a minimum $10 deposit. The slot is a progressive jackpot that has made several gamblers millionaires.
Grand Mondial is a big name in the market due to its commitment to fair gaming. After reading a review of Grand Mondial casino for Canadian players, we were convinced of its authenticity and financial security. The casino site uses a random number generator to ensure that the results of the slots are honest and unbiased. The Kahnawake Gaming Commission licenses it. This means the site operates within legal and ethical boundaries.
Galaxyno
Galaxyno is one of the new platforms that was established in 2020. Bettors know this site for its sleek and modern interface and various slots. Galaxyno has over 3,000 slots, including popular titles like Gonzo's Quest, Starburst, and Book of Dead. The operators also provide a mobile app for gamers who prefer to play on the go.
Galaxyno stands out due to its commitment to customer satisfaction. The owners provide 24/7 customer support through live chat, email, and phone.
Wazamba
Wazamba is another relatively new platform that was established in 2019. Like Grand Mondial, it is known for its unique and colorful interface and various slots. Wazamba has over 3,000 slots. The library includes popular titles like Book of Ra, Immortal Romance, and Bonanza.
Wazamba's VIP program is one to look out for. This program has many perks and benefits like cashback, exclusive bonuses, and access to a dedicated account manager.
Rolling Slots
Rolling Slots is an online wagering site in Canada specializing in slots. They have many slot options from reputable software providers, like Microgaming and NetEnt. The operators also offer a mouthwatering welcome bonus for rookies.
Their slot tournaments distinguish the platform from famous internet sites. These tournaments allow gamers to compete against each other for an opportunity to win big prizes. Also, they provide many payment methods. This includes Interac, a well-known payment method in Canada.
Tortuga
Tortuga is another renowned Canadian gaming company that specializes in slots. The site owners offer titles from popular software providers like Microgaming and Play'n GO.
Tortuga focuses on responsible Canadian gaming. Many tools and resources are available to help gamblers manage their wagering habits. They include deposit limits and self-exclusion options. Tortuga commits to promoting safe and accountable wagering practices.
What Do Canadian Casinos Do To Stand Out Against the Competition?
Canadian online casino sites often provide distinct services and experiences to their bettors. They do this to beat their rivals. Here are some strategies they use to remain relevant in the market:
Generous Bonuses and Promotion Offers: Sites often give gamblers welcome bonuses, reload bonuses, bonus spins, loyalty programs, and other incentives. This entices them to sign up and play. Bonuses and promotion provisions significantly affect bettors' bankrolls and increase their chances of winning big.
Exciting Web Design: Sites invest heavily in web design to create an exciting and immersive virtual wagering experience. They use high-quality graphic and animations to create a visually appealing website that is easy to navigate. It is mobile-friendly, allowing customers to access their favorite slots anywhere, anytime.
Latest Technology: Successful sites understand the importance of innovations. This is adapting to change, upgrading their services, and removing what's no longer effective. They do so to stop rivals from outperforming them. As technology evolves, keeping up with the latest advancements is also crucial.
Sports Wagering Features: Sport is an integral part of global culture, enjoyed by fans worldwide. Many websites have capitalized on this trend. They now have live sports wagering options to generate significant revenue. As the market evolves with gambling legalization, slot developers create new and innovative online games. These slots have sports wagering as an exciting feature. They include live odds, the ability to bet on specific people, and even virtual sports competitions.
Wide Variety of Casino Games: Websites now collaborate with leading game developers to provide the latest and best online slots, table slots, and live dealer experiences. The availability of a greater variety of high-quality slots gives online casinos an advantage. Gamblers opt for internet sites with the most exceptional collection of slots.
Bottom Line: What to Expect from the Canadian Online Casino Business in the Nearest Future?
Licensed online operators in Canada are predicted to generate high revenues due to tax advantages, making the market lively.
The online gambling business in Canada is a growing legal market. More and more bettors turn to virtual wagering sites as a convenient and accessible way to enjoy their favorite slots. Virtual platform experience will likely become even more engaging in the coming years. This owes to the introduction of new technologies, such as virtual reality and mobile apps.
As the market evolves, seeing which rivals rise to the top and which ones fall behind will be interesting. One thing is for sure: with great platforms like Grand Mondial casino, Canadians have plenty of options for finding the perfect experience.