Google Slides is emerging as one of the most popular platforms for creating amazing PowerPoint presentations recently. What makes Google Slides different from other presentation making platforms is its flexibility to edit, share, collaborate and present.No wonder traditional Microsoft PowerPoint has been around for decades, but Google Slides is garnering popularity as you read this article. You can create an out of the box presentation with your peers on Google Slides and present the same seamlessly without worrying about different platforms, operating systems etc. Since it is an online service, your presentations are always backed up in Google Drive and are never lost. Thus, you can readily access your presentation on the move, anywhere anytime. The platform provides a ton of features and resources to create professional presentations in no time.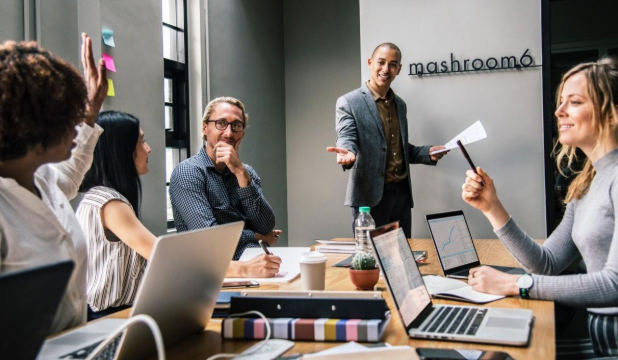 Being 100% free, Google Slides is accessible to all. Be it students, educators, corporate employees, managers, executives etc. You can create your amazing presentation with Google Slides and can download the same and run on traditional PowerPoint software too. The compatibility and quality of slides take no-hit. Higher collaboration is one of the most acclaimed features of the platform, you can collaborate with literally anybody around the world and create a presentation by contributing or vice-versa. Real-time edits can be made which cuts down presentation creation time for teams and boosts efficiency. Google Slides is famous for its simplicity, the moment you land on the website, you'd be amazed by the user-friendliness or the portal. It's a lot more similar like PowerPoint, however, features more tools, features and presentation resources.
Let's move ahead and know how you can create a state of the art presentation on Google Slides:
Google Slide Templates
Using Google Slides templates in your presentation not only provides it with a great design but also helps it in unimaginable ways. PowerPoint templates provide consistency to your presentations and thus, keeping it engaging till the end for your audience. As a presenter, you should understand that the presentation can only be a success if it features high readability. The right template can make or break your business pitch. Business presentations are not just about content they project but also the design. Google Slides is highly compatible with a majority of presentation templates on the internet, you can easily add your favourite template in your presentation by simply importing it under the 'Import Slides' section of Google Slides. Moreover, the platform also provides ready to use templates. You can easily pick the one suitable for your presentation goals. 
Typography
Google Slides maintains a huge list of attractive fonts for every type of presentation. Successful presentations have typography which professionally presents information. Typography is a medium of communication, it attracts your audience, holds their attention, evokes a certain emotion and hence, establishes information hierarchy. The great design reflects great professionalism. You can create a brand reputation and build a business reputation when you have consistency in your design. Your audience always remembers the type of font you use in your presentation. Google Slides provides a lush number of font, themes and formatting options. Always remember that the font sets the tone of your presentation. It enhances the readability, ensures consistency throughout slides and gives meaningful existence to the words.
Attractive Visuals
Visuals are pure magic for your presentations . When it comes to explaining the overall value of the content, visuals play an important role. Like they say a picture paints a thousand words, including attractive visuals in your slide, can do wonders for your presentation. Your audience is more likely to pay attention, grasp the content, remember and take the information with them when your presentation looks beautiful. Slides having too much text on them encourage boredom indirectly in the audience. Including high-quality visual aid can significantly boost the chances of your viewers paying attention to the presentation. Images describe the content and help your audience better understand the subject matter. Since our brains process visuals at a much higher rate than text, including images is a win-win. While in Google Slides you can simply tap on the 'Insert' button and import your favourite images, infographics, gifs and animations.
Charts and Graphs
Any business presentation is without charts and graphs. When your presentation contains a lot of numbers, tables and other statistical data, it might get intimidating for your audience to digest it all. Leveraging charts and graphs can be of great help. It's imperative to utilize these as they provide easy to understand technical details to your audience. Charts and graphs give a birds-eye view of data to your audience. In Google Slides, you can simply stroll over to the 'Insert' section and look for the 'Charts' option. Here, you can create an amazing bar, column, line and pie charts. These charts can be customized until the last bit to attune better to analytical data. Moreover, you can easily copy and paste the charts across multiple templates and even multiple presentations on Google Slides.
A great presentation should encompass simplicity, compatibility, attractive visual elements and rich design. With Google Slides, you can have it all under the same roof. The goal is always to create attractive and amazing presentations. You can only create better when you collaborate better. You can communicate and collaborate with teams sitting two time zones away easily. Gone are the days when you were required to create a presentation from scratch. Today, you can simply download a template on Google Slides and start putting-in content and your presentation will be ready in no time.