Facebook is looking less and less like a social network and more like a mini version of its own internet.
Last year, it had launched its own marketplace, which was designed to be an answer to Craigslist and Quikr-Ola. It had then taken the big move of selling movie tickets and letting people ordering food, right from business pages on its platform. It had even launched a home services section, which would help people find plumbers electricians around them.
Now it's gone ahead and dipped its toes into another lucrative online industry – jobs.
Facebook is now letting businesses in the US and Canada post job listings online. Business pages will get their own jobs section, it seems to have the familiar look of job portals around the world. We tested Facebook's own page, where a single search bar asks users to enter a  job they want, and lets them specify a location. 

We searched for Software Developer jobs in Menlo Park, and were immediately handed over a list of openings at Facebook subsidiaries, Whatsapp and Oculus.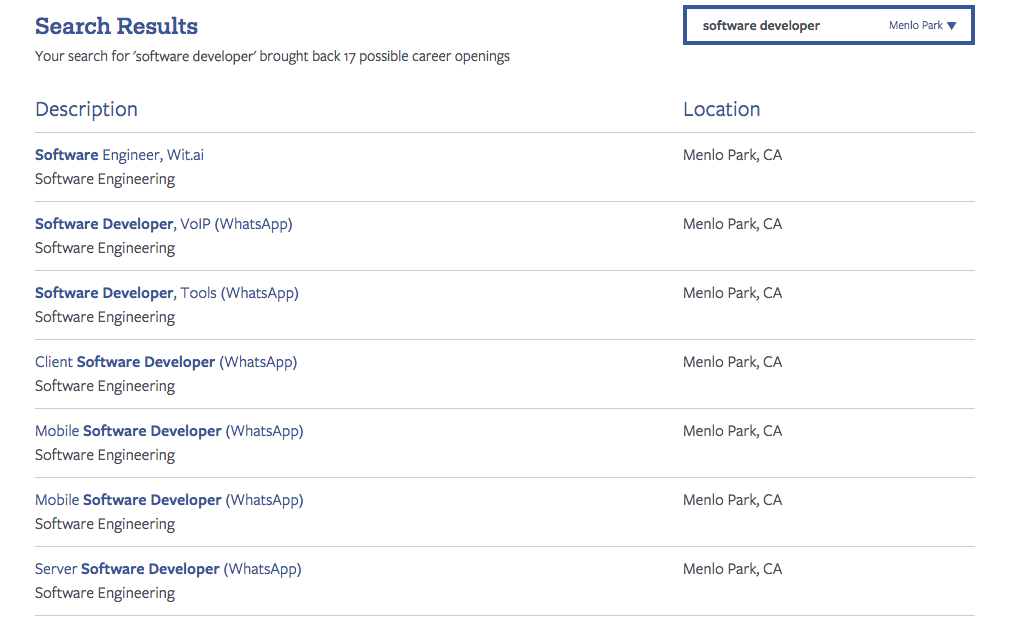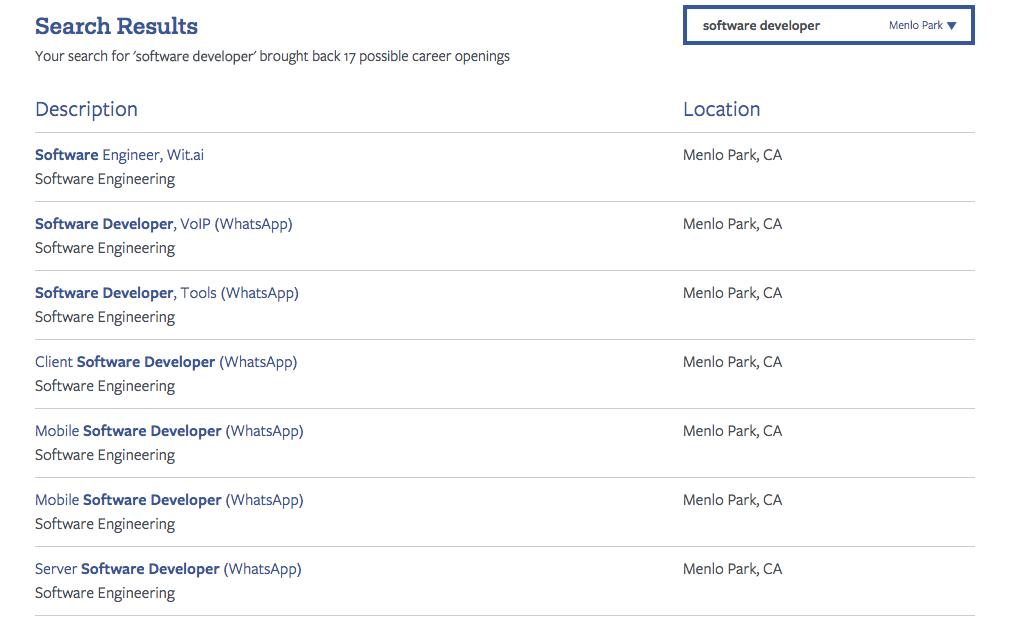 Like with Facebook, any business page's admins will be able create a job post, track applications and communicate directly with applicants. After posting a job, admins will be able to review applications and contact applicants on Messenger. Facebook will also add a layer of monetization on top of these postings – these jobs posts will be able to be promoted to reach a larger or more relevant audience.
Applicants, on the other hand, will be able to find jobs in their news feed, or in the new bookmark for jobs. Clicking on the Apply Now button will pre-populate a form from the information Facebook already knows about them, thus creating an instant mini resume. Applicants will be able to review and edit their information before submitting it.
This all appears pretty standard for a job listings site, and Facebook is breaking no new ground in the process of how jobs are found online. But where Facebook will score is the sheer number of people who already use its platform – the company has over a billion users worldwide who spend large amounts of time on the site, and Facebook also knows which colleges they've attended and where they've worked. Most businesses, too, are already on Facebook in the form of Facebook pages. Facebook, in its mission of connecting the world, is merely connecting demand and supply.
This should make dedicated job portals, such as Monster, Naurki, or even Linkedin nervous, for Facebook has a reach and brand recall that they can't hope to match. But they can take solace in the fact that Facebook has yet to disrupt any of the new industries it's entered – Facebook's events, marketplace, or even food delivery businesses haven't quite taken off, or made a dent in the fortunes of the existing incumbents. But they'd do well to remain wary – Facebook's ambitions clearly extend beyond being a social networking site, and it has the financial might and the popularity to bring them to fruition.