There's been lots of chatter about Snapdeal's latest round of layoffs. People have been speculating over what it means for the company, and the e-commerce industry in general. There are also worries if this will extend to other sectors, and whether the startup bubble has finally first.
Amidst all this, what's gone relatively ignored is that over 600 people have lost their jobs overnight.
Snapdeal's laid off employees are now on the lookout for new roles, and it isn't going to be easy. Six hundred new employees suddenly added to the pool of applicants will mean that competition for new jobs will be fierce, and the public nature of Snapdeal's layoffs will mean that applicants with Snapdeal on their resumes will have little room to negotiate. But India's startup community is coming together to help these employees get jobs.
Several companies have proactively asked laid off Snapdeal employees to apply. Paytm founder Vijay Shekhar Sharma said that his company will "welcome them with open arms." Applicants can send emails to careers at paytm dot com to know more about openings.
Hello, Tech/Product ppl in Delhi NCR, feeling heat of business restructuring?
We welcome you @Paytm and @PaytmMall with open arms.

— Vijay Shekhar (@vijayshekhar) February 24, 2017
@kunalkalra88 @vijayshekhar @Paytm @PaytmMall Write to us at [email protected]

— Sonia (@Soniadhawn) February 24, 2017
VC firm Blume Ventures has also invited tech and product people to apply to its portfolio companies. Applicants can send mails to talent at blume dot vc. 
To all ex-Snapdeal employees – Blume portfolio is hiring (as always), send your resume to [email protected]. Tech and product preferred.

— Arpit Agarwal (@arpiit) February 23, 2017
EVC Ventures is also hiring ex-Snapdeal employees that are based out of Gurgaon. They have a positions such as CTO, Engineering Manager, Business Analyst open, and interested applicants can contact akshay dot sinha at evc.ventures.com.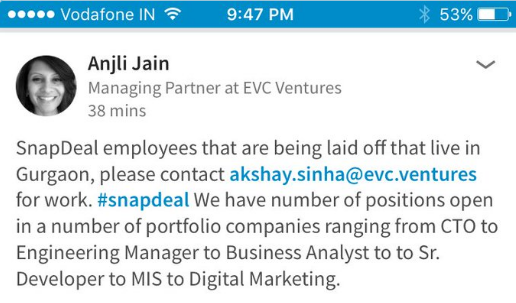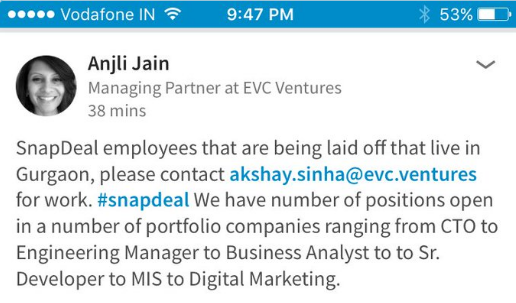 If you're a company that's currently hiring, do let us know in the comments.