Even as Vishal Sikka, Infosys' board and founder Narayan Murthy trade insults, Infosys investors have lost over Rs. 30,000 crore — Infosys stock has crashed 10% since the news of Sikka's resignation was made public.
Earlier today morning, Infosys CEO Vishal Sikka announced his resignation. He also published a remarkably candid blog explaining his decision. " I cannot carry out my job as CEO and continue to create value, while also constantly defending against unrelenting, baseless/malicious and increasingly personal attacks," he wrote. As he reminisced about his three-year journey, he minced no words about why he'd quit. "I have decided to leave because the distractions, the very public noise around us, have created an untenable atmosphere. I deeply believe in creating value in an atmosphere of freedom, trust and empowerment. Life is too short to engage in battles of opinions in the public, these add no value, take critical time and focus away from the business, and indeed add more to the noise," he said.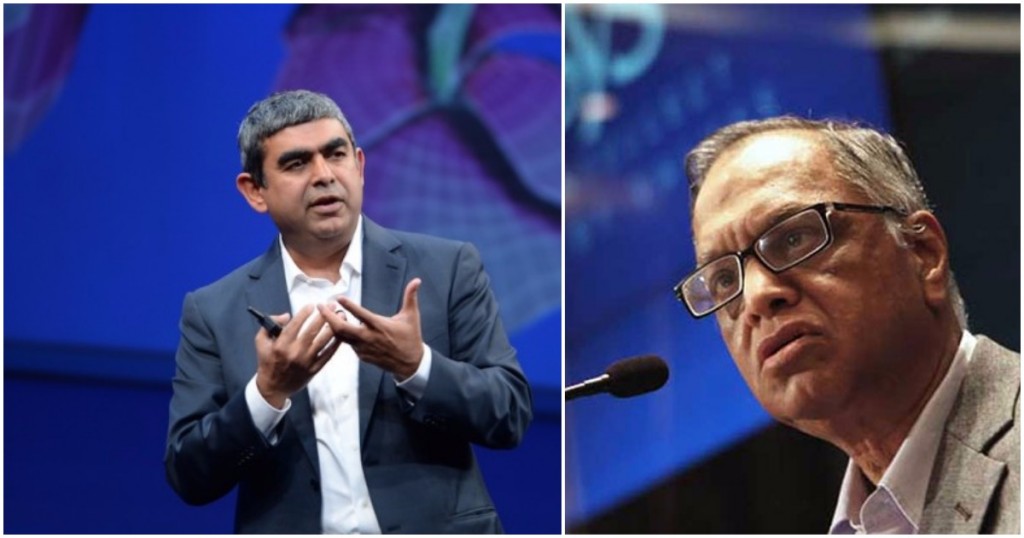 Sikka appeared to hint at letters written by Narayan Murthy, which had called into question Sikka's abilities. "All that I hear from at least three independent directors, including Mr Ravi Venkatesan (co-chairman), are complaints about Dr Sikka. They have told me umpteen times that Dr Sikka is not a CEO material but CTO material. This is the view of at least three members of the board," Murthy had written.
The Infosys board reacted sharply to the letter. "The Board takes great umbrage to the contents of the letter. Murthy's continuous assault, including this latest letter, is the primary reason that the CEO, Vishal Sikka, has resigned despite strong Board support. Murthy's letter contains factual inaccuracies, already-disproved rumours, and statements extracted out of context from his conversations with Board members," it said. 
The board called Murthy's supposed campaign to oust Sikka "misguided". "The Board assures its shareholders, employees, customers and communities that it is committed not to be distracted by this misguided campaign by Murthy and will continue to adhere to the highest international standards of corporate governance as it executes its strategy of profitable growth for the benefit of all Infosys stakeholders." 
"Murthy's campaign against the Board and the Company has had the unfortunate effect to undermine the Company's efforts to transform itself. The Board believes it must set the record straight on the false and misleading charges made by Mr. Murthy because his actions and demands are damaging the Company and misrepresent its commitment to good corporate governance." it added.
The Infosys board also accused Murthy of interfering with Infosys' operations. "Mr. Murthy's has made repeatedly made inappropriate demands which are inconsistent with his stated desire for stronger governance. (He) has demanded that the Board adopt certain changes in policy, else he will attack board members in the public, which threat was carried out when the Board did not acquiesce. He has demanded operational and management changes under the threat of media attacks," it said.
Soon after, Narayan Murthy issued a statement of his own. "I am extremely anguished by the allegations, tone and tenor of the statements," he said. "I voluntarily left the board in 2014 and am not seeking any money, position for children, or power." He said his main concern has always been the deteriorating corporate governance at Infosys. "It is below my dignity to respond to such baseless accusations," his statement said.
All this while, as the Infosys management was washing their dirty laundry in public, Infosys's stock tanked. Infosys's share, which had opened at Rs. 989 today morning, fell 5% as news of Sikka's resignation was made public. As the response by the board and Murthy's statement was made public, it had fallen nearly 10% to Rs. 893.