In September 2013, Raghuram Rajan had left behind the cozy environs of academia and had jumped headlong into one of the most powerful roles in international finance – the Governor of the Reserve Bank of India. With the spotlight trained firmly on him, and the media curious about his distinguished background, he'd dominated public mindspace like no RBI governor between him. Somewhere along the way, he's become embroiled in a political controversies, which he handled with much dignity and poise. And three years later, after finally handling over the reins to incoming governor Urjit Patel, Rajan is back where he belongs – the classroom.
Raghuram Rajan has been listed as a 'Distinguished Service Professor of Finance' at the University of Chicago Booth School of Business,  and he's slated to teach international corporate finance there in winter of 2017.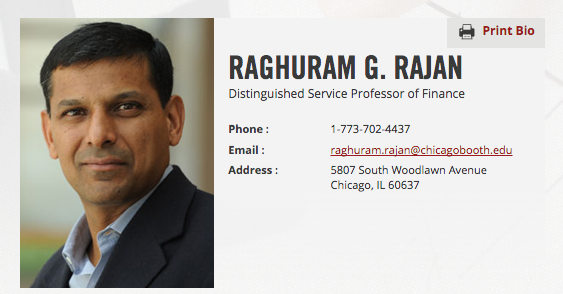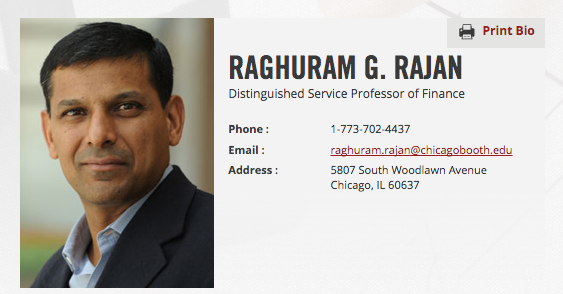 The course that Rajan will be teaching is called "International Corporate Finance", and it "will explore the challenges of corporate finance and investment in a more integrated global economy." "How should one optimally organize the location of production, control, and financing? What kinds of new concerns emerge when the whole world, rather than just one's domestic economy, become the arena of decision making?," the course description says.

That seems like a far cry from his earlier stint as RBI governor, where he was thrown into a media frenzy that scrutinized his every move, and politicians who seemed uncomfortable with his straight-talking openness. During his tenure at the RBI, Rajan was officially on leave from Chicago University.
With him back in academia, the Indian administration has lost one of its brightest minds. But perhaps India's loss is academia's gain – by being away from the spotlight, Rajan will once again we able to focus what he did best, before he was dragged into national duty at the RBI.