Govt. run bodies are often thought to be stiff and bureaucratic, but the RBI pulled out all stops when it was going to bid adieu to governor Raghuram Rajan.
Rajan had been replaced with Urjit Patel after an intense period of speculation in which it was debated if he'd receive a 2nd term. Rajan, who'd stepped into the post with an array of credentials that included degrees from IIT, IIM and MIT, had entered the public consciousness as no RBI governor before him. Reams had been written about him in the press, and the general public had followed his every move.
So it was perhaps fitting that his ex-colleagues gave him a special farewell. RBI's bankers put their creative hats on and drew him a massive Rangoli.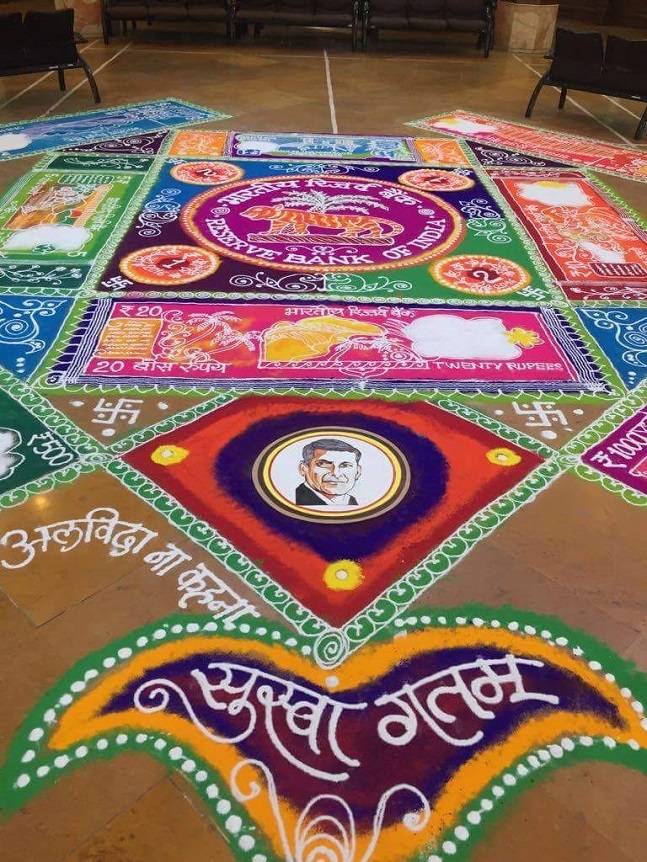 And it wasn't just any Rangoli. The circular RBI logo dominated at the center. It was surrounded by four coins of Re. 1 and Rs. 2. On the edges of the design were faithful reproductions of RBI's banknotes – the old Rs. 1, Rs. 5, Rs. 10 and Rs. 20 notes. Further outward, there were notes of bigger denominations, including the Rs. 100, Rs. 500, and Rs. 1000 note. Amidst the colourful imagery, were the words "Alvida na kehna" (Don't ever say goodbye) in Hindi, and a large portrait of the soon-to-be-ex Governor.
RBI, being responsible for printing all of India's currency, couldn't have given a better sendoff to their Chief.