CommonFloor's acquisition of Quikr was one of the biggest deals in the Indian startup space last year. Back then. the CommonFloor founders had said that the acquisition would make no difference to the way CommonFloor was run, but would just "have a bigger canvas to work with." However, a year later, all three founders have decided to quit the company.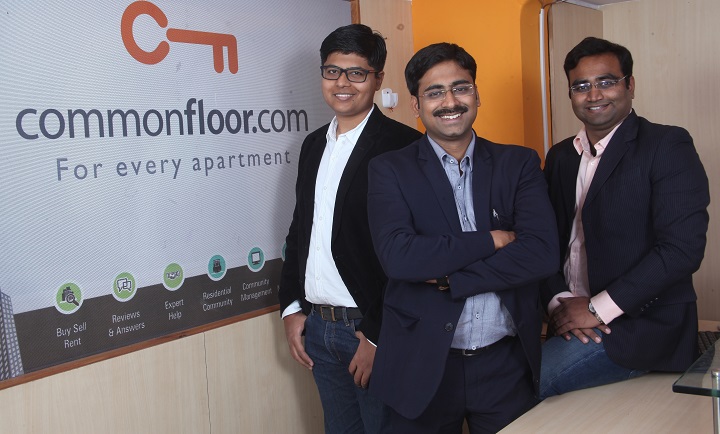 Sumit Jain, Lalit Mangal and Vikas Malpani will quit Quikr-owned CommonFloor to pursue other interests. "What we had started 9 years back as a thought, an idea and a dream to bring change, create a workplace where we belong, and have a good time has now shaped into unarguably India's most useful real estate portal. Though a lot has to be done when it comes to the real estate market in India, we feel that this is the right time for us to think about the next move. We are looking at transitioning out to pursue other interests. Stay tuned for what's next," Sumit Mangal wrote in a Facebook post.
It appears that the CommonFloor team will remain intact, and will together work on new opportunities. The three founders had started CommonFloor back in 2007 as a way to get people living in housing complexes to interact with each other, but had then pivoted to become a home rentals platform. They had faced stiff competition from established players like Magicbricks and 99acres, and newer companies such as Housing. In December 2015, CommonFloor had been acquired by Quikr, which was actively looking to expand in the real estate space, in an all stock deal reportedly worth Rs. 65 crore.
Since its acquisition, most of the CommonFloor employees had been laid off, and only a handful now remain with the company. The CommonFloor office in Bangalore had also been shut down by Quikr to consolidate operations. 
It looks likely that the team will now work on a new startup. "New innings to begin," tweeted Sumit Jain to announce the news.