Apple CEO Tim Cook isn't big on Twitter. He has only sent 282 tweets in his three years of being on the social network. But his influence is considerable – he has 3.44 million followers, who're eager to hear what one of the most powerful men in tech has to say.
He tweeted this today morning.
A very happy birthday to @narendramodi. Vasudhaiva kutumbakam – the world is one family.

— Tim Cook (@tim_cook) September 17, 2016
Now this tweet is odd on many counts. Cook isn't normally an effusive birthday wisher on Twitter – he's only sent 5 birthday wishes so far. Two of them have been to corporations – Apple and Twitter. One has been to a country – Cook had wished America on its 239th birthday. The fourth had been a posthumous wish to Apple founder Steve Jobs. The fifth doesn't quite fit in with the rest – India Prime Minister Narendra Modi.
Now Tim Cook and Narendra Modi are no strangers to each other. They'd met during Modi's trip to Silicon Valley last year, and also had a chat during Cook's India tour this year. But to have developed a level of bonhomie that would warrant a birthday wish? Not really.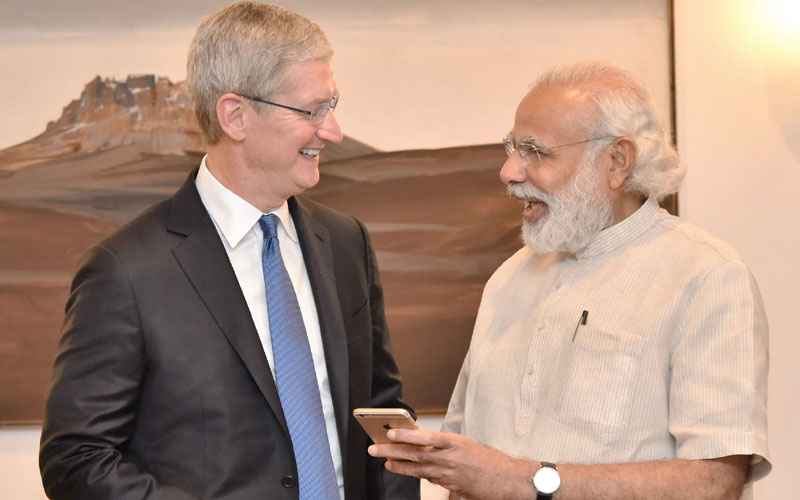 But this clearly is not ordinary birthday tweet. What's critical here is the second part – where Cook says Vasudhaiva Kutumbakam, or "the world is one family". Cook isn't just showing off his Sanskrit skills or harping about world peace – this is very clearly a message to India to let Apple open its Apple Stores in the country.
While it hadn't been said in so many words, Cook's India visit earlier this year had been to drum up support for Apple's retail stores in India. India's FDI regulations stated that 30% of components must be locally sourced if a company wants to sell through its own retail stores. Apple products, which manufactured primarily in China, didn't meet this criterion.
Months after Cook's visit, the rule was inexplicably relaxed. But Indian bureaucratic machinery moves slowly – four months since the ruling, Apple still hasn't opened its stores in India. Cook's tweet to Modi might just be a nudge to get things moving faster.
So when he says "the world is one family" what he really means is this – We might be an American company that makes its phones in China, but do let us sell directly to your people in India. 
Update: Modi has replied to Cook's wish on Twitter, saying he "fully agree(s)" with him. 
Fully agree with you! And thank you so much for your good wishes. https://t.co/bLXIhJVmKI

— Narendra Modi (@narendramodi) September 17, 2016