Paytm has probably been the biggest beneficiary of the government's shock demonetization move. The company has found a whole a new market, the "Paytm accepted" signs are everywhere, and Vijay Shekhar Sharma is regularly making news headlines. But MobiKwik cofounder Upasana Taku isn't impressed.
Taku has hinted that while Paytm is attracting lots of media attention, her firm MobiKwik is creating a real impact, such as reaching petrol pumps is faraway Jharkhand.


The "competition is busy pasting stickers near media houses," she tweeted yesterday, and tagged journalist Vir Sanghvi for good measure. Paytm CEO Vijay Shekhar Sharma had appeared on Vir Sanghvi's show recently to talk about Paytm's journey.
Paytm has launched a marketing extravaganza since the demonetization scheme was announced on 8th November. It had carried out full page ads in major newspapers the day after the move, and has also created a video campaign around its jingle, Paytm Karo. The company and its founder have also been enthusiastically sharing "Paytm Accepted Here" signs in offbeat places, such as barber shops and temples. These pictures have proven to be marketing gold, and the juxtaposition of a startup in distinctly unstartup-like places has caused several people to marvel at Paytm's reach.
But the MobiKwik founder doesn't seem to be a fan of these pictures, and has hinted before that these signs might not be all that they're made up to be. She shared a tweet where someone claimed that a shop owner told them that "someone came and stuck (these signs)", and the shop didn't actually accept Paytm. "Businesses that seem sexy are not real," she tweeted.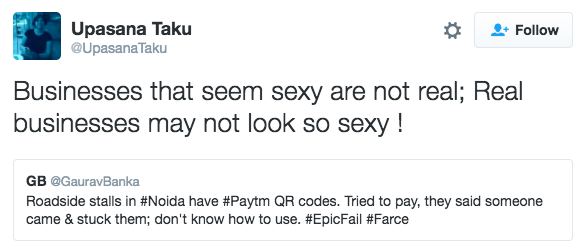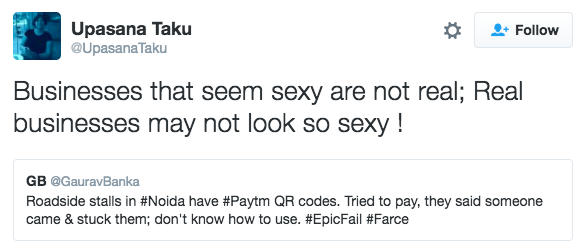 MobiKwik's CEO, Bipin Preet Singh, who's also her husband, has also dismissed these pictures as marketing gimmicks. "Paying at a paan shop is good for marketing yourself, but that's not real business," he said in an interview.
MobiKwik was among the first entrants in the mobile wallets space, but has definitively lost the top spot to Paytm, and perhaps to FreeCharge as well. Bipin Preet Singh, though, says that Paytm's claimed userbase of 150 million is made up, and the actual number is around half of that.
And while the mobile payments game is far from over – a fraction of India's population currently uses mobile wallets – companies seem to have realized that they're in the midst of a pitched battle that'll shape the ecosystem for years to come. And maybe it's desperation, or a sensed opportunity – but for MobiKwik, the gloves appear to be off.