It's no secret that Kishore Biyani isn't a fan of e-commerce. He's said often said that e-commerce prices aren't sustainable, and thinks it'll be hard to ever make profits in the space. The Future Group has been content with its offline business, and is happily making profits — as e-commerce companies floundered with losses, Future Retail rose its profits to Rs. 148 crore in the last quarter.
But that doesn't seem to have meant that the Future Retail is averse to adopting some of e-commerce most popular innovations. Late last year, Kishore Biyani had unveiled a plan which he called Retail 3.0, through which Future Retail would unleash a slew of changes into how shopping is done. While that plan is still in the works, the Future Group seems to have already incorporated some plans into its flagship offline sale, which could help it take on India's e-commerce giants.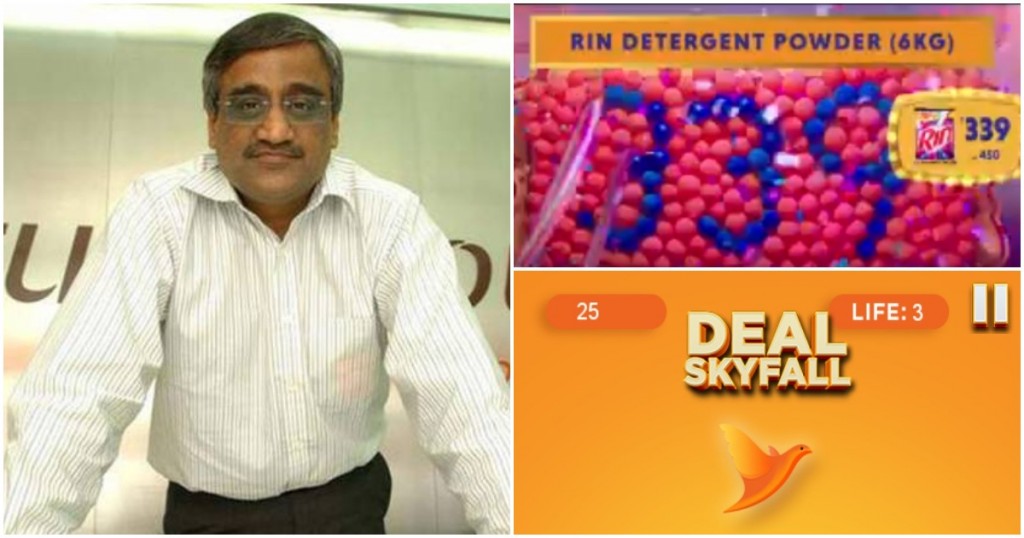 1.Payment through Its Online App: Even though Big Bazaar's sale will happen in its physical stores, customers will have the option of paying through Future Group's payment app, Future Pay.  Future Pay is the Future Group's digital wallet that lets customers pay at Future Group stores including as Big Bazaar, fbb, Central, Brand Factory and Ezone. 
2. Cashbacks: Apart from the discounts that Big Bazaar is touting during its sale, it'll also give cashbacks, the e-commerce industry's favourite tool for customer retention. Customers who shop for more than Rs. 2,500 during the sale will get a Rs. 500 cashback into their Future Pay apps, which they can then use to make further purchases at Future Group stores.
3. Online registrations: Most online companies fall over themselves while giving discounts on their products; Future Group is instead charging customers to enter its stores. Big Bazaar expects customers will queue outside its stores during the sale, and it's letting them buy entry passes for its sale at Rs. 50. In keeping with its digital transformation, it's selling the passes online on its website. 
4. Mobile Games: Future Group says it wants to also target millennials through its 5-day sale. It's released a game called Deal Skyfall, through which it's giving away vouchers worth Rs. 1 crore. Future Group's branding is cleverly integrated into the game — users control an orange bird, that's also the group's logo, and attempt to catch deals that flow past.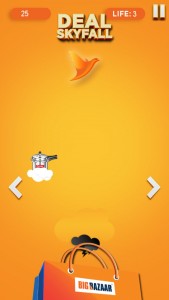 5. Pop up stores: Big Bazaar might have a lot of offers and discounts during its sale, but being a physical store, it can't possibly compete with the reach of the internet provides. People living in cities and towns that don't have Big Bazaar stores wouldn't have been able to participate in the sale, but Big Bazaar says it's come up with a solution. The company will set up pop up stores in small cities and towns, where customers will be able to scan QR codes and buy items. They'll also be able to buy items through its website.
6. Loyalty Program: E-commerce companies have run their loyalty programs with varying degrees of success — Amazon has its popular Amazon Prime program, and Flipkart and Snapdeal have also dabbled in their own versions. Big Bazaar has a loyalty program of its own through which members get discounts and offers. The company is providing special offers to its loyalty program members during its sale — while the sale opens on 24th January for non-members, it opens on the 22nd for its loyalty program members, who can avail the discounts two days in advance.
7. Facebook Live & celebrities: Future Group founder Kishore Biyani says he was in China during Alibaba's Singles Day sale this year, and was impressed by what he saw. He should've been — in 13 hours, Alibaba sold more goods than the entire Indian e-commerce industry sells in a year. Biyani says one factor in its success is how Alibaba turns its shopping festival into an extravaganza — celebrities such as David Beckham, Maria Sharapova, and grace Singles Day events. Future Group is trying to do some of the same — it says it'll run Facebook Live sessions during its sale, during which Indian celebrities will hold contests and giveaways.
It remains to be seen how successful Big Bazaar's changes will be, but there are indications that's stepping into a hybrid offline-online model that could well turn into the future of shopping. E-commerce players too have been increasingly looking at the offline world to grow their userbases — last year, Amazon acquired 5% of Shoppers Stop, and Flipkart acquired a phone repair company with stores all across India. Future Group is reaching the same place, but from the opposite direction — it already has an offline presence, and is trying to bring in the best practices of the online world to help woo more customers. And its latest sale, chock-full of innovations that haven't been tested yet in the Indian space, could provide a fascinating insight into how shopping will evolve in the 21st century.