It was the sort of maneuver that a military general would've been proud of. Last Saturday, all Indian e-commerce companies were busy slugging it out in their annual e-commerce discount fests, falling over each other to give their customers the best offers they possibly could. The battle was being fought very much in the online world — these were e-commerce companies after all.
Amazon, though, had other ideas. Smack in the middle of its Great Indian Sale, it opened up an offline front. It announced it had purchased 5% of Shoppers Stop for Rs. 180 crore.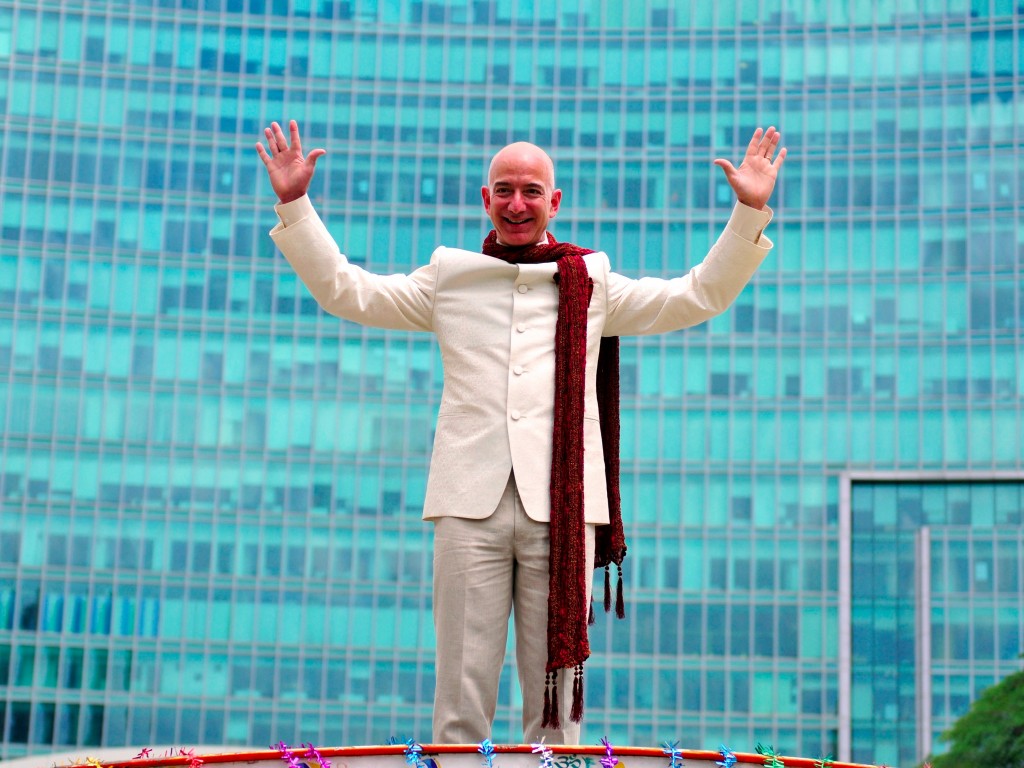 Nobody had seen the move coming. "Shit just got real," said investor Mahesh Murthy. There had been murmurs about Amazon acquiring Big Basket, or even Grofers, but this move caught most off guard. But the more people thought about it, the more sense it appeared to make. Investor Haresh Chawla wondered why e-commerce companies hadn't done this sooner — he'd said it would've make sense for Flipkart to invest in Shoppers Stop all the way back in 2015.
And the move might well prove to be a masterstroke. While Amazon hasn't confirmed how it intends to use its new association with Shoppers Stop, here are the some of things it could do.
Real Estate Play: One way to look at the Amazon acquisition is a pure real estate play. A tie up with Shoppers Stop gives Amazon a foothold in 38 cities and towns across India — Shoppers Stop runs 80 stores across places as diverse as Latur, Jaipur, Indore and Mysore. And this is prime real estate, in high-footfall malls where upwardly mobile Indians hang out. Simply putting up Amazon branding at these stores could be a pretty good use of Rs. 180 crore.
Pick Up Locations: But Amazon could do a lot more than just use the Shoppers Stop Stores for marketing. Amazon can use these stores as pick up points. Shoppers Stop locations are often close to office areas and commercial establishments, and customers could simply have their purchases dropped off at these Shoppers Stop locations, and pick them up at their convenience. And there does appear to be a need for these pickup stores — Flipkart has been running dedicated pick up stores since 2015.
Trial Rooms: Shoppers Stop stores come with something e-commerce companies severely need — trial rooms. Companies have been using AI and machine learning to let people know what their clothes bought online will look once they wear then, and several e-commerce companies let their customers return clothes after trying them if they don't fit. What if Amazon could run a program where it would get say 3 dresses delivered to your nearest Shoppers Stop location? You could try out these dresses in the store, and finally walk out with the ones you like. 
Cross branding: Opportunities for cross branding, too, abound. What if purchasing a lipstick from Shoppers Stop gives you a voucher to purchase kajal online from Amazon at a discount? Shoppers Stop has direct shopping data for millions of customers every year, and Amazon can now target them better than any online targeting algorithm can.
Shoppers Stop First Citizen Loyalty Program: And this might be the most crucial play here. Shoppers Stop runs a popular loyalty program called First Citizen, which

has

49 lakh members who account for 77% of its sales. What if Amazon could…simply offer these people Amazon Prime memberships for free? Sure they'd be some overlap, but Amazon could have found a ready, high-spending audience for its Prime Program. Once these people have a Prime Membership by default, they're much more likely to shop online on Amazon than on any of its competitors. And Amazon has been generous with Amazon Prime before — immediately following its acquisition of Whole Foods, it began offering

discounts

at Whole Foods for Amazon Prime members.
The Crossword angle: Shoppers Stop also runs the popular Crossword chain of bookstores. Crossword has 88 stores across the country, and Amazon could use them to promote its large book collection. Crossword attracts an upwardly mobile, high-spending audience, and Amazon could also have opportunities to promote its products directly to them.
Everyone's doing it: And apart from speculation, there clearly is a need for e-commerce companies to move offline. Lenskart now operates 700 stores across the country, and Urban Ladder and Pepperfry have also been opening stores at prime locations. Even Flipkart-owned Myntra has opened an experience store in Bangalore. Clearly the data is telling e-commerce companies that they need to move offline — remaining a pure online play can only take you so far.

And Amazon's made its online play far more efficiently than other players — while other companies have been opening a couple of stores a year, testing out markets, Amazon's gained entry into a network of stores across India in one fell swoop. It's the Amazon way of doing things.