The entrepreneurial plunge doesn't always work out — startups can fail, and teams can fall apart. But when it does, the results can be nothing short of astonishing.
Two years after he rejected a job offer worth Rs. 40 crore per year from Unacademy, Alakh Pandey is now the owner of a startup that's worth Rs. 8,500 crore. Last evening, Physics Wallah, Pandey's ed-tech startup, raised $100 million (Rs. 750 crore) in its first formal funding round. The round values the two-year-old company at $1.1 billion (Rs. 8500 crore).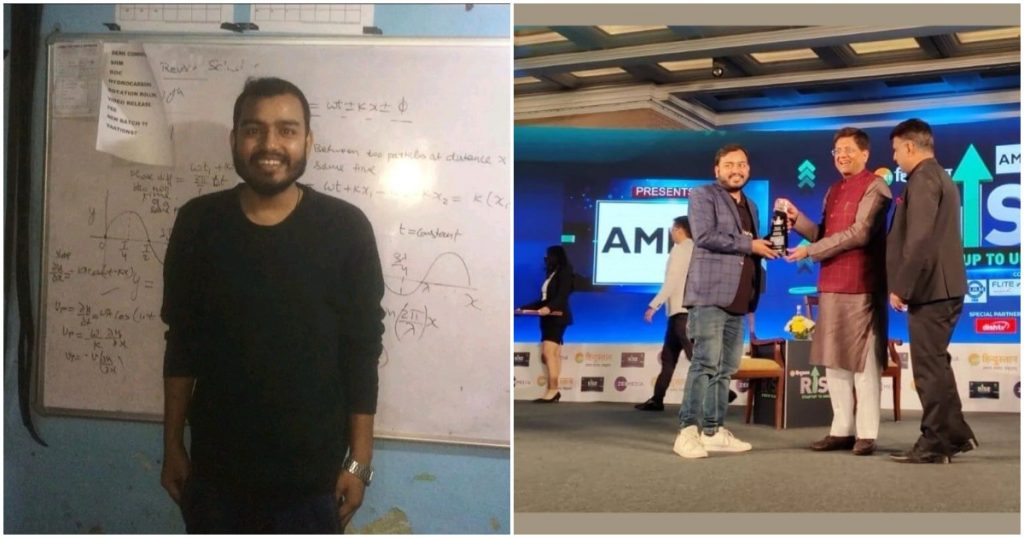 While Physics Wallah became a company only two years ago, the groundwork had been laid as far back in 2014, when Pandey had started a humble YouTube channel to teach students physics online. Teaching came naturally to Pandey — he'd begun teaching students when was in Class 8 to earn some extra money. "Ever since my childhood I was a teacher," he says. "When I was in grade eight, I used to teach grade four and grade six students. It didn't start out of passion initially, it started because I was having a few financial issues at home and I had to take tuitions," he adds.
By the time Pandey was in Class 11, he was teaching Class 9 students. But the teaching probably came at a price — he himself didn't make it to the coveted IITs. "Back then cracking IIT was of paramount importance and I was unable to do that. I didn't get a platform or proper coaching in institutes like Aakash or Allen, which for me was a dream back then," he rues.
Unfazed, Pandey enrolled for a BTech degree in Mechanical Engineering at the Hartcourt Techincal Butler University in Kanpur. He eventually dropped out, and returned to his hometown of Allahabad, teaching at an offline coaching center. At that point, he was earning a salary of just Rs. 5,000 a month.
In 2014, Pandey hit upon a new way to reach his students. India was slowly coming online, and he decided to start a YouTube channel. Pandey used to upload his lectures, where he explained the concepts of physics for students hoping to crack India's hyper-competitive engineering entrance examinations. He called the channel Physics Wallah.
Physics Wallah wasn't an overnight success. Pandey had no professional equipment or sound recording devices, and used to teach in a dim room with a single whiteboard. The channel didn't make an immediate impact either — at the end of the first year, Physics Wallah had a modest 10,000 subscribers.
But Pandey was undeterred, and kept uploading videos. Soon, students began thronging, drawn by his teaching style, his easy manner and his humour. Fan pages began to pop-up — Pandey was cementing his place as a "star faculty", which is someone who's built a personal brand that students aspire to learn from. His YouTube channel too began growing at fast clip. In 2017, he left his offline coaching job, and began focusing solely on his YouTube channel. By the end of 2019, Physics Wallah had become one of India's top IIT-JEE coaching channels on YouTube.
And the heavens truly smiled on Pandey in 2020 — as a global pandemic hit, students across the country were confined to their homes, and there was a surge in demand for online coaching. Pandey decided that this was the time to strike — he formally incorporated a company in June 2020, and launched an app. The app crashed on the day of its launch, unable to keep up with the demand from eager students.
Physics Wallah had now become a proper company. It offered lectures, courses, and doubt solving sessions. Pandey had hired a team of educators, who were taking up the teaching duties on his behalf. He'd even started branching out offline, and began creating classrooms in cities across India.
But highly-funded ed-tech startups weren't particularly pleased at their new competitor — Physics Wallah was charging significantly cheaper rates than many larger ed-tech players, and taking away their business. Pandey says that he repeatedly received offer from other companies to shut down Physics Wallah and join them. Unacademy, he says, offered him a job at Rs. 40 crore per year. Another company reportedly offered in a package of Rs. 75 crore.
Pandey, though, turned them down. While the funded startups which were making him eye-popping job offers were bleeding money and mired in losses, Physics Wallah was itself profitable — the company reported a profit of Rs. 6.92 crore in FY21, and is slated of have a revenue of Rs. 350 crore in FY22. Physics Wallah had grown to have 1,900 employees including 500 teachers and 100 tech experts, and was running offline coaching centers in 16 cities across India.
Physics Wallah has now raised Rs. 750 crore from investors, and Pandey, at just 30 years old, is the proud founder of a startup valued at Rs. 8,500 crore. Fortune, they say, favours the brave, and for now it seems to be smiling on the man who rejected a Rs. 40 crore job offer to run his YouTube channel.