As it readies to take on Zomato and Swiggy in India's food delivery space, Amazon has a formidable Indian face in its corner — Infosys co-founder Narayan Murthy.
Amazon is launching its food delivery platform through Prione Business Services, which is a joint venture between Amazon India and Narayan Murthy's Catamaran Ventures, reports ET. Prione Business Services has been signing contracts with restaurant brands to list on Amazon, and is offering 10-15% commissions, which are lower than the commissions charged by Zomato and Swiggy. Amazon, for its part, has been testing its food delivery platform among its employees, and is currently serving five pin codes in Bangalore. Amazon is expected to offer the service as part of either its Prime Now or Amazon Fresh platform.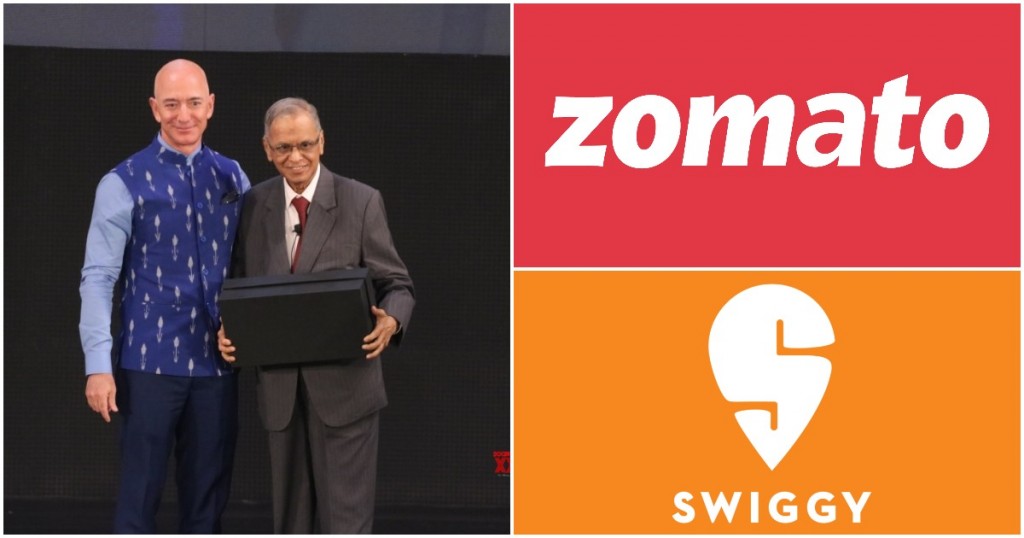 This isn't the first time Amazon and Narayan Murthy have joined hands — Amazon-owned Cloudtail, which sells products on Amazon.in, is also a joint venture between Amazon and Murthy's Catamaran Ventures. To comply with India's FDI regulations, Amazon had sold a stake in Cloudtail to Murthy's firm, which now has a 76 percent holding in the company.
There have been murmurs about Amazon's entry into India's food delivery space at least since August last year, when the company had held talks with Ola's Foodpanda for a potential partnership or acquisition. Ola had bowed out of the food delivery space in May last year, and had instead started building cloud kitchens. Amazon appears to have once again held talks with Ola for a potential partnership with its cloud kitchens, and is also actively hiring people who have prior experience in running restaurants or cloud kitchens.
Amazon's entry could once again throw wide open India's food delivery space, which was in the danger of becoming a duopoly with only Zomato and Swiggy left in the fray. And it isn't as though Amazon will have to start from scratch to begin delivering food — it already runs an extensive delivery operation that delivers to all pin codes in India, and through Amazon Fresh, also performs hyperlocal deliveries. Adding food delivery to the mix could help bring in some operational efficiencies for Amazon — food deliveries are concentrated around meal times, but logistics deliveries can happen through the entire day. If Amazon can get its food delivery fleet to deliver packages during lean times, it could end up unlocking efficiencies that Zomato or Swiggy can not.
And Amazon now also has the backing of Narayan Murthy, who has the experience of building a hugely successful business in India. It's unclear at this point of how involved Catamaran Ventures will be in the operational running of Amazon's food delivery business, but Murthy will likely be an asset for Amazon regardless. Zomato and Swiggy were founded as Indian companies, but are hardly Indian at this point — Zomato's biggest investor is China's Aliababa, while Swiggy's biggest investors include China's Tencent and South Africa's Naspers. Amazon had started off as an American company, but will have a prominent Indian partner in Narayan Murthy as it takes on Swiggy and Zomato.