After bitterly slugging it out against it in the Indian market for four years, trading barbs between executives, and undercutting each other on discounts and offers, Flipkart and Amazon might just end up joining forces.
Amazon has made a formal offer to buy 60% of Flipkart's shares, CNBC TV-18 reported on Wednesday. Amazon has also offered Flipkart a breakup fee of $2 billion, and its bid will rival the bid that Walmart is making for India's e-commerce giant. OfficeChai was unable to independently confirm the development.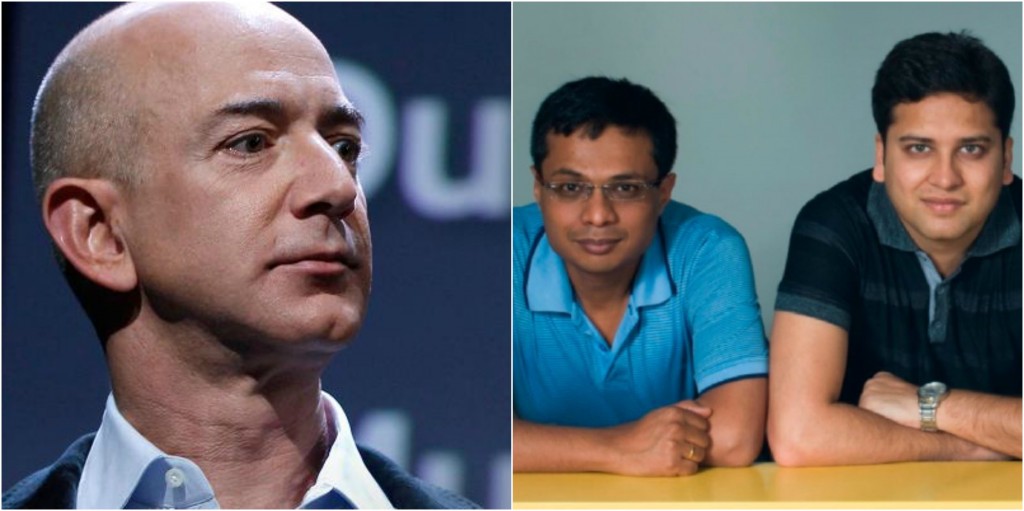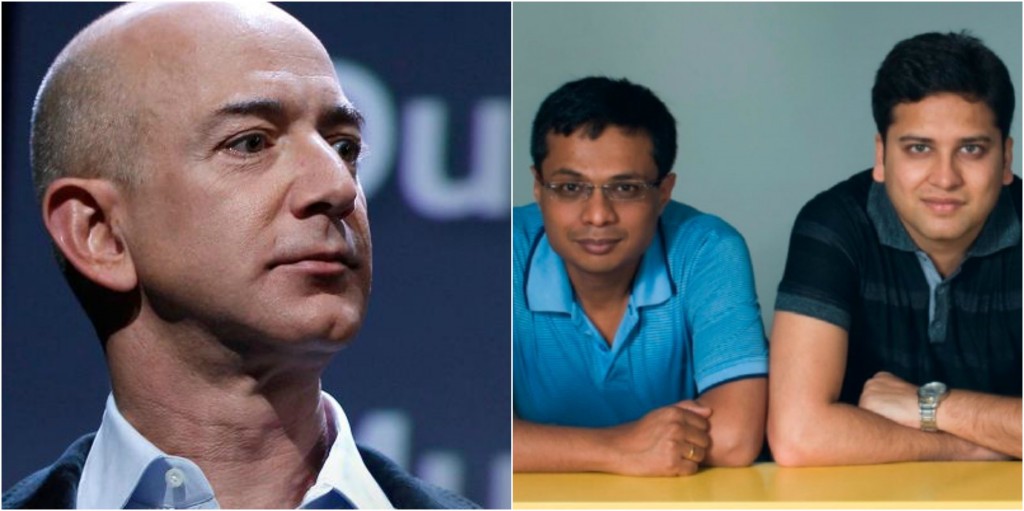 But this bit of news can dramatically alter how experts have viewed the Indian e-commerce sector to be shaping up over the last few months. That Walmart is in advanced talks to acquire Flipkart is now the industry's worst-kept secret, and analysts have been anticipating a heated battle between Amazon and Walmart as they advance their US rivalry into India.
But Amazon now seems to have thrown its hat into the ring, and emerged as a potential buyer for Flipkart. Flipkart's acquisition by Amazon will make perfect sense for the company — Amazon's overall bottom line is being hurt by the money it's spending while competing with Flipkart in India, and once it controls its chief rival, it will be finally able to ease up on the bruising discounts and promotions that are currently putting its India operations in the red. Amazon and Flipkart together control the lion's share of India's e-commerce market, and if they join forces, they can dictate prices, both for buyers and third-party sellers.
But the move will undoubtedly come under the scanner of India's competition commission, which will look to scrutinize if the two firms together will constitute a monopoly in e-commerce in India. This could become a serious issue if Amazon does decide to acquire Flipkart — the regulatory hurdles required to get governmental approval for such a merger could be significant. Walmart's deal, on the other hand, should be much easier to pass muster by India's regulatory authorities.
And Walmart might also be a more palatable buyer for some of Flipkart's biggest investors. Softbank, which owns 24% of Flipkart, is also an investor in Alibaba, which competes with Amazon in some markets. Walmart is also not a specialist in the e-commerce space, and could be willing to pay a higher price for Flipkart; Amazon, which knows the ins-and-outs of the e-commerce business in India by now, might value Flipkart more conservatively.
But if the reports around Amazon offering to buy 60% of Flipkart are true, they could mean a stunning culmination of the greatest rivalry that the Indian startup space has ever seen. After Amazon entered India in 2013, the two firms have traded insults, attempted to repeatedly outflank each other, and by most accounts, are still running neck-and-neck in the Indian e-commerce stakes. Incredibly, an acquisition might just be a great result for both companies — Amazon will be able to control India's lucrative market alone, and Flipkart's investors and founders have made a killing, thanks mainly to how its price was jacked up by interest from Walmart. The only losers might just be India's online-buying public, who'll have to finally bid adieu to the discounts that the two companies had been dishing out to win their favour.