While India's tech startups might be struggling amidst a funding winter through lowered valuations and layoffs, their non-tech counterparts seem to be doing alright.
Quick service restaurant chain Burger Singh has raised Rs. 30 crore in a Series A funding round led by Negen Capital, LetsVentures, Mumbai Angels, Old World Hospitality and singer Jasleen Royal. Existing investors RB Investments, Rukam Capital, KCT Family Office and V.M. Salgaokar family office also participated in the round. Burger Singh says it will use the money to open 120 new outlets in the next six months.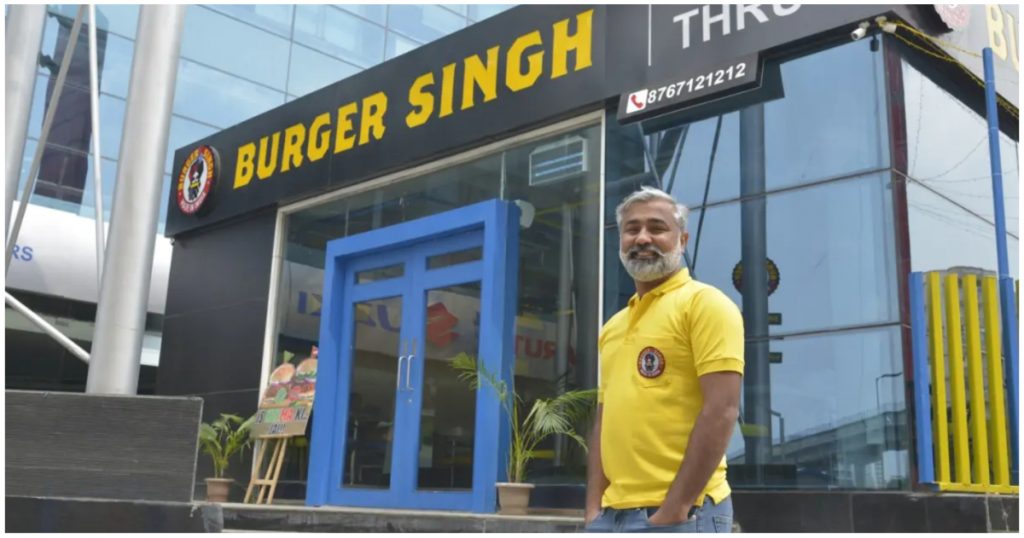 "Our ideology has always been to provide sustainable growth to our investors," said Kabir Jeet Singh, CEO and founder of Burger Singh. "Our compelling business model has sailed steadfast through two unprecedented global events – the pandemic and inflation… We would rather be the winning tortoise of the QSR (quick service restaurant) race than the cursory ill-fated rabbit," he added.
Burger Singh was founded in 2014 by Kabir Jeet Singh, Nitin Rana and Rahul Seth. The origins of the company, though, go back to 2007, when Kabir Jeet Singh was pursuing his MBA from at the Birmingham Business School in the UK. After finishing his classes, he would work at a burger joint in the evenings. At the end of each shift, he would be given a free burger, but realized that the burgers he was dishing out were rather bland. He added some spices to give the British burgers an Indian twist, and the recipe was a hit — the owner ending up listing his burger on the menu, and even gave Singh an artistes fee for his ingenuity.
After completing his MBA, Singh went down a more conventional route — he became a commodities trader. But he idea of selling his own burgers had taken root in his mind, and he returned to India in 2011. He then worked the Beer Cafe for three years to study the Indian QSR (Quick Service Restaurant) market, and eventually set up Burger Singh in 2014. The company began operations with one outlet and an investment of Rs. 30 lakh.
Burger Singh wanted to adapt an quintessentially western dish — burgers — to appeal more to the Indian palette. The company also aimed to offer popular Indian flavours in the tried-and-tested burger format. This led to plenty of innovative dishes on its menu, including a Bihari Gosht Burger, Chana Burger, Rajma Burger and even a United States of Punjab Burger.
These fusion dishes seemed to work — Burger Singh now runs 80 outlets across cities including Delhi NCR, Lucknow, Jaipur, Dehradun, Jammu, Nagpur, Ahmedabad, Jhansi, Chandigarh, and Amritsar. The outlets are also popular on food delivery apps including Swiggy and Zomato, and get plenty of orders online as well. The company is also is known for its tongue-in-cheek marketing that get it plenty of eyeballs — on Diwali, Burger Singh had once sent customers SMSes bemoaning how the festival was being exploited by brands, and then latter followed it up by saying "Just kidding, here's our 2+1 offer", and had even given discounts after India's Balakot airstrikes against Pakistan with the rather colourful code "fpak20".
The coronavirus pandemic had put paid to many of its plans — reports had initially estimated that 40% of India's restaurants wouldn't survive the lockdowns. But as the pandemic has ebbed away, customers are returning to restaurants with a vengeance, and Burger Singh is looking to capitalize — it's looking to grow its stores by 150% in the next six months. There's no shortage of competition in the QSR space, but if Burger Singh can keep producing its signature dishes, and maintain quality as it quickly expands its operations, it can end up taking a sizeable bite out of India's growing eating-out market.