If there's ever a sign that India's startup ecosystem has come of age, it might just be this.
Byju's will replace Oppo as the chief sponsor of Team India's cricket jersey from September this year. Chinese smartphone company Oppo had paid a whopping Rs. 1079 crore for the rights to display its brand name on India's cricket team jerseys in March 2017 for a period of five years, but is now handing over the contract to Byju's. Sources told TOI that Oppo had decided to exit the space and allocate the rights to Byju's because it feels that the value at which it acquired the rights in 2017 was "extremely high" and "unsustainable."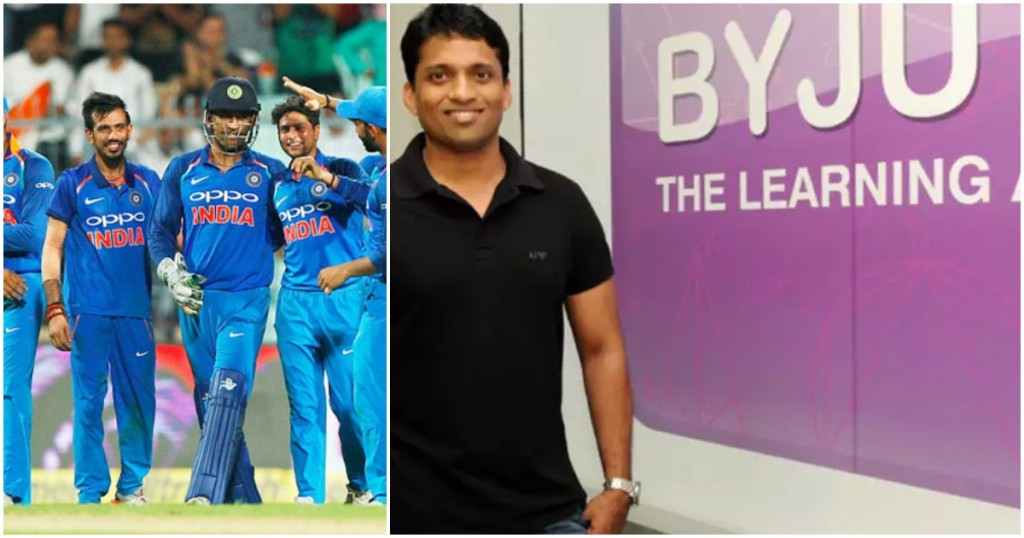 It's somewhat surprising, then, that eleven-year-old edtech startup Byju's has taken the plunge, and chosen to have its logo emblazoned on Team India's jersey. Byju's revenues have been growing, but the company hasn't yet made any profits. Last year, it had made losses of Rs. 29 crore, but its performance was better than the year before that, when it had made losses of Rs. 57 crore. In comparison, Oppo's losses were Rs. 357.8 crore in FY 18.
Getting pride of place on what's the most valuable bit of real estate in Indian sport isn't cheap, but the move might make sense for Byju's — the company is a heavily sales-driven organization. Once its content is prepared and ready, all it needs to do is to grow its revenues is to sell more of its courses. The more recognition that its brand has, the easier it'll be for its sales executives to sell educational material to parents, and there's few better ways to reach parents of young kids in India than being visible at cricket matches. 
And Byju's has previously experimented with unusual ideas for its marketing efforts. It had once given away free access to its courses with packs of Bournvita to help draw in kids, and has also sponsored international cricket tournaments. It had even roped in Shah Rukh Khan to be its brand ambassador, where he told parents how Byju's could help their kids make learning fun. Sponsoring the Indian cricket team, though, will be the company's biggest — and perhaps most expensive — marketing move yet. India's upcoming tour of the West Indies will be the last time the team will sport the Oppo jerseys, and Byju's will start appearing on the jerseys starting with South Africa's tour of India in September.
Byju's has always been aggressive in growing its operations, and the results are showing. It's now raised nearly $1 billion (Rs. 7000 crore) in funding from prominent investors such as the Chan Zuckerberg Foundation, Tencent and Canada's Pension Fund among others, is valued at north of $5 billion, putting it among the five most valuable startups in India. And as the sponsor of India's cricket team, it's entered a fairly hallowed group — previous sponsors of the Team India jersey have included giants like Wills, Sahara and Star India. With Byju's becoming the first Indian startup on the list, Team India will not only carry the hopes and prayers of a billion Indians each times it takes the field — it will also carry the hopes of India's fledgling startup ecosystem along with it.