Traditional restaurant businesses were capital-intensive and time consuming to set up — it could take years for someone to think of a restaurant idea, scout for a location, finish the decor, and finally start welcoming customers. But India's tech revolution appears to have upturned its restaurant scene, and the numbers are even more dramatic.than one would expect.
Faasos says that it has set up 1000 new restaurants in the last 24 months. Now these aren't restaurants in the traditional sense — you can't walk in, pull up a chair, and order your food. Instead, these restaurants exist in the virtual world, and are delivery-only. But thanks to the reach of the many food aggregator apps that have flourished in India over the last few years, their businesses can compete with those of traditional restaurants.
"Just like every other consumer industry, food and the business of restaurants is undergoing a structural shift wherein there are two parts — The Brand and The Distribution," said Faasos CEO Jaydeep Barman in a blogpost. "In every industry — from FMCG to Durables, Clothing, Travel, and Entertainment, there are strong global brand owners (Unilever, Nike, Disney, Marriott) and strong retailers (Walmart, Amazon, Expedia, Netflix). Until just five years ago, Food was the only vertical where the brand owner and retailer/distributor were the same — you walked into a Starbucks for a coffee or a McDonalds for a burger. That is changing rapidly. Now there are Restaurant Brands, like Faasos, and Distributors, like Swiggy, Zomato, Ubereats and FoodPanda," he added.
This has meant that by focusing on the food and leaving the distribution to someone else, Faasos has managed to built a restaurant empire in a fraction of the time it would've taken a decade ago. "Today, we can safely say we are world's largest delivery only / internet restaurant company, and by a wide margin," says Barman. Faasos now has 1,100 "restaurants" across 15 cities in India, and claims that it serves 30,000 meals a day.
The trick in the whole operation lies in how Faasos uses a single "cloud kitchen" to run its many brands. Faasos doesn't only run its own brand under which it sells wraps, but it owns the Behrouz brand for biryani, Oven Story for pizzas, Firangi Bake for dessert, and some others. Faasos lets all these brands use a single cloud kitchen to deliver nearby areas. In effect, Faasos only has 176 actual kitchens across the cities in operates in, but thanks to its many brands, it's able to run over a thousand restaurants through them.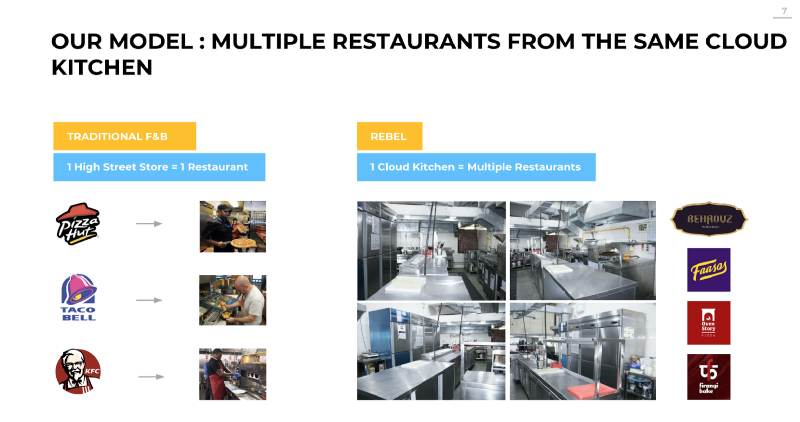 The could concept model isn't new in India — both Zomato and Swiggy now have their own cloud kitchens — but Faasos appears to have doubled down on the concept and expanded at a pace that hasn't been matched by other food companies. The cloud kitchens have many obvious advantages — if Faasos runs 5 virtual restaurants from the same cloud kitchen, they can share much of the infrastructure, while also saving on rental costs. Also, since the restaurants are delivery-only, these kitchens, unlike traditional restaurants,  don't need to be in high-rent areas. Faasos says the results of clubbing different brand "restaurants" in a single cloud kitchen are showing — while it only increased the number of kitchens by 30%, its revenue has grown by 400%.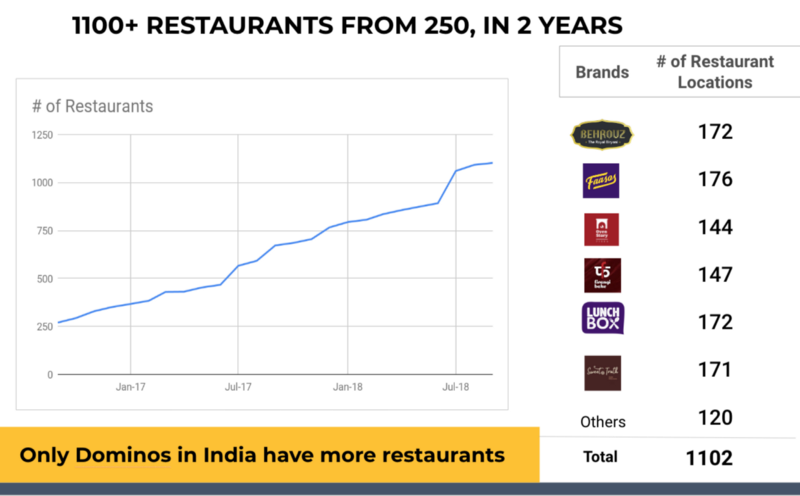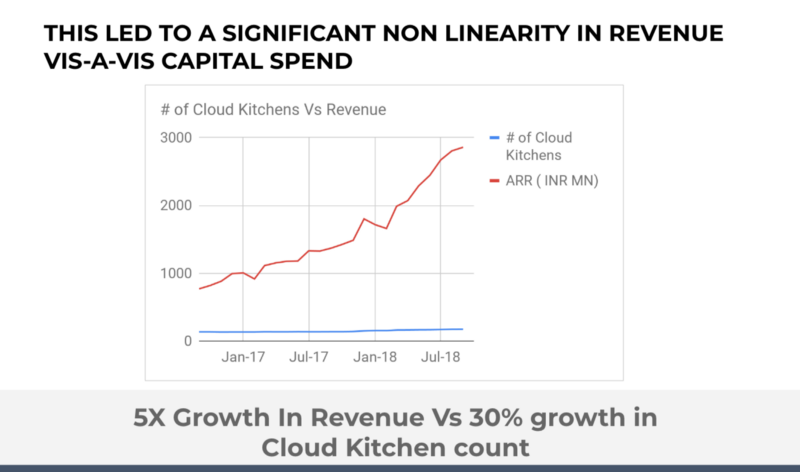 Faasos says it now has the playbook to continue to keep expanding its virtual restaurant chain. By testing out brands in different cities, it knows what works with which audiences, and can only set up brands that have proven to be successful going ahead. And after expanding in 15 cities across the country, it says it has built pan-India supply chains which will help it aid its progress. Its plans are now even more ambitious — Faasos says it will go ahead and build 10,000 restaurants across India over the next five years.
Faasos, thus far, has been faring like the rest of the food tech industry in terms of financials — last year, it had earned a revenue of Rs. 82.25 crore, but expenses were nearly twice that, meaning that it ended up with losses of Rs. 82 crore. But if it can continue building its cloud kitchens, and continue with its revenue growth — raising revenues by 5x while only increasing kitchens by 30% is no mean feat — it might just be on track of create a viable business for itself in India's brutal food tech space.