After 11 years, hundreds of crores in sales, and a $21 billion acquisition, Flipkart has launched a new portal that's separate from its main Flipkart.com domain.
Flipkart today launched 2GUD.com, a new portal that will sell electronic goods like mobile phones, laptops and tablets. The reason that it's a separate entity is that the goods sold on 2GUD.com will be refurbished, which means that they've been previously used or returned, and then subsequently restored to their original state through repairs or modifications. Flipkart seems to believe that there's a large enough market in India for such electronics, and has gone ahead with a whole new site.
Here's to the newest member of our family – @2GUDdotcom. The only way to shop Refurbished is here!

Start shopping on https://t.co/IxT3Ipx9wP on your mobile browser NOW! pic.twitter.com/iOyrSsuS5l

— Flipkart (@Flipkart) August 22, 2018
2GUD.com's launch was announced by Flipkart today, but the site itself carries no indication that it's associated with Flipkart. It doesn't say it is powered by Flipkart, and has a red and white colour scheme, distinct from Flipkart's own blue and yellow. Also somewhat bizarrely, the site carries a warning that it doesn't yet work on desktop browsers and must only be used on mobiles, bring back memories of Flipkart's much-criticized app-only move in 2016.
But 2GUD does throw up its mobile and laptop prices when opened on a mobile browser. It lists phones at discounts to what brand new phones would cost, and there are savings to be had in the region of 30 to 40%. But while products come with disclaimers saying things like "minimal scratches" and "moderately used", there are no actual pictures of the product you'll eventually end up with — Flipkart only lists its refurbished products into five categories.
These five categories represent the degree to which the phone had been previously used before it was refurbished. These are Unboxed, which 2GUD.com says is "like new", and then Superb, Very Good, Good, and Okay. The quality of the goods varies as we go down this list — a refurbished Okay product, for instance, has been previously used, and has "significant" scratches. Warranty periods also decrease down this list — while an Unboxed product has a 12 month warranty, an Okay product's warranty is just 6 months.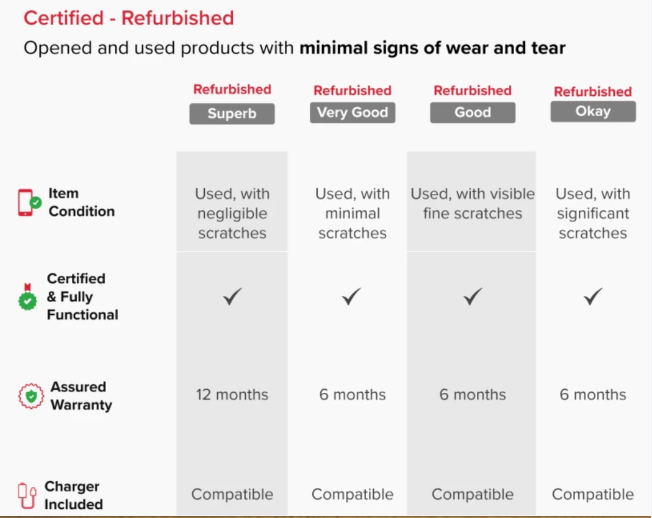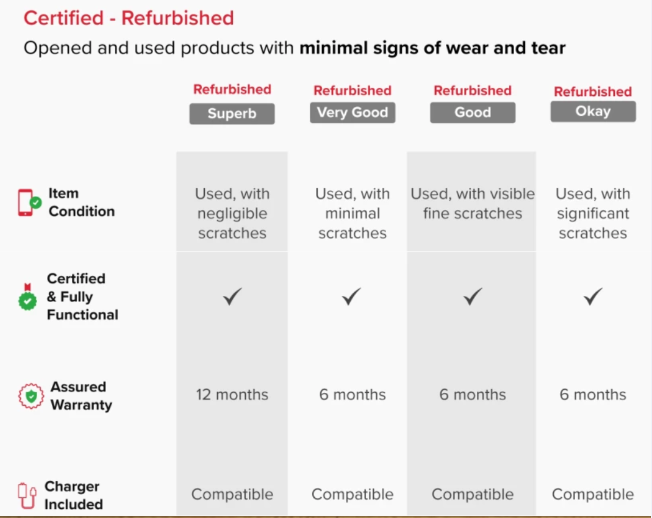 It's still early days for 2GUD.com, but the initiative seems to be an effort from Flipkart to capture an even greater share of India's electronic goods value chain. Around 50% of Flipkart's overall sales are contributed by mobile phones alone, and these phones are all brand new. If Flipkart can capture some of the market of refurbished phones as well, it can increase its sales in its most popular category.
And Flipkart has been making moves in the recent past to deal with other components of the phone business. Last year, it had acquired a phone repair company called F1 Info Solutions, which had stores in over a 100 cities which dealt with used phones. Flipkart will likely use F1 Info Solutions' on-ground presence to collect phones for 2GUD.com, and then rely on its brand credibility to get people to buy them.
Refurbished electronics are still a nascent market in India, but one would feel that the space has potential. With new mobile phone models coming out all the time, people are buying mobile phones at ever-increased frequencies, and their discarded phones are then either sold or exchanged through secondary markets. If Flipkart can bring its brand credibility into selling refurbished phones, they could become a viable alternative for people hunting for bargains on their favourite electronic items.