What do you do when you've been acquired by a $300 billion multinational giant? Go on a celebrity signing spree, of course. 
Flush with Walmart's funds, Flipkart seems to have embarked on one of the most extravagant ad campaigns in recent memory to promote its Big Billion Days sale. While most companies try to get a single top tier celebrity to endorse their products, Flipkart seems to have gone ahead and signed up what looks like an all-star team with top names from Bollywood and cricket.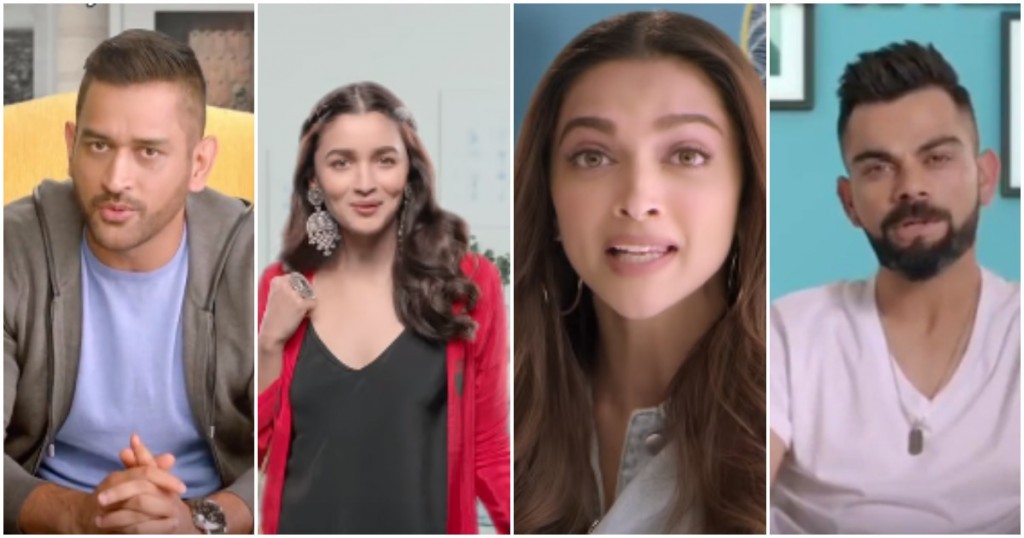 Flipkart's latest sale is being promoted by cricketers Virat Kohli, Mahendra Singh Dhoni and Saurav Ganguly, as well as Bollywood A-listers including Amitabh Bachchan, Deepika Padukone and Alia Bhat. That's not all — there are also a host of other endorsers, including badminton player Saina Nehwal, and regional movie stars in Mahesh Babu, Tamannah Bhatia and Diljit Dosanjh.
This mega team of celebrities don't feature together in a single ad, but have little vignettes of their own in which they promote specific products. Saurav Ganguly, for instance, tells viewers that there are cheap phones available on Flipkart, Deepika Padukone peddles cushion covers and bed sheets, and MS Dhoni earnestly tells everyone that Flipkart's sale will see opportunities to buy fully automatic washing machines at semi automatic washing machine prices.
Thinking about buying a new phone? Check out this great advice from @SGanguly99. Imagine the lowest prices on the highest quality phones! #BigBillionDaysAreBack pic.twitter.com/QB6QL9zHqO

— Flipkart (@Flipkart) October 7, 2018
Make sure to check out this message from @deepikapadukone! Your home makeover will be a piece of cake. #BigBillionDaysAreBack pic.twitter.com/wKphRhWEC0

— Flipkart (@Flipkart) October 7, 2018
Don't miss what @msdhoni has to say! Here's your chance to get everyday essentials with once in a year discounts. #BigBillionDaysAreBack pic.twitter.com/nWAhqveC7D

— Flipkart (@Flipkart) October 7, 2018
Flipkart's celebrity-heavy campaign is in stark contrast with Amazon's promotion of its corresponding sale, which has virtually no major names to speak of. Flipkart and Amazon have been sparring over the years with their festive sales, both running them at the same period, and then hotly debating who's done better. With its latest promotional push, Flipkart has made it apparent that it's all-in with its latest sale — this is the first mega sale since it was acquired by Walmart at a valuation of $21 billion, and Flipkart will hope to use Walmart's significant financial resources to nudge ahead of its fierce rival.
But it remains to be seen how much a mega celebrity push will help drum up sales for Flipkart. Flipkart's been around for over a decade now, and it's not as though it needs India's top celebrities to help drive awareness about the brand. Also, the last major campaign with several celebrities across Bollywood and cricket hadn't gone all that well — Home Trade was a little-known financial services company that in the early 2000s had simultaneously signed on Shah Rukh Khan, Hrithik Roshan and Sachin Tendulkar. The company had later turned out to be a scam, and had shut down soon after. Flipkart is no fly-by-night operator, but only time will tell how its multi-celebrity promotional blitz will pay off.