Flipkart's taking a second stab at the grocery delivery business.
The company's just launched Supermart, which promises to deliver "quality grocery products at lowest prices." Supermart is currently live in some parts of Bangalore, and is accessible right from within the Flipkart app. Flipkart had launched its first grocery delivery service,Nearby, in late 2015, but had shut it down a few months later.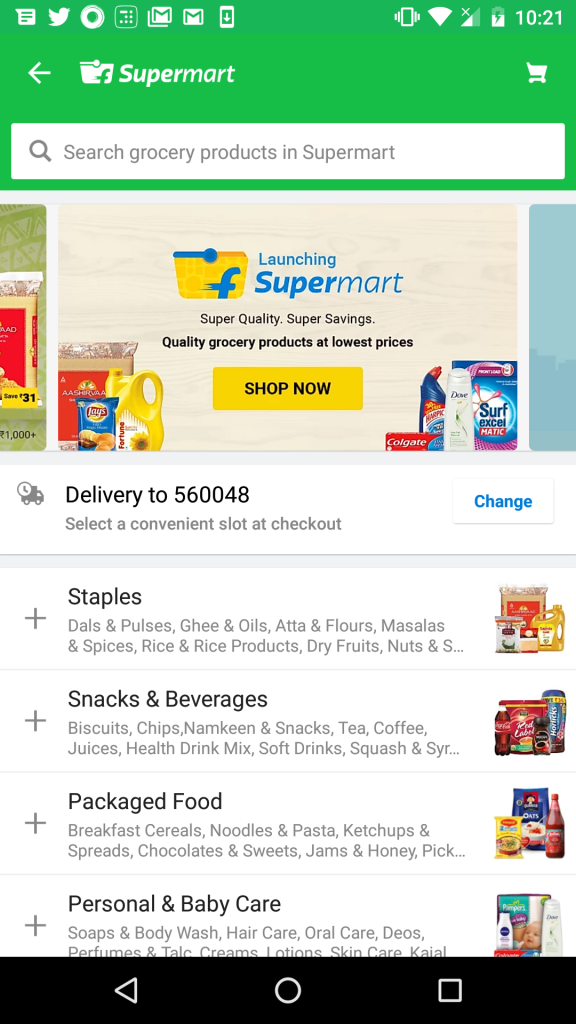 There's no dearth of grocery delivery apps in the market now, and Supermart follows the tried and tested playbook. It offers daily staples such as dals and masalas, packed food, snacks and beverages, and personal and household care items. Several of the products are on discount, and deliveries are made in specific time slots starting from the day after the order. The minimum order size is Rs. 500, and deliveries cost an extra Rs. 50. Deliveries above Rs. 1000 are free.
Currently, Supermart doesn't deliver perishables such as fruits, vegetables and dairy prodcuts, which are tricky to handle and manage.
Second time lucky?
Things have changed since Flipkart had launched Nearby in 2015. Back then, startup valuations were skyrocketing, and companies were eager to get into new markets. Along with Flipkart's Nearby, Ola had launched Ola Store, while PepperTap, Grofers, and Big Basket were pure-play grocery players. 
The sector, though, had begun to unwind pretty quickly by early 2016. Grofers and PepperTap pulled out of many smaller cities and fired staff after realizing margins in the business were unsustainable. In March, Flipkart shut down Nearby, and Ola shut down Ola Store. In April, PepperTap, which had raised Rs. 300 crore, shut down.
The sector has since matured. The remaining players aren't providing the punishing discounts that they were earlier, and logistics and supply chains have improved. Flipkart has already played the game once and would've learnt from the experience; it would hope its second innings is more fruitful.
And Flipkart's launch of its own grocery delivery service sets up the Indian grocery market in a pretty interesting way. BigBasket and Grofers are the two major pure-play players left. Amazon has its own services, Amazon Now and Amazon Pantry, and will likely look at building and growing them internally. There have been rumours that Paytm is looking to invest in BigBasket, which could mean BigBasket could get a big player behind it. And with the launch of Flipkart, it looks like Flipkart wants to go solo. There are more moves likely in the space — it'll be a while before this sector settles down.