Freshdesk today is one of India's biggest B2B startup success stories. It's raised $149 million (Rs. 1,000 crore) so far, and its valuation is now nearing a billion dollars. But just six years ago, it was a new startup trying to make its mark in the world. And it was finding the going to be tough.
Freshdesk's core product was a customer service tool that that was similar to Zendesk, one of the biggest companies in the space. Freshdesk was small company, but it was being scrappy – Freshdesk would search for complaints that Zendesk users had on Twitter, and pitch Freshdesk to them instead. Zendesk presumably had taken notice, and wasn't impressed with the tactics of this young startup from India. After a tech blogger pointed out that Freshdesk was somewhat similar to Zendesk, none other the Zendesk's CEO  Mikkel Svane took to Twitter himself. "WAIT-WHAT-A-FREAKING-RIP-OFF," he tweeted about Freshdesk in December 2011.


At this point, Zendesk was somewhat of an industry leader, with over 20,000 customers; Freshdesk had all of 200. Moreover Svane was a bit of a heavyweight in the space, and was followed by the top people in the industry — an admonishment from him could've served as the death knell for a startup. No entrepreneur likes being told that his product is a rip off, and people would've expected Freshdesk to keep quiet and waited for the storm to blow over.
But Freshdesk CEO Girish Mathrubootham was made of sterner stuff. He was stung by the accusations of the copying, and felt they had no justifiable basis. "The only reason they felt we'd copied them was because of the name – Zendesk and Freshdesk," he says. Mathrubootham says they decided to not fight back on Twitter. In turn, they did something incredible.
Freshdesk went ahead an created a website called www.ripoffornot.org. The website proudly displayed Zendesk's CEO's accusation, and invited users to make up their minds for themselves. "If you are a Zendesk customer we would like to invite you to sign up for a trial of Freshdesk and decide for yourself," it cheekily added.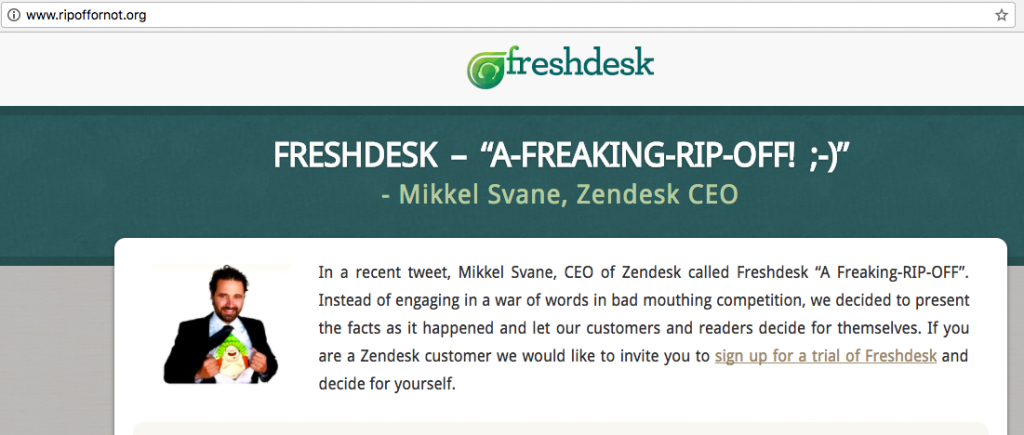 Mathrubootham says this simple website changed the fortunes of his company. "It became one of the defining turning points in the history of Freshdesk. By attacking us they put us in the same plane as themselves, and from that point onwards we never let go of the slot. Every PR article that we did, we made sure to mention it. If someone was writing about Zendesk, we'd make sure they wrote about Freshdesk, and if someone was writing about Freshdesk, they'd write about Zendesk."
Mathrubootham says that the website was a gutsy — but calculated — move. "It taught me not to be trigger happy. We could've fought on Twitter, but that would've just turned into a street fight." By publicly calling attention to the accusation to the accusation, they made customers sit up and take notice of their young company. 
Freshdesk rode on the buzz that was generated. "We latched on to the leadership slot through the small opening that was given to us, and stayed the course," says Mathrubootham. And the momentum helped — five years after the episode, Zendesk has 132,000 customers; Freshdesk is fast closing in with 92,000.
And while Freshdesk is now a serious competitor to Zendesk, it still hasn't lost any of its initial scrappiness — or forgotten about the incident. Even today, a search for Zendesk returns the first sponsored result as "Freshdesk Vs Others – See Who's The #1 Helpdesk System." 


Turns out you can build a billion-dollar company off a brilliant five-year-long troll.