In college yearbooks, graduating students often try to capture how their lives will pan out once they've left their college gates. They write down their hopes and dreams, and optimistically share their visions of their future. But every once in while, these dreams do come true.
Paytm founder Vijay Shekhar Sharma, in his college yearbook from 1998, had said that he "hated outdated technology", and was going to "target high" in the future. He'd also said that one of the positive aspects of his personality was his "result oriented approach". Cut to 23 years later, Sharma is now a technology billionaire, and is about to take his company public in what will be the largest IPO in India's history.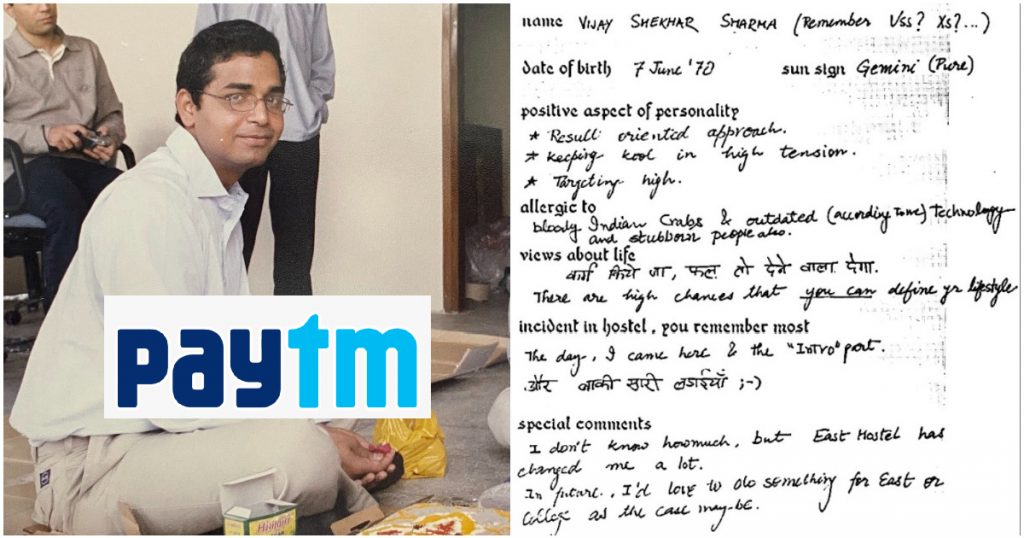 Twitter user Moghal Saif today shared Paytm founder Vijay Shekhar Sharma's college yearbook entry, and the tweet was subsequently liked by Sharma himself. Sharma had attended Delhi College of Engineering from 1994 to 1998, and when he was about to graduate, in Indian college tradition, he'd answered some questions about himself.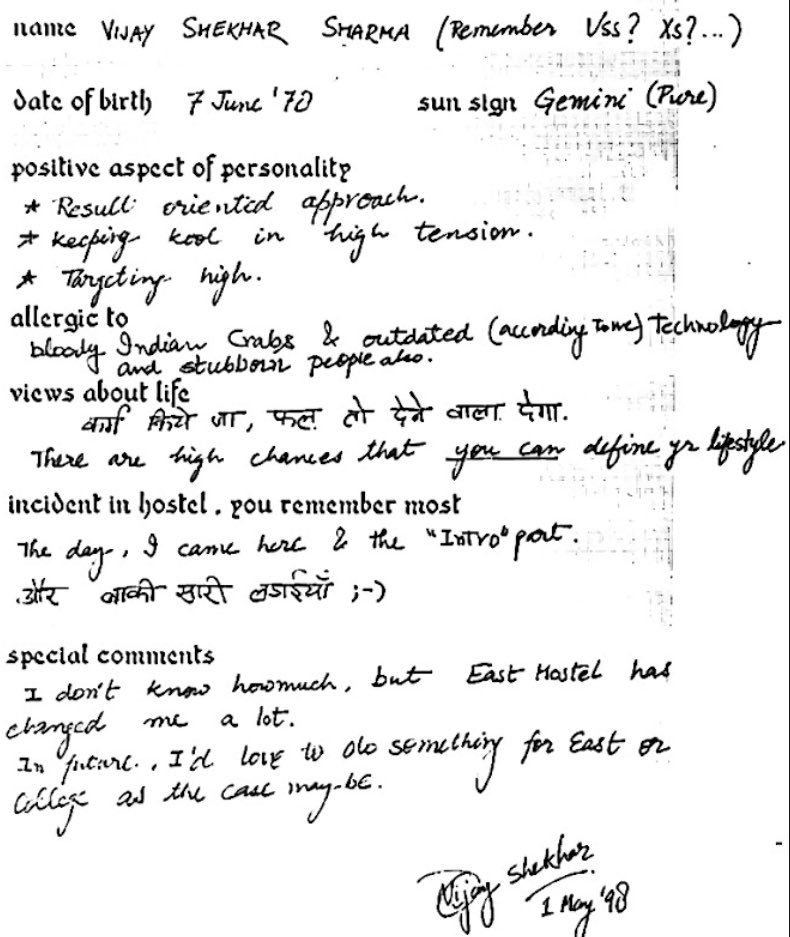 In the entry, written on 1st May 1998, Sharma had first listed down the positive aspects of his personality. In neat cursive handwriting, he'd written "result oriented approach", "keeping cool in high tension", and "targeting high". Sharma seems to have always had his streak of being "targeting high" and being ambitious — even after he'd become famous, he'd repeatedly kept saying that he wanted to grow Paytm into one of India's most significant companies.
Sharma had then listed out the things he was "allergic to". He'd listed down "bloody Indian crabs", perhaps referring to the crab mentality that makes some societies pull successful people down. He'd also said that he hated people who were stubborn. But even back then, he'd listed out the problem that he would eventually make him famous.
Sharma had said that he was allergic to "outdated (according to me) technology". But Sharma wasn't one to just sit and crib — he actually got down to fixing "outdated technology", first through providing SMS services to telecom providers, and then founding Paytm, which built India's largest most prominent digital wallet. Paytm might've benefitted from the demonetization decision, but the company has played a large part in contributing to the ubiquitous cashless transactions we see today.
In the section about the incident in his hostel he'd remember the most, Sharma had said it was the day he'd first reached there, and the "Intro" or introduction he'd had to give. He also said he'd remember the fights they'd had in the hostel. He'd also said that East Hostel had changed him a lot, and wrote that he'd love to do something for the hostel and the college in the future.
But perhaps the most poignant — and prescient — part about the yearbook entry was Sharma's views on life. "Karm kiya ja, fal to dene wala dega (You keep working, the fruits of the labour will eventually come)," he'd written , paraphrasing the Bhagawad Gita. "There are high chances that you can define your lifestyle," he'd added. Given how Sharma has built a tech company that removed outdated technology, become a billionaire while at it, and is now coming up with the largest IPO in India's history, he's certainly managed to define his lifestyle alright.