There are many ways companies can raise money — they can approach angel investors, pitch to venture capitalists, and even utilize public markets through Initial Public Offerings. Elon Musk, being Elon Musk, is selling hats and flamethrowers.
After selling 50,000 hats at $20 each to raise money for Boring Company, Elon Musk has taken his merchandising game up a notch. The Boring Company website now has a section where his fellow drilling enthusiasts can purchase a flamethrower for the princely sum of $500 (Rs. 32,500). Like with the hats, the flamethrower carries the branding of the Boring Company.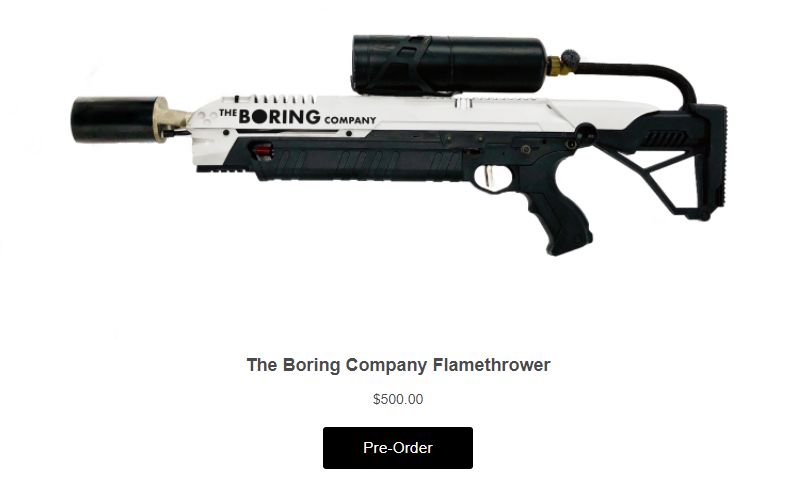 It might seem like a joke — the flamethrower's product page also lets people buy fire extinguishers for $30 — but much about the Boring Company has felt like a joke ever since the company was announced. Last year, Musk had tweeted that he was stuck in traffic, and wondered if it would be cool to drill tunnels below cities to beat the congestion. He'd then tweeted that the company would be called the Boring company. People had initially laughed, but had quickly stopped laughing when large drills with signs of "Boring Company" had started appearing in SpaceX's offices.
Months later, Musk had released a concept video of how the company would operate. The Boring Company planned to revolutionize urban transport by building a network of tunnels below cities, on which cars could zoom through on metallic plates. Tunnels currently are exorbitantly slow and expensive to build, but Musk said that through the right applications of technology, he could build tunnels 10x cheaper.
Since then, Boring Company has become Musk's pet project. He already runs Tesla, SpaceX and Neuralink, but last last year, he'd begun selling hats which said "Boring Company". He'd also changed his Twitter bio to simply read "Hat salesman." A month after going on sale, Musk had managed to sell 50,000 hats.
He seems to now have graduated to flamethrowers, and is clearly going all out. Today he uploaded a video on Instagram showing him running around with said flamethrower.
He's also using his trademark humour to drum up sales. 
When the zombie apocalypse happens, you'll be glad you bought a flamethrower. Works against hordes of the undead or your money back!

— Elon Musk (@elonmusk) January 28, 2018
And his fans are clearly sold. His flamethrower tweets have more than 20,000 retweets.
You'd need millions of zombies for a so-called "apocalypse" anyway. Where would I even get a factory big enough to make so many!?

— Elon Musk (@elonmusk) January 28, 2018
And within hours, Musk says he's already sold 2000 flamethrowers. That's a cool $1 million (Rs. 6.5 crore) in revenue. And in the meantime, he's also update his Twitter bio from "Hat Salesman" to "Zombie Defender."
Musk might be a visionary technocrat, a maverick entrepreneur, and an all-round genius, but he's also possibly also the world's best salesman.