The drone show at the Beating Retreat ceremony last evening wasn't only spectacular — it was also made in India.
BotLab Dynamics, the startup behind the drone show during the Beating Retreat ceremony, was founded by IIT alumni and incubated at IIT Delhi. The startup was given an initial seed fund of Rs. 1 crore for R&D by Department of Science & Technology, which was followed up with Rs 2.5 crore for scale-up and commercialization by Technology Development Board. It was the first-of-its-kind tech project in India.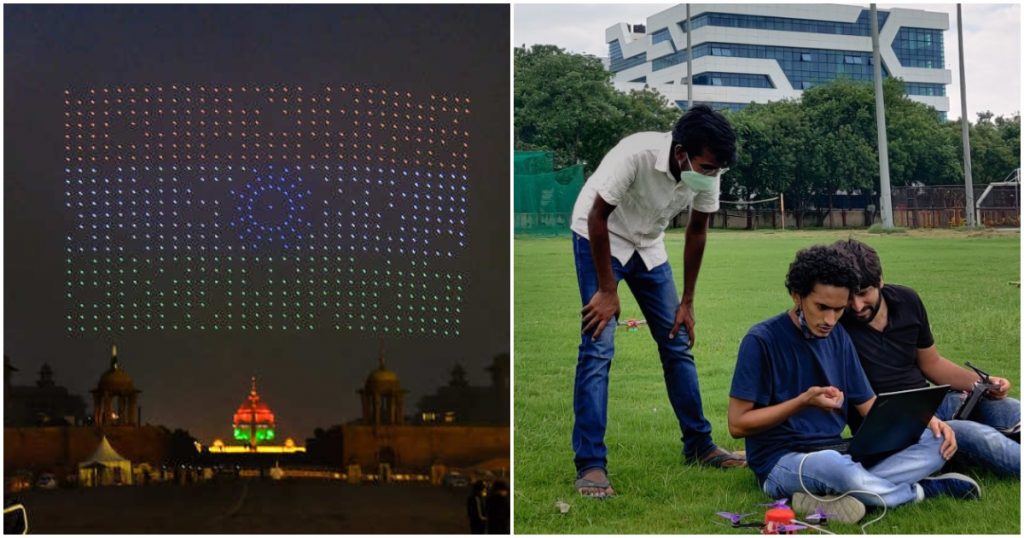 The drone show had involved 1000 Made-in-India drones, which made spectacular patterns on the night sky overlooking the Rashtrapati Bhawan. This was the first time that the Beating Retreat ceremony had included drones, and the visuals had gone viral on social media. The enthusiasm was understandable — India had become only the fourth nation in the world to put up such a spectacle. Prior to BotLab Dynamics' drones, only US, Russia and China had the capability to put together a 1,000-drone show.
BotLab Dynamics had its beginnings in 2012, when Tanmay Bhunkar, who was then a third year student at IIT Delhi, began tinkering with drones. Two years later, the team, which later went on to include Bhunkar's batchmate Ajay Kumar Barnwal and a teacher from the institute in Dr. Sarita Alhawat, was asked deliver 8 drones that would join the Delhi Police. In 2016, the startup was incorporated at the Technology Business Incubator Unit at IIT Delhi. In 2017, BotLab Dynamics received its first funding of Rs. 50 lakh from the Government of India, and in 2019, was awarded the Prime Minister's award & iDEX grant of Rs. 1.5 crore for research and development.
Apart from the Beating Retreat show, BotLab Dynamics has several other achievements to its credit. BotLab Dynamics was selected by the Army Design Bureau (ADB) to demonstrate their heavy lift drone in Tawang, Arunachal Pradesh. The company has also demonstrated a swarm of ten drones to the Army Chief, and was selected for the M-prize by the Indian Air Force for swarming of 10 drones with 1 kg payload within 5 km range and with auto-detection of the target.
"I have personally witnessed their trials and tribulations since the time they have been building the drones," said IIT Delhi Director Prof V Ramgopal Rao. "Institute helped them at every stage. Department of Science & Technology (TDB), FITT and IHFC from IIT Delhi provided them financial and technical support through various Govt of India schemes," he added.
The government of India has reasons to be interested in drones — drones are becoming increasing crucial to warfare, and just last year, superior drone technology had helped Azerbaijan beat Armenia in a border skirmish. India's startups are often criticized for solving problems that don't necessarily need a solution, like delivering groceries in 10 minutes, or building the 20th clone of TikTok, but with a homegrown startup demonstrating drone capabilities that only three other nations currently have, Indian startups now seem to be flexing their deep-tech muscle as well.