Until a year ago, India's grocery delivery space felt largely settled — BigBasket, Grofers, Amazon a few others companies provided similar services, and charged similar rates. The smaller players, including PepperTap, had bowed out, and the remaining companies weren't exactly innovating on their services, or competing on prices. But a brash new startup — run by two 19-year-olds — appears to have blown conventional wisdom in the sector out of the water.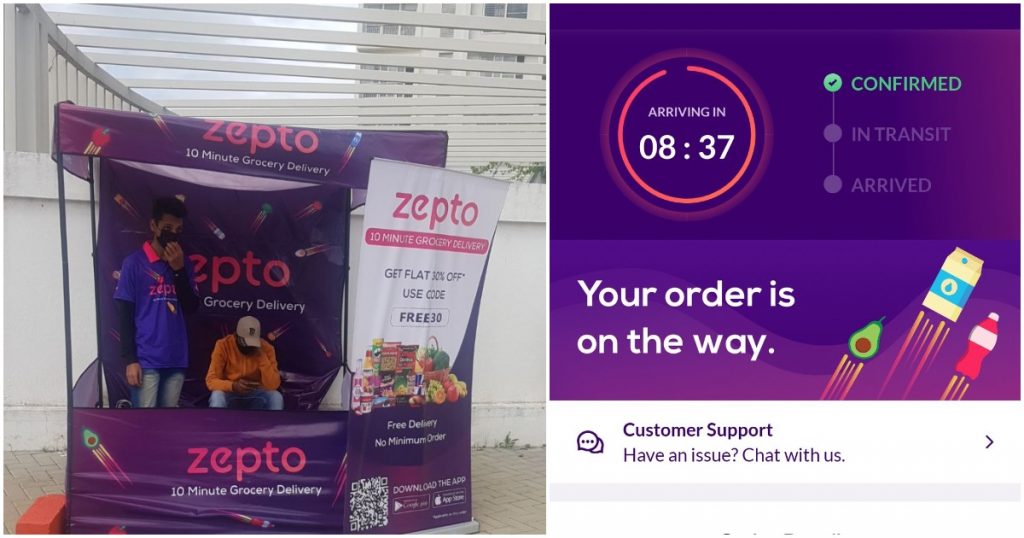 Zepto, which promises deliveries in 10 minutes or less, has been blowing minds on Twitter with its superfast grocery deliveries. And its fans aren't just regular users — big-name entrepreneurs and fund managers have been marveling at its delivery speeds. "Didn't believe in 10 min delivery but was trying my hand at cooking and needed something immediately, @ZeptoNow got it in 6 mins! Unreal!," wrote Razorpay co-founder Harshil Mathur.
If 6 minutes was impressive, fund manager at 2Point2 Capital Amit Mantri got his order in 3 minutes and 56 seconds. "Zepto just delivered an order in 03:56 mins!!" he wrote while adding a mind-blown emoji.
There are dozens of similar reactions on the internet, and with good reason — until not too long ago, companies like BigBasket used to deliver orders as much as a day later after they were made, and some others made deliveries at specific time slots during the day, which meant that deliveries could take hours. But Zepto has burst on to the scene with its dark stores, which are small, delivery-only, stores located in dense residential areas. By peppering these stores across urban centers, Zepto has managed to deliver groceries at previously unthinkable times.
Other players, though, aren't lost to the new business model — Grofers too has been setting up its own dark stores, and now advertises 10-minute deliveries as well. Swiggy, for its part, says it delivers groceries in 15-30 minutes, and Dunzo says it delivers orders in 19 minutes. While other companies had been experimenting with faster delivery times, Zepto's straightforward marketing push of '10-minute deliveries' has managed to make all players in the space compete on delivering groceries the fastest.
But not everyone seems to be happy with the way things are turning out — the race to fast delivery times has some big-name detractors as well. upGrad founder and serial entrepreneur Ronnie Screwvala appeared to hint that there was no real need for groceries to reach customers as fast as they were doing. "I am really Not getting why billions and billions are being spent to make sure – that groceries will now reach you in 14 minutes vs 30 mins ! Anyone else getting it?" he tweeted.
His views were echoed by prominent VC Anand Lunia. "I don't get it either," he tweeted.
Apart from questions around whether enough customers actually want onions delivered in 10 minutes on a regular basis, there have been other concerns raised about the super-fast deliveries. Many have pointed out that 10-minute delivery times could lead to delivery personnel taking undue risks in traffic in order to reach their destinations, and this could lead to road accidents. Others point out that it isn't yet known how much money these companies are burning to ensure 10-minute delivery times — all delivery startups are currently making losses and subsidizing the costs of these deliveries, so there's no way to estimate how much these orders really cost. Others have been using the super-fast deliveries decry the pitfalls of capitalism, by pointing out that while Indians can now receive groceries in 10 minutes, it can take considerably longer to request an ambulance.
There seem to be some big names on either side of the superfast grocery divide. There's little doubt that 4-minute deliveries are stunning, and change the paradigm on what was believed possible in the logistics space. But whether these deliveries become commonplace might ultimately depend on the economics of it all — if companies can truly deliver groceries in 10 minutes, and make money while doing so, they might have actually moved the needle on how urban India will come to expect all manner of products and services to reach their homes.